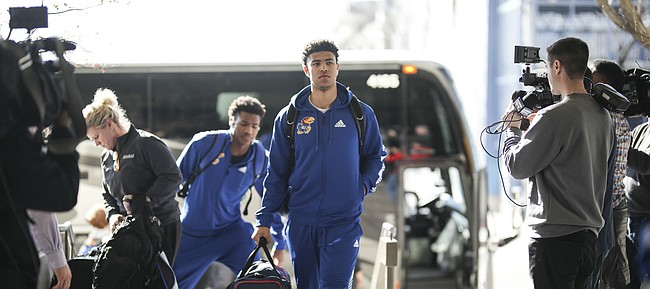 Salt Lake City — Usually, by now, Kansas basketball coach Bill Self has done a dozen different radio and television interviews and talked until he was blue in the face about his team's status entering the NCAA Tournament, both as a top contender and as a general representative of one of the greatest sporting events on the calendar each year.
But there's been nothing typical about the 4th-seeded Jayhawks' pre-tourney status this season.
Shortly after arriving at the team hotel in Salt Lake City just before 5 p.m. on Tuesday afternoon, Self talked with a group of reporters about how things had been significantly tamer entering the 2019 tournament.
"When you're a 1 seed, you and your players are thrown into the national spotlight immediately," explained Self, who has led the Jayhawks to a 1 seed eight times in his 16 seasons. "So after the selection show, everybody wants to talk to you. Being where we're at now, there haven't been very many requests like that, so I think our guys are flying under the radar pretty good."
When you're one of the sport's blueblood programs and you're led by a Hall of Fame coach, the idea of "under the radar" is a relative thing.
Kansas might not be among the top four or five favorites to win the 2019 NCAA Tournament. But it's not as if they're knocking on the doorstep of being a tourney darling either.
The Jayhawks, great season or mediocre, are always going to get a certain amount of attention. And Self understands that as well as anyone. Beyond that, he believes part of that equation is good for his players to understand, as well.
"I still think that 4 seeds in the NCAA Tournament are thought to be pretty good teams," Self said Tuesday. "I do think there's a separation, though. After you get past the 3 seeds, you could maybe look at it and say, 'Well, these teams didn't have near as good a year as the 2 seeds had.' I kind of like it. But if I tell you I like it, I'd probably be lying to an extent, because that means that I'm OK not being a 1 or 2. Of course, we'd rather have had a better regular season, but we didn't. But it's still not bad."
With Kansas running toward a 3 p.m. tipoff against No. 13 Northeastern on the opening day of this year's tournament, time is quickly running out on the Jayhawks' chances to prepare for the Huskies, who joined the field by winning the Colonial Athletic Association's conference tournament.
But Self said Tuesday he was pleased with the two days of practice the team has had since the bracket came out on Sunday and he's looking forward to another on Wednesday during KU's final full-speed run-through.
"We've had two good prep days," Self said, noting that KU practiced twice on Monday and again Tuesday morning before leaving for the airport. "Hard, but short hard. We've gone for an hour, hour and 10 minutes. Doesn't seem like a long time, but, this time of year, it does get kind of long. But we've gone hard, that's for sure."
As for KU's opponent, Self and his staff have learned quite a bit more about Northeastern in the past two days and the KU leader is even more impressed by the Huskies' resume today than he was when he learned about the matchup on Sunday.
"We've been the 4 before and played a very capable team as a 13," Self said. "And I don't think we've played anybody quite like this."
Although Northeastern's four-guard lineup likely will force Kansas to go small to match up, Self said Tuesday that he still planned to start Thursday's game with two big men.
But there's little doubt that one-time starter Marcus Garrett, a 6-foot-5 sophomore guard who has come off the bench since an ankle injury in February forced him to miss some time, will play as big a role as anybody in KU's first-round contest.
"I still anticipate David (McCormack) starting," Self said. "But our lineup will be much different the vast majority of the minutes. I feel like we have to play that way."
Garrett, who played 77 minutes in five games during last year's NCAA Tournament, is one of the few players on this Kansas roster who has experienced this type of atmosphere. And while the players, no doubt, will look to Garrett, Mitch Lightfoot and even injured center Udoka Azubuike for some tips during the next few days, Self said there was value in letting this group of young Jayhawks figure things out for themselves, too.
"We've told them kind of what to expect, and we'll talk about that more tonight. But I don't want to let them figure out too much on their own and, then, at the end of the day, we say, 'Why didn't we do this or why didn't we do this,'" Self explained. "I'd almost rather err on trying to tell them too much than not enough. But I think the guys are excited."