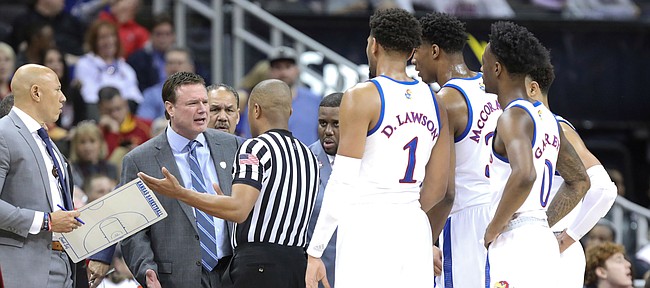 Kansas City, Mo. — The more things change, the more they stay the same.
Once again, Iowa State and Kansas will battle for a Big 12 tourney title Saturday night at the Sprint Center after both teams notched wins in their respective semifinal matchups. It guarantees that either the Jayhawks or the Cyclones will win the Big 12 championship for the seventh season in a row.
"You're playing the elite program in our league, Hall of Fame coach, bunch of McDonald's All-Americans. We got a ton of respect for Kansas," ISU coach Steve Prohm said. "Iowa State and Kansas, ESPN, that should be fun."
In the previous 22 years of the event, KU has the most Big 12 tourney crowns with 11. ISU is second with four, while Oklahoma and Oklahoma State are the only other two active league members to come away victorious in this event.
This was the year that was all supposed to change, however.
Neither ISU or KU were one of the top two seeds, as both Texas Tech and Kansas State achieved that feat after winning a share of the Big 12 title to end KU's NCAA-record streak of 14 consecutive regular-season crowns. Iowa State, meanwhile, dropped five of its final six contests to close out the regular season.
Once both squads returned to the familiar confines of the Sprint Center, though, that all seemed to change. Iowa State, the No. 5 seed, throttled Baylor and then pushed past top-seeded Kansas State in the semifinals. Kansas, a No. 3 seed, took care of business against Texas and staved off an upset bid by 10th-seeded West Virginia.
It marks the first time that both teams will square off in the championship game since 2015, and it will be a contest that ultimately decides the season series. Both the Cyclones and the Jayhawks won their respective home games, and will have plenty of faithful fans in the rubber match on a neutral court.
"It is just going to take heart and playing defense," senior guard Nick Weiler-Babb said. "We just have to stick to our principles, everyone is going to be tired. We have to push through that and play through it."
Kansas was demolished in the first meeting by a 77-60 margin on Jan. 5 in the second league game of the season. Moments before tipoff, KU's starting center Udoka Azubuike was announced out after spraining his right wrist during a practice. He eventually was ruled out for the remainder of the season.
The Jayhawks also coughed up 24 turnovers, which remains a season-worst performance. Kansas even struggled in transition, finishing with just 4 points via fast break. ISU's Marial Shayok scored 24 points on 9-of-12 shooting, including 5 for 5 from long range.
"We just took it to them, I don't feel like we messed around," freshman guard Talen Horton-Tucker said. "We were on point, so I think that is what we have to do to win it this time."
In the rematch, KU got its revenge by the slimmest of margins. Kansas made some second-half adjustments to secure an 80-76 victory over Iowa State on Jan. 21 at Allen Fieldhouse. The Jayhawks used a 14-0 run during the second half to pull off the win.
Photo Gallery
Kansas basketball v. West Virginia (Big 12 Tournament)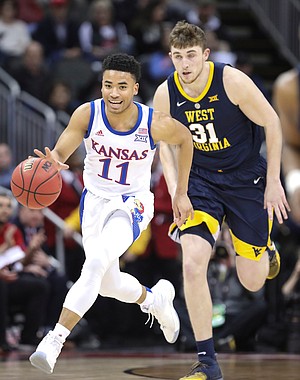 View a photo gallery from Friday's semifinal game between the Jayhawks and Mountaineers at Sprint Center in Kansas City.
The victory over ISU was the first time Kansas showed its new ball-screen defense, which was to switch everything. At the time, the only exception to the rule was when KU freshman Devon Dotson was on Weiler-Babb of ISU.
"Losing to Kansas in Allen Fieldhouse was bad, because I felt like we should have won that game," Horton-Tucker said.
It remains to be seen what both coaching staffs have up their sleeve in the series-deciding tilt. Regardless, the championship game figures to be entertaining given both program's track record in the Big 12 tournament.
"Kansas is obviously a household name, they are in it every year," junior Michael Jacobson said. "It will be an exciting game."