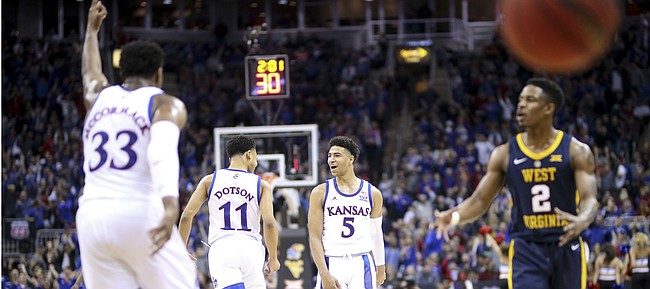 Kansas City, Mo. — The shot was big, the foul was foolish but the pass was pristine.
Late in what was, in just about every way, a sluggish offensive half for the third-seeded Kansas Jayhawks in Friday's Big 12 semifinal against West Virginia at Sprint Center, freshman point guard Devon Dotson darted his way up the floor after a West Virginia miss and needed about three steps to know where he was headed.
Forget that Dotson and his lightning-quick first step had proven to be nearly impossible to guard during Friday's first half. There was no time for monopolizing the ball on this play.
Instead, Dotson rifled a perfect pass to Quentin Grimes on the far wing in front of the WVU bench, where Grimes cooly rose up, drilled a 3-pointer and absorbed the foul. The ensuing free throw gave Grimes a rare 4-point play and Kansas its first lead since the 13-minute mark.
It also sparked a 14-4 KU run to close the half and completely changed the tone of a game the 17th-ranked Jayhawks went on to win 88-74 to advance to Saturday's Big 12 title game (5 p.m. on ESPN) against No. 5 seed Iowa State.
"I saw him streaking down the court," began Dotson, recalling the play after Friday's victory. "And I knew he was hot because he hit a shot before that and I just wanted to feed him the ball and get him going a little bit because we're going to need him if we're going to make a big run."
Added Grimes: "I saw the defender closing out and I was like, 'He's running pretty fast; he's got to stop, so I'm going to shoot this one and I'm either going to get three free throws or a 4-point play.' And the 4-point play went my way."
Photo Gallery
Kansas basketball v. West Virginia (Big 12 Tournament)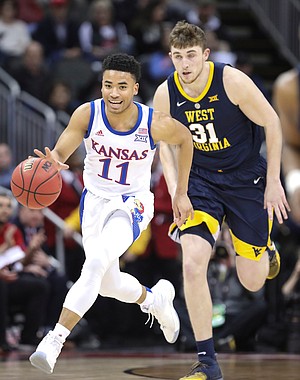 View a photo gallery from Friday's semifinal game between the Jayhawks and Mountaineers at Sprint Center in Kansas City.
Grimes, who drilled all five 3-pointers he attempted in the first half, hit two more in the final 2:29 of the half, including a 25-footer that beat the halftime buzzer and put Kansas up 48-40 at the break.
"I looked up at the shot clock and it was like 6, 5 seconds left and I was like, 'I'm shooting it no matter how far it is,'" Grimes recalled. "So I shot it farther from NBA range and it went in."
Said KU coach Bill Self of Grimes' monster half: "If it weren't for him, over a 4- or 5-minute stretch, West Virginia controlled the first half and we ended up going up 8 just primarily because of Quentin."
In every way, from the sweet stroke to his extreme confidence and giddy celebrations, Grimes' performance on Friday night was reminiscent of his KU debut against Michigan State at the Champions Classic last November in Indianapolis.
"Nobody brought that up," Grimes said when asked about the Michigan State game after Friday's win. "You're the first one, actually."
But that question wasn't the first time someone in a Kansas uniform thought back to KU's season opener.
"Yeah, definitely," Dotson said with a huge smile. "The way he was shooting, it was kind of giving me flashbacks (to the Michigan State game)."
There, Grimes hit six of his first seven 3-pointers and broke onto the college basketball scene in a monster way, dropping in a 21-point night that still stands as his career-high.
In this one, Grimes tallied 16 first-half points — 18 for the game — and was crucial part of what proved to be a balanced offensive attack that pushed the Jayhawks into yet another Big 12 championship game.
"He shot the ball ridiculously well the first half," KU coach Bill Self said of his 5-star freshman. "There was absolutely no hesitation. He was so confident."
As much as Grimes no doubt felt a little relief and elation to play free and see his shot fall with ease again, Grimes' memorable game was not limited to what he did when the ball was in his hands.
For the second consecutive game Grimes was good on the glass (8 rebounds) and he also chipped in with four assists and four steals in 30 minutes.
And that kind of all-around effort was consistent throughout the KU lineup once that Dotson-to-Grimes 4-point play broke down the bad basketball barrier.
Dedric Lawson hit 9-of-13 shots from the floor and finished with 24 points and 8 rebounds. Marcus Garrett, who looked as close as he's been to 100 percent on that injured ankle, tallied 11 points in 30 minutes — nearly all of them right at the rim — and Dotson added 13 points, 5 rebounds and 6 assists.
It wasn't all swishes and smiles for the Grimes-led Jayhawks on Friday. In addition to a scary moment with 6 minutes to play when Grimes went down with some sort of left leg injury and did not return, the Jayhawks were forced to overcome a slow start in a sterile building.
After the game, Self, Grimes and the rest of the Jayhawks said the injury was nothing serious.
"He just got a cramp," Self said. "So he's fine. I mean, I guess he needs to drink a lot of water and he should be fine."
It took Kansas five minutes to claim its first lead of the game, but a 10-3 run that featured five points from Lawson and five more from Dotson turned a 10-5 West Virginia lead into a 15-13 Kansas advantage at the 15:22 mark of the first half.
Twice during the run, Dotson showed his ability to blow by the Mountaineer guards in KU's half-court sets. As it turned, that was the easy part. Once Dotson got to the rim, he found arms and bodies and heads and shoulders hovering between him and the basket. No worries.
Like he's done all season, the freshman point guard merely contorted his body or hung a half-second longer to finish the play.
After nearly two and a half minutes without another point from there, Dotson returned to his attacking ways and picked up his sixth and seventh points of the game at the free throw line after another hard drive to the rim.
Those free throws, two more from David McCormack and a rebound and putback by Lawson were the only the Kansas points in a span of more than 7 minutes. During that stretch, while the KU offense struggled to both make and find good shots — KU opened 6-of-19 from the floor — the Mountaineers maintained their hot shooting — 10-of-16 overall (62.5 percent) in the game's first 12 minutes, including 4-of-7 from 3-point range — and used a 12-4 run to build a 27-21 lead at the 8-minute timeout of the first half.
One area WVU struggled early was the free throw line, where the Mountaineers hit just 3 of their first 7 attempts, compared to 7-of-7 for the Jayhawks.
From there, the Mountaineers' mistakes started to cost them. Seven first-half turnovers led to seven Kansas points, including a transition 3-pointer from Grimes that pulled the Jayhawks within two (32-30) with 4:11 to play in the half.
A quick start to the second half, which featured a Grimes steal and coast-to-coast layup, put Kansas up double digits and the Jayhawks (25-8) played most of the rest of the way effortlessly protecting a lead between 14 and 20 points.
Kansas now leads the all-time series with West Virginia, 12-5, including a 2-1 edge in the 2018-19 season series.
The Jayhawks have won six of the last seven meetings with the Mountaineers (14-20), with the only loss coming in Morgantown, W.Va., earlier this season, in a game that many Kansas and Big 12 fans pointed to as one of the big reasons the Jayhawks' streak of 14 consecutive Big 12 titles came to an end this season.
Friday's clash marked the third time in the past four seasons that the two programs have met in the Big 12's postseason tournament. Kansas won both of the previous meetings, as well, topping WVU in the 2016 and 2018 Big 12 title games.
So now it's on to another Big 12 title game for the Jayhawks, who will be playing in their 14th such game — by far the most of any Big 12 program — and looking to win a third consecutive rubber match.
KU and Iowa State (22-11) split the season series back in January, with each team winning on its home court.