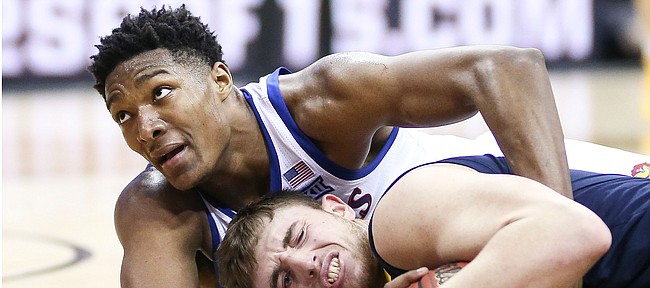 Kansas City, Mo. — College basketball coaches don't come much more hard-nosed than Bill Self and Bob Huggins. Both made their reputation in the business with their no-nonsense styles and the correspondingly uncompromising standards to which they hold their players.
They love toughness and defense and rebounding and effort and determination — and did I mention toughness?
Neither coach has one of his vintage gritty lineups to harass opponents this year, and both of them have led much more talented teams into the postseason than the ones they've spent the past several months screaming at.
But you just knew Friday night at Sprint Center, with a trip to the Big 12's championship game on the line, that both Self and Huggins would demand their pupils make the types of dogged plays that reek of perspiration and just may leave their bodies marked with scrapes or bruises or blood, or all of the above.
Photo Gallery
Kansas basketball v. West Virginia (Big 12 Tournament)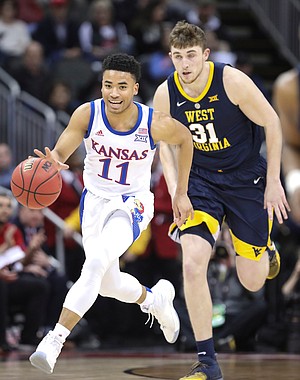 View a photo gallery from Friday's semifinal game between the Jayhawks and Mountaineers at Sprint Center in Kansas City.
Watching the tournament semifinal through that grimy lens, one was led to wonder whether the more talented Jayhawks could out-muck a bunch of Mountaineers with nothing to lose.
As it turned out, Kansas at times possessed the mettle fitting of the matchup in a 88-74 victory.
Self has mentioned several times in the past few weeks the need for KU to make foes feel uncomfortable. That type of defense wins games in March. And the Jayhawks showed versus WVU in various instances that they are capable of being up for that challenge.
Right off the bat Quentin Grimes gave WVU guard Jordan McCabe no window to peer through on a 3-pointer. However, the Mountaineers looked far too confident offensively the next couple minutes, jumping out to an 8-3 lead.
The intensity and energy on defense began to ratchet up once Self quickly subbed in two of KU's hardest-working players, Marcus Garrett and Mitch Lightfoot, with more than 18 minutes left in the first half.
Lightfoot protected the paint to the tune of two blocked shots in his first three minutes.
And it was no coincidence that KU began creating takeaways on defense once Garrett was on the floor. While some early swipes were credited to Grimes, Devon Dotson and K.J. Lawson, it was the awareness and willingness of Garrett to go make something happen as a defender that created each opportunity. Garrett got his nose dirty by cutting off and/or badgering WVU players on the catch or on the move.
"I feel like I'm a good defensive player," Garrett said after the win. "I feel like I can cause havoc out there, diving, helping others and just guarding the ball. So as soon as I get in I just try to create havoc out there."
The pilfering picked back up later in the half, seconds after Garrett returned to the court from his breather. But it was his active teammates that deserved credit this time.
Dotson fronted 6-7 Jermaine Haley inside when KU's point guard ended up defending the WVU forward in the paint off a switch. And when Derek Culver tried to lob Haley an entry pass, Grimes swooped in for a steal.
Even Dedric Lawson got in the mud and played some smart, anticipatory defense in the first half, with KU riding the struggle bus offensively and in need of stops. Lawson slid his feet when Lamont West faced him up and tired to drive by KU's star forward. Because Lawson was in perfect position, though, he stymied West on the way up for a shot, securing a steal.
Without those kinds of exertions on defense, WVU would have had a more than a reasonable chance of building a double-digit first-half lead, with KU ice cold and down by as many as 7 before Grimes' out-of-body 3-point shooting experience fueled their recovery on that end of the court.
KU would need effort plays on offense, too, especially before Grimes began scorching the nets.
Sometimes it was as simple as 6-foot-2 freshman point guard Dotson imposing his will and driving into the paint to draw fouls or finish over a bigger help defender.
In another key sequence in the opening 20 minutes, it was Lawson's willingness to wrestle for an offensive rebound and putback, with KU down 1 near the midway mark.
A 48-40 advantage entering the second half assured Kansas of nothing, as the Mountaineers reminded the favored Jayhawks immediately out of the locker room, carving apart KU's half-court defense on three consecutive possessions.
KU finally got a second-half stop when Grimes pounced on a steal near the arc, allowing the freshman shooting guard to glide the other way for a layup.
Fewer than 30 seconds later, McCormack would hit the floor to force a tie-up and give KU possession. Soon after, McCormack and Lawson met 6-9 Andrew Gordon at the rim to smother a would-be layup.
Though Lightfoot didn't play major minutes in the first half, when he checked back into the game in the second he was back doing Mitch Lightfoot things, blocking a shot in the paint on one occasion and joining Agbaji on another in diving head-first onto the hardwood for a loose ball.
Those resolute exploits allowed the Jayhawks to bury the Mountaineers, the Big 12's walking dead during the first two days of the tournament.
Afterward, though, the Jayhawks sounded anything but satisfied with their toughness. Likely because they caught an earful about playing soft in the first half from their head coach after the game.
"We didn't play our best ball on defense, that's for sure," Lightfoot said. "We had some possessions where we had some defensive letdowns we've got to fix and we've got to change moving forward. You can't have those in the tournament, otherwise that's how you go home sad. We've got to keep working."
The most promising development in terms of KU's true grit, Lightfoot said, was that players got on the floor.
"There were guys diving on loose balls. That was important," Lightfoot said. "We need more of that. Once we convert our defense to offense we'll be in a good place."
The Jayhawks minimized WVU's best chance at pulling off an upset, holding the Mountaineers to 9 second-chance points, a staple of easy offense for Huggins-coached teams for years. However, KU's 43-33 advantage on the glass was about the only sign of backbone Self was willing to praise, calling his team's defense "awful."
"Tonight it wasn't great," Self said of the level of toughness on display. "But we rebounded well. So if you play West Virginia and out-rebound them by double figures, you're gonna say 'we played pretty tough.' But we didn't get any stops. They got anything they wanted. There wasn't any rebounds to be had because they were shooing such a high percentage there for a good portion of the first half."
Lawson made it clear Self wasn't at all happy with the Jayhawks following the victory, assessing KU's toughness level at "about a five."
By the end of the night, KU had 7 blocks and 8 steals to show for their defensive efforts. And a spot in Saturday night's title game against Iowa State.
"There's room for more," Lightfoot said. "We've got to continue to amp that up little bit."
Now the question is: will KU's defense look tough-minded against the far more offensively skilled Cyclones.
"I know this," Self said, "if we guard like that tomorrow it'll be a long evening. And we've got to be a lot better in order to put ourselves in position to have a good chance."