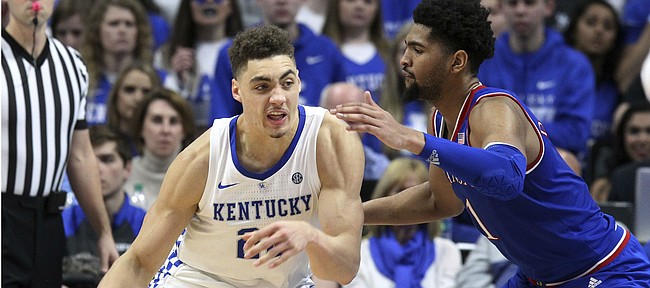 Lexington, Ky. — Kansas junior Dedric Lawson recorded his NCAA-leading 14th double-double of the season, with a 20-point, 15-rebound effort at Rupp Arena on Saturday night.
But 8th-ranked Kentucky countered with three players capable of putting up Lawson-type numbers, overwhelming offensively challenged Kansas, 71-63 in ESPN College GameDay's showcase game of the day.
Despite a slow start and a first-half controlled by No. 9 Kansas, Kentucky forwards P.J. Washington (20 points, 13 rebounds), Reid Travis (18 and 12) and Keldon Johnson (15 and 10) just kept coming and did not stop until the Jayhawks' 3-game winning streak over the Wildcats was a thing of the past.
"Obviously, their bigs played very well," said KU coach Bill Self, not forgetting to bring up reserve forward Nick Richards. "Nick didn't play a lot, but he blocks five shots and totally impacts the game. But Reid and P.J. were the dominant players, and it was two against one in there a lot. We're playing 6-foot-4 at the other (forward) spot. We actually did a pretty good job the first half, I thought, of neutralizing them to an extent. But, yeah, I think we just wore our guy out."
It took Lawson just 20 minutes to snag his 14th double-double in 20 games. and his 11 points and 11 rebounds in the first half were enough to give Kansas a 3-point lead at halftime.
Neither team — including Lawson — shot that well in the first half and KU sophomore Marcus Garrett said he felt Kansas should have been up by more than 3 points at the half.
Instead, the close contest allowed Kentucky to maintain its poise and the Wildcats erased the KU lead 74 seconds into the second half.
For the next six or seven minutes, the two teams went back and forth on the scoreboard, with the Jayhawks drawing even each time Kentucky took a small lead. But after two free throws from freshman guard Ochai Agbaji tied the game at 44, the Wildcats (16-3 overall, 5-1 SEC) unleashed an 8-0 run and Kansas never again closed to gap to fewer than 3 points.
As Self noted, Lawson wore down in the second half, with the Wildcats throwing big, fresh body after big, fresh body at him in the paint, where UK dominated 38-20.
Until a meaningless 3-pointer in the final minute fell through the net, Lawson was held to just 6 points and four rebounds for 19 minutes of the second half.
"It's definitely tough playing against two bigs like that," Lawson said of Travis and Washington. "We play a small-ball lineup and I had to guard P.J. and Travis and sometimes Nick and it's just something you have to step up to the plate and you can't make any excuses.
While Lawson felt no need to rationalize KU's inability to slow down the Kentucky front court, his teammates felt the need to apologize for not giving him more help.
"He was great," Garrett said of Lawson after the loss. "I felt like he rebounded the ball against almost all of them."
Added freshman guard Quentin Grimes, who hit 3 of 5 from 3-point range for 13 points in 29 minutes: "From Ochai to me to Marcus, we definitely have to get in there and start banging more with the big guys and get some rebounds and take some of the load off of him so he doesn't have to exert as much energy out there on the court. We're definitely going to need him for 35, maybe 40, minutes a game. So we definitely have to take some pressure off him."
Even Kentucky coach John Calipari, who routinely sticks around to autograph basketballs for a few hundred UK fans while doing his postgame radio show on the Rupp Arena court, had nothing but good things to say about Lawson's performance.
"How good was he," Calipari noted. "We thought we did a pretty good job on him and he got 20 and 15. He's really good."
So, too, were the Wildcats, who outrebounded Kansas 49-36 for the game and 23-11 in the decisive second half. Kentucky also hit 17 of 23 free throws while KU got to the line just 11 times all night.
"Something you can't teach is length and athleticism," Lawson said after the loss. "And those guys are athletic and they went to the glass pretty hard."
Lawson thought Kansas (16-4 overall, 5-2 Big 12) did, as well. But with Garrett and Grimes playing most of the minutes as the team's second biggest player — 6-10 freshman David McCormack played eight minutes and grabbed three rebounds — it often looked like the Jayhawks were playing on a regulation goal while the Wildcats were playing on one of those 7-foot, plastic hoops children put in their bedrooms.
Despite the outcome, both Lawson and Self said they were pleased with the way Kansas battled.
"Our guys competed." Lawson said. "(Self) said he wasn't discouraged with us, just the bonehead plays at the end. And that's something you've got to learn from. Simple as that. It wasn't the result we wanted, but, at the end of the day, it's back to the drawing board and get ready for Texas (on Tuesday in Austin)."
All week, that was one of the main talking points for the Jayhawks heading into Saturday's blue-blood showdown against the only program in college basketball that boasts more wins than the Jayhawks.
Kentucky now leads KU in all-time wins, 2,279-2,264. And while winning a fourth in a row over Calipari and the Wildcats would have delivered some serious bragging rights, the game itself was more of a bonus than anything, an opportunity to do something big with very little on the line.
That was the mindset the Jayhawks carried with them into the Kentucky cold on Saturday.
"We wanted to win," Lawson stated. "It's not the end of the world, though."
Added Self: "We can't fret about this. We came here to win; don't get me wrong. But it's not like the end of the Earth. We can still accomplish what our team goals are. Losing today doesn't help with that, but it doesn't destroy it by any stretch."