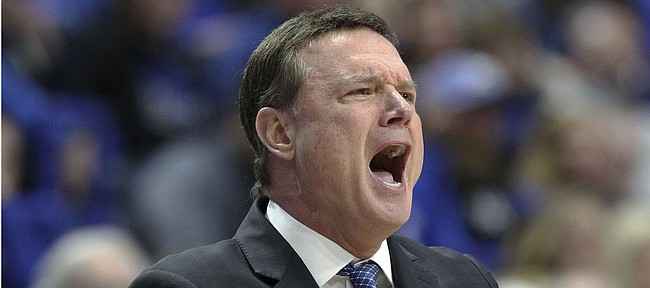 Lexington, Ky. — With the amount of hours dedicated to the hype and buildup for Saturday's blue-blood battle soaring into the triple digits, Saturday's 71-63 victory by No. 8 Kentucky over 9th-ranked Kansas certainly delivered the type of atmosphere one might expect of the two winningest programs in college basketball history.
"It was wonderful," said KU junior Dedric Lawson, who has talked often about how playing in games of this magnitude was a huge part of the reason he transferred to Kansas from Memphis.
"Yeah. It was great," five-star freshman Quentin Grimes said.
Just how great? That depends on who you talk to. And, at one point, one of the loudest moments delivered by the Rupp Arena crowd of 24,387 screaming fans came after back-to-back free throw misses by Grimes ensured free breakfast biscuits at Chick-Fil-A for everyone in attendance.
By game's end, there were a few moments louder than that one, of course. Even KU coach Bill Self, who has coached 258 games in KU's famed Allen Fieldhouse, had glowing reviews — and one playful jab — for Rupp Arena after Saturday's loss.
"It's good," Self said. "It's no Allen Fieldhouse, but it's good. It's a terrific atmosphere. I said before the game, this is why you go to Kentucky or go to Kansas. It's terrific. (But) I didn't think that had anything to do with our play tonight."
Neither did Grimes.
"I didn't think it was a problem until they started hitting 3s late and that kind of got the crowd into the game," Grimes said. "But I think we maintained our defensive composure and kept the crowd out of the game until the last 5 minutes."
Garrett cools off
Kansas sophomore Marcus Garrett entered Saturday's game at Kentucky on some kind of offensive heater.
And the Wildcats' length and defense, not the single-degree Kentucky temperatures, proved to be all that was needed to cool off Garrett.
After emerging as a major weapon for the Kansas offense during his past four outings, Garrett struggled through 32 foul-plagued minutes in a 71-63 loss to Kentucky at Rupp Arena and finished just 1 of 9 from the floor, 0 of 2 from 3-point range, for 4 points, two of which came at the free-throw line.
"He didn't have his best game," KU coach Bill Self said of Garrett after the loss. "But, still, though; we've got to live with that. If we're going to play Marcus, we've got to live with him trying to score over length from 3 or 4 feet and he just didn't do that tonight."
It was not for lack of trying. Time and time again, particularly in the early going, Garrett attacked the rim off the bounce and tried to get the ball up on the glass. And time and time again the Wildcats' altered or flat-out blocked Garrett's attempts.
The Kentucky defense recorded eight blocks in Saturday's victory and three of them came on Garrett shot attempts.
"He got to the basket two or three times early, trying to score over length, and they blocked his shot," Self said.
Added Garrett when asked about the challenge of testing the UK big men: "(It's) just different with that length. (Almost) that whole team is long, and it was just a different type team than what we've played."
Challenge extended
In the hours leading up to the sixth edition of the SEC/Big 12 Challenge on Saturday, officials from both conferences announced that the showdown had been extended for another six years.
Despite KU's loss, the Big 12 promptly went out and celebrated by running its record to 4-1-1 in the first six years of the one-day showcase, with a 6-4 victory in head-to-head matchups this year.
Texas Tech, Iowa State, Baylor, TCU, Oklahoma and Oklahoma State all picked up victories over SEC programs on Saturday, with Kansas, Kansas State, Texas and West Virginia falling.
Self reiterated after the loss that he was not a fan of the timing of the game coming in the middle of conference play. But acknowledged that there were good things about it and that both teams were in the same boat.
"Sometimes, Kentucky has to do things that you may not want to do, but it's good for the whole," Self began. "And I think that's where we are, too. Even though I wish it could happen in December, you can't do that. There's no time slots, with bowl games and things like that. So, for one day, it was an infomercial on ESPN for both leagues, so that is positive."
KU is 4-2 all-time in the SEC/Big 12 Challenge, including 2-1 against Kentucky.
This and that...
Kentucky now leads the all-time series with Kansas, 23-9... Bill Self is now 6-5 all-time against Kentucky, 6-4 while at Kansas... UK coach John Calipari is now 4-6 all-time versus Kansas... The loss snapped KU's 13-game regular-season winning streak against top 10 teams, which began in January of 2016... The Jayhawks are 2-1 against top 10 teams this season, with wins over Tennessee and Michigan State and Saturday's loss to the Wildcats... The loss also was Self's 100th at KU, running his record at Kansas to 463-100. His all-time coaching record stands at 670-205.