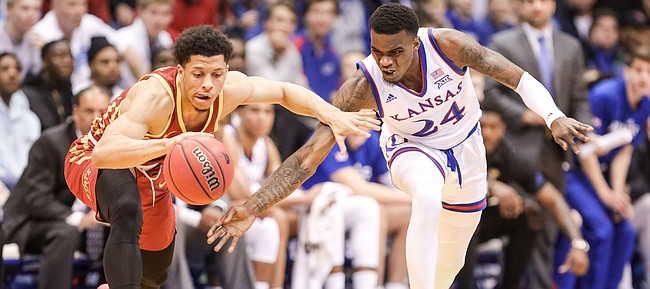 One way or another the four-way tie atop the Big 12 standings was getting broken up by the end of Big Monday at Allen Fieldhouse. At least for a day.
The winner of Kansas State-Texas Tech will get a chance to join Kansas 20-some hours after the fact, but until then, the conference lead belongs to the Jayhawks.
The battle of four-guard lineups, which ISU won easily 16 days earlier, in Hilton Coliseum, went the other way in Round 2.
And if Iowa State and Kansas could somehow play again tomorrow, who knows which team would emerge with the win.
What has Bill Self discovered about the league up to this point?
"One thing I've learned is I'm glad we don't play the Cyclones again," Self said after his team's narrow, 80-76 win. "I think us letting one slip away Saturday (at West Virginia) obviously could loom large late. But everybody's gonna let one slip away in this league," the coach added, with a chuckle. "It's too good. Iowa State could say the same thing. They let the K-State game slip away. Everybody's gonna be able to say something like that."
Photo Gallery
Kansas basketball v. Iowa State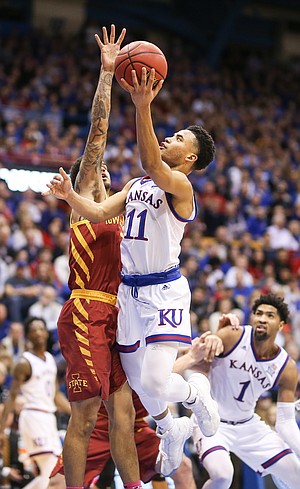 View a gallery of images from Monday night's game between the Jayhawks and Cyclones at Allen Fieldhouse.
This Big 12 race is shaping up to be the most interesting one in years. You could make a convincing case for any of KU, ISU or Texas Tech winning it outright, even with Iowa State's Monday defeat. One really can't even rule out the defensive-driven Wildcats from Manhattan, either, now that Dean Wade is back. K-State is a home win over Tech away from making this chase for the regular-season championship even more extraordinary. Baylor even added to the jumbled nature of the top of the league by moving to 4-2 in Big 12 games with a win at West Virginia on Monday.
What's more, it's hard to envision any of the four teams putting the race away before the final week of the season, so prepare yourself for high drama, anxiety and/or excitement, depending on your point of view on life, college basketball outcomes and conference title streaks.
If we're all so lucky most matchups between the top four teams will be as thrilling as Monday's inside Allen Fieldhouse, where both visiting ISU and eternal home favorite KU led by as many as 8 points at various junctures, only to see those cushions completely disappear.
Even The Undisputed King of Big Mondays, Bill Self, had to sweat this one out, before his home record on ESPN's late Monday game stayed perfect, and moved to 28-0.
It helped KU immensely that, unlike during Round 1 in Ames, Iowa, junior big Dedric Lawson spent the entire game playing like the Cyclones (14-5 overall, 4-3 Big 12) had no solution for him inside. Or outside for that matter.
The 6-foot-9 forward from Memphis buried both of his 3-point attempts, including a near game-sealing trey from the top of the key with 23 seconds left on the game clock, pushing KU's lead to 5.
Lawson so thoroughly handled the Cyclones inside, on the way to 29 points on 13-for-17 shooting and 15 rebounds that he offset the production of one of the league's other top talents, ISU guard Marial Shayok (26 points, six rebounds). Lawson even defended Shayok's last-second heave soundly without fouling, when the savvy graduate transfer from Virginia had nothing but an improbable 4-point play on his agenda.
Plus, now that sophomore guard Marcus Garrett (16 points, five rebounds, three steals) is a big guard who knows he can drive downhill and never forgets it, the Kansas offense has a new layer of toughness about it.
The Jayhawks (16-3 overall, 5-2 Big 12), now ranked No. 9 in the nation, appear too flawed overall to run away from the field the way they typically have under Self.
But if Ochai Agbaji (8 points and five rebounds in 16 minutes before fouling out) keeps playing with energy, Lawson and Garrett can maintain their newfound status as the team's two most important players and freshman Devon Dotson (career-high eight assists) can keep driving and attacking, the Jayhawks just might be able to overcome their weaknesses: tendencies to break down defensively, turn the ball over too often and struggle to find consistent 3-point shooting.
A quick reminder of the temporary Big 12 standings:
KU: 5-2.
Tech: 4-2.
K-State: 4-2.
Baylor: 4-2
ISU: 4-3.
Here's hoping for six more weeks of chaos.