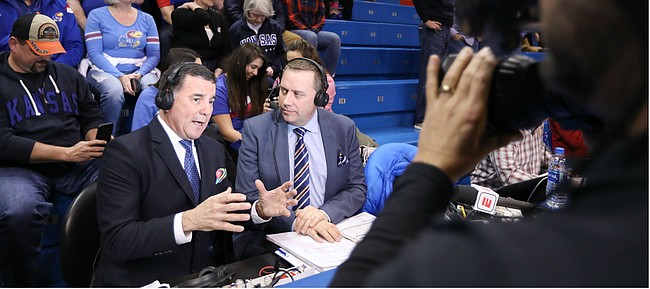 Monday night's 80-76 win by No. 9 Kansas against No. 24 Iowa State marked the second of four ESPN Big Monday appearances this season for the Kansas men's basketball program, a ritual of sorts that has become as common as Kansas returning to Maui every four years for the Maui Invitational.
And as important as the Big Monday showcases are to the Jayhawks and their passionate basketball fans, there are people at ESPN who believe the Kansas brand is equally as important to Big Monday.
Broadcaster Fran Fraschilla is one of them. Fraschilla was on the call for Monday's game between the Jayhawks and Cyclones, and he likened the Big Monday phenomenon throughout the years to "Monday Night Football for basketball fans."
"I think KU's in that small group of elite schools that ESPN loves to have on the air, because they know people want to watch," Fraschilla told the Journal-World. "And KU wouldn't have had the Big Monday presence that it's had throughout the years if it wasn't an opportunity for ESPN to rate well. That's what it's all about."
The existence of Big Monday hardly benefits just one side. Fraschilla, a former Division I coach himself, said the Jayhawks can use the exposure from the game in recruiting and as a way to add to their already electric environment.
"It's a chicken or the egg thing," he said. "The more they win, the more they're on Big Monday. And the more they're on Big Monday, coach (Bill) Self and his staff can use it in recruiting and it just becomes a self-fulfilling prophecy."
Photo Gallery
Kansas basketball v. Iowa State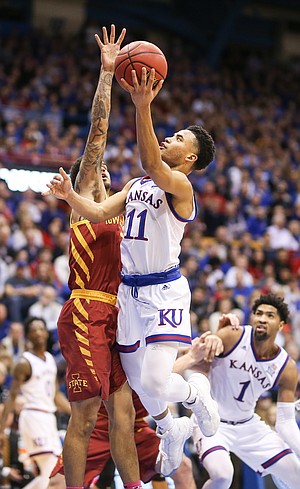 View a gallery of images from Monday night's game between the Jayhawks and Cyclones at Allen Fieldhouse.
ESPN sideline reporter Holly Rowe, who has reported for dozens of Big Mondays during her career, doesn't hide the fact that Allen Fieldhouse is her favorite place to cover a game.
"People get mad at me for saying this, but this, to me, is the best place to watch a college basketball game, and I believe that with my whole heart," Rowe told the Journal-World. "And I've been to almost every great arena. It's unique. It's historic. It's loud. It's passionate."
Like Fraschilla, Rowe also believes that having Kansas as a featured part of Big Monday is a big deal for ESPN.
"I think Kansas basketball, in and of itself, is probably the biggest brand, other than maybe Duke, in America. So it is important for us to have this brand in our showcase," said Rowe, whose first Big Monday broadcast was the Kansas-Missouri showdown in Columbia, Mo., in 2006, when former Jayhawk Christian Moody missed two free throws at the end of regulation in an 89-86 overtime loss.
Fraschilla also remembers a few Kansas-Missouri Big Monday games, and his lasting memory of being at those was that they "just blew the roof off."
He still recalls the early days of Big Monday, back when Kansas played in the Big Eight and it was the Big East or Big Ten, and not the ACC, that played the 6 p.m. opener.
"Oh, absolutely," Fraschilla recalled. "When I was a young coach in the 80s and early 90s, I couldn't wait to listen to (former ESPN broadcasters) Ron Franklin and Jon Sunvold. It was the Big Eight back then, but Gallagher-Iba Arena and Allen Fieldhouse and Hilton Coliseum and Billy Tubbs and Oklahoma – it was a big-time brand even then."
One of Fraschilla's favorite things about Big Monday is when it takes place somewhere other than Allen Fieldhouse, yet still features KU.
"As much as I love coming here, Kansas on the road on Big Monday is cool, too, because they always go into somebody's lion's den," he said.
Rowe said her favorite part about Big Monday is the "all eyes on Big Monday" mindset.
"If you look on Saturday, there's 50 games on TV, or maybe more than that," she said. "So this is a place for the Big 12 to shine and also for us to really showcase the kids and the stories in the Big 12.
"We do cover KU a lot, but it's because they deserve it and they've earned it. Kansas is one of the biggest things that we cover in the Big 12, and until someone knocks them off, they'll continue to be the story."
KU falls to No. 9
The Jayhawks dropped from No. 7 to No. 9 in the latest Associated Press Top 25 poll, released Monday afternoon.
The Jayhawks were jumped in the poll by No. 8 Kentucky and No. 7 Nevada, but stayed ahead of Virginia Tech, North Carolina, Marquette, Maryland, Texas Tech and Buffalo, which rounded out Nos. 10-15.
Tennessee, which Kansas defeated in New York back in November, jumped from No. 3 to No. 1 in this week's poll after Duke's loss to Syracuse last week.
The Blue Devils dropped a spot to No. 2, with Virginia, Gonzaga, Michigan and Michigan State filling spots 3-6.
MLK tribute
Before Monday's game, KU showed a video tribute to Martin Luther King Jr. on the video board at Allen Fieldhouse in celebration of the holiday honoring the great civil rights leader.
The video featured a dozen different KU student-athletes, including several members of the Kansas men's basketball team sharing their thoughts about King and the holiday.
"I think it's important to celebrate Dr. King, because he broke so many barriers in the nation and just allowed people of color to have freedom," said freshman point guard Devon Dotson.
Junior forward Dedric Lawson added: "The way he brought people together and stood up for such a powerful protest without causing violence, he was just something that the world needed at the time."
Said freshman David McCormack: "He kick-started a movement that brought us together."
Freshman guard Quentin Grimes was among those to close the video, which included footage of many of King's most memorable speeches.
"From the bottom of my heart," Grimes began, "thank you Dr. King for your sacrifice and your visions."
Suits and sneakers
The coaching staffs for both Kansas and Iowa State participated in an annual event known as Suits and Sneakers during Monday's contest.
Throughout the week, which has been dubbed Suits and Sneakers Week from coast to coast (Jan. 21-27), college and high school coaches across the nation will wear sneakers with their suits during games to raise awareness for Coaches vs. Cancer and the fight against cancer.
The National Association of Basketball Coaches (NABC) teamed with the American Cancer Society over 25 years ago to form Coaches vs. Cancer. Since its inception, the foundation has raised more than $115 million to support the American Cancer Society and save lives.
This and that ...
Former KU national champions Brandon Rush, Sasha Kaun and Mario Chalmers watched Monday's game from behind the KU bench … The Jayhawks are now 16-3 overall and 5-2 or better in Big 12 play for the 15th season in a row ... KU now leads the series with Iowa State, 182-65, including a 94-16 edge in games played in Lawrence, 53-10 inside Allen Fieldhouse ... KU's Allen Fieldhouse winning streak is now at 15 games, dating back to the end of the 2017-18 season. The Jayhawks are 11-0 in their home building this season.