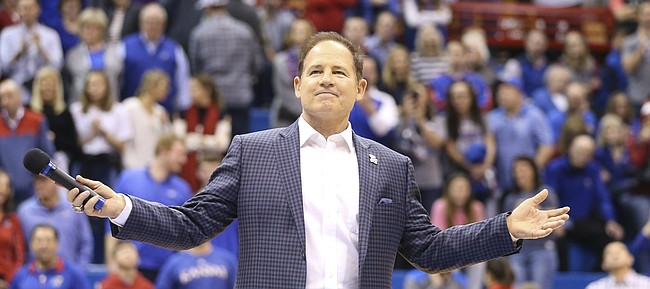 There's enough reason to believe that Chip Lindsey was not Kansas football coach Les Miles' first choice as KU's new offensive coordinator to make Lindsey's departure a little easier to digest.
But that's only if Miles' Plan C or Plan D or Plan E or wherever we're at on the list at this point can bring the same kind of buzz and clout to the long-suffering KU program.
More about that in a minute.
First, let's address Lindsey, whose time at Kansas will forever go down as a little more than a month on the recruiting trail without a single play call, personnel decision or postgame interview.
Hey, at least he didn't have time to screw anything up, right? That puts him ahead of at least a couple of guys who did the job before him.
By all accounts, Lindsey was excited about the chance to work with Miles in Lawrence and had big plans for the Kansas offense. From how to call it to how to recruit to it, the former Auburn offensive coordinator appeared to be one of Miles' better hires.
Here's the rub: That belief only grew this week when Lindsey, who had reportedly interviewed for the OC position at Tennessee before going to KU, on Thursday, officially accepted the position of head coach at Troy in his home state.
No matter how well you think Lindsey would have done as KU's play caller, losing him is a blow to the Kansas football program. But how can you blame a man for accepting an offer to run his own program at a place so near and dear to his heart?
So chalk this one up to bad luck, bad timing or just good, old-fashioned Kansas football karma. One of these days, the breaks are going to start going the other way for this program.
And if Miles' replacement for Lindsey is anywhere close to as good of a hire as Lindsey was in the first place, those days could be here sooner rather than later.
Not for nothing, but if Tennessee wanted Lindsey to run its offense in the SEC and a legit Division I program with good tradition and recent success came after him to fill its head coach opening, one can only believe that Lindsey is a pretty darn good coach.
Now all Miles has to do is hire another one like him. And Miles' ability to land Lindsey in the first place is enough reason to believe he will.
It's even possible that Miles and the Jayhawks could end up better off after all of this crazy coach shuffling. His first round of hires took longer than many expected to complete and there will be some sense of urgency this time around. But there really isn't that much of a hurry. The rest of the staff is in place, Miles has his feet firmly on the ground and KU has not even announced the dates for spring football yet.
Yes, recruiting is a concern, but there are enough offensive coaches in place already — receivers coach Emmett Jones is one of them and Miles himself certainly doesn't hurt — to believe than the program can survive another week or two of making sure Miles gets this one right.
You might have to squint and tilt your head to see it this way, but losing Lindsey in the fashion that the Jayhawks have could, in and of itself, represent the smallest bit of progress for this program.
In years past, most coaching moves have come as a result of firings or assistants seeing the writing on the wall and jumping off the sinking ship. This time around, the Jayhawks lost a coach because he was good. There's no shame in that. And if things go well and Miles is successful in turning Kansas football around, it won't be the last time we see it happen.
Might as well start getting used to the idea now. You know, just in case.