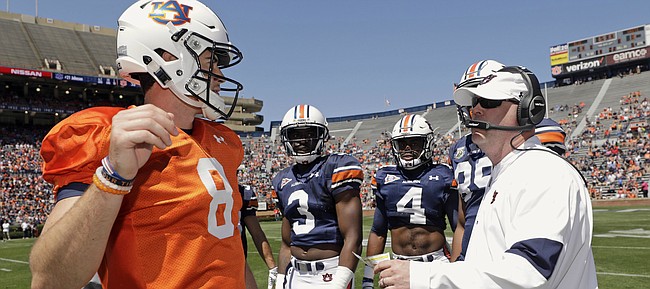 It took Les Miles roughly two weeks to search for and hire an offensive coordinator after becoming the head football coach at the University of Kansas.
Now Miles will have to do it all over again, a little more than five weeks after landing on Chip Lindsey.
As previous reports indicated would be the case, Lindsey officially left behind his new position as O.C. and quarterbacks coach with the Jayhawks on Thursday to become the new head coach at Troy.
Miles was not available Thursday for comment.
"I am extremely honored and humbled to be the head football coach at Troy University," Lindsey stated in a release from his new employer's athletic department. "Our family is beyond excited to come back home to the state of Alabama and to Troy as we continue to build on the foundation that has been laid for this program. I have seen firsthand the passion of Trojan Nation and the student-athletes that represent it. I cannot wait to meet our team and get to work on strengthening our position among the premier Group of Five programs."
A native of Madison, Ala., Lindsey worked as the offensive coordinator and QBs coach at Auburn for two seasons before his short-lived move to KU.
Lindsey, who spent one year as Troy's QBs coach in 2010, will take over a Sun Belt Conference program that reached three straight bowl games and won all three under former head coach Neal Brown, who was hired this past week by West Virginia. Troy went a combined 31-8 during the final three seasons of Brown's tenure.
When hired by KU on Dec. 3, Lindsey signed a four-year deal. However, terms of the agreement allowed him to leave without any buyout stipulations if he did so to become the head coach of an FBS program.
Troy will formally introduce Lindsey as its head coach during a Friday press conference.
"Chip is well respected across the state of Alabama and the nation," stated Jeremy McClain, Tory's senior ice chancellor for athletics, "for not only his coaching ability, but also his ability to grow the men in his program and prepare them for life after football. He has a vision and plan for excellence for each segment of this program, and I have the full confidence about the future of Troy Football under his leadership."
Lindsey spent the bulk of his first 16 years in the profession as a high school coach in Alabama. He would go on to become the offensive coordinator at Southern Miss, Arizona State, Auburn and, temporarily, at KU.
During his few weeks working for Miles, Lindsey helped the Jayhawks recruit and sign junior college prospects such as QB Thomas MacVittie and receiver Ezra Naylor for the 2019 class.