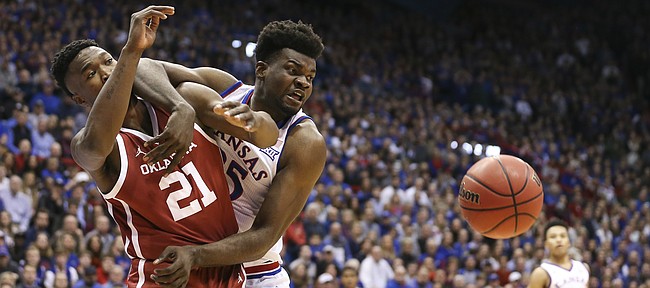 While most, if not all, followers of Kansas basketball knew that KU junior Udoka Azubuike would not play in Wednesday night's 77-68 victory over No. 25 TCU, there were a few who were curious where he was during the 7th-ranked Jayhawks' bounce-back win.
Azubuike was in New York City, recovering from surgery to repair the torn ligament in his right hand/wrist area that will cost him the rest of the 2018-19 season.
KU coach Bill Self said after Wednesday's victory that Azubuike had surgery Wednesday morning.
"Dr. (Thomas J.) Graham did it at NYU there in the city," Self said of the orthopedic surgeon who specializes in hand and wrist cases at NYU Langone Health. "And Dr. Graham said it couldn't have gone any better."
Azubuike's absence from the KU bench on Wednesday should be the last time his seat is empty the rest of the way. Granted, he'll be in street clothes, but Self has said that there is a value to having Azubuike around the program, both from a morale standpoint and as a mentor.
"He'll have a role and he'll do a great job with that," Self said earlier this week. "But, right now, it's probably too early for him to try to coach those guys on a daily basis, even though I know he will once he gets back and back to normal. Right now it's not normal for him."
Azubuike is expected to return to Lawrence sometime Thursday.
"He'll return tomorrow and he will not travel with us to Waco, (Texas)," Self said Wednesday night. "He'll be back with the team, but will not travel. After that, moving forward, he should be with us all the time."