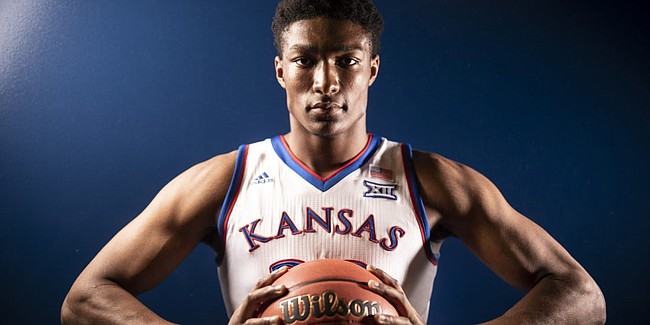 Every morning during the summer of 2017, Janine McCormack's days began at 4 a.m., with her son, David McCormack, quietly tiptoeing into her bedroom.
"I used to hate it," Janine said during a recent interview with the Journal-World about her son, the newest starter on the 12th-ranked Kansas men's basketball team. "He would wake me up and say, 'Mom, I'm leaving. I'll see you later.' And I was like, 'No you're not. Where you going? You're not leaving this house.' But he always went. He would have that yoga mat and he would go down to the oceanfront to do his exercises."
David told Janine the early departure ensured a good parking spot. But the real motive behind his wake-up calls centered on the fact that the future Jayhawk was addicted to transforming his body.
Each day, David made the 25-minute drive to Virginia Beach, where he turned the serenity of the sand and shore into an intense training ground.
His grandmother, Daisy Daniel, loved the beach. Lazy walks, the soothing sound of the waves and the way the water changed color when the sun was setting all were a memorable part of David's youth.
As dawn approached, David sprinted and jumped, backpedaled and lunged, jumped rope and meditated for a couple of hours before returning home.
That was his routine during the first summer home from Oak Hill Academy, where he became a new man and earned McDonald's All-American honors before coming to Kansas.
But the initial stages of the David McCormack transformation began two years earlier, closer to his home in Norfolk, Va.
The beginning
On July 2, 1999, at Our Lady of Mercy Medical Center in the Bronx, New York, Janine McCormack gave birth to her second son, David Joseph McCormack, via caesarean section after nearly 12 hours of labor.
"I remember the doctor saying we may have to do a C-section, and I was like, 'Please do something,'" Janine recalled. "It was one of the longest days of my life."
The second of Janine's two sons spread 8 pounds and 15 ounces over 24 inches, and his birth measurements better resembled those found at 3-month checkups.
David moved to Virginia when he was 2, but those early days were hardly the only time he stood out as big for his age.
"We would go places and I would think, 'Gosh, why are those other kids so small?'" said Janine, remembering trips to the park or playground when David was 5 years old. "My sister, Kara, would tell me, 'Those children are normal size. Your child is the abnormal one. Your kid is huge.'"
At age 5, David looked more like a 7-year-old. By the time he was 7, people thought he was 10 or 11. And while his size helped him in athletics, it did not come without a price.
His aunt, Kara Moss, whom he called "Auntie Mom," said there were times, around age 10, when David thought about giving up basketball.
As the numbers on the scale continued to rise — nearly 200 pounds by age 10 and climbing fast — David struggled to move as fast as his friends. Classmates began to tease him about his size, and their words, like needles to a pin cushion, hit David's heart.
"I had to give him the hard truth sometimes," Kara recalled. "He was always going to be bigger, and he was competing with boys that were half his size. If he really wanted to compete with them, he had to go compete."
As David approached his teenage years, Kara's words stuck and he slowly realized he could do something about his weight.
"Once that lightbulb came on, it never turned off," Kara said.
The breaking point came just before high school.
"I just kind of saw it on my own," David told the Journal-World. "Everybody was like, 'Oh, he's a monster, nobody can handle him.' But then, I would see little things, like people running past me on the court, and I was just like, 'This is not going to help me in the long run.'"
A Rising Freshman
Growing up, David played football and basketball, and also threw the shot put and discus. He nearly considered swimming at Norfolk Academy before choosing basketball.
In the summer of 2014, prior to his freshman year at Norfolk Academy, David attended a football camp at Duke University, where the coaches named him a "Rising Freshman" and begged Janine to keep her son interested in football.
"They just kept saying, 'He's wonderful. We love him. Make sure he keeps on point with those grades,'" recalled Janine, noting that her son never attended Duke's basketball camp. "And I was like, 'He's only in the 8th grade."
That he was. But his physical appearance suggested otherwise.
By that summer, David stood a shade over 6-foot-7 and weighed more than 300 pounds, well on his way to topping out just above 320.
"We had homestyle lunches every day," Norfolk Academy basketball coach Eric Acra told the Journal-World. "And you can imagine a boy that big, walking into a place where it's unlimited seconds, thirds, fourths, every day. He was really enjoying himself."
Except that he wasn't.
Sure, he liked to eat. But, eventually, all of those meals and unhealthy choices caught up with David, mentally as much as physically.
During his freshman and sophomore seasons at Norfolk Academy, David was a force on the court. He was not the explosive athlete he is today, but a load, nonetheless.
Acra, who also was David's guidance counselor, liked that for the team, of course, but also fully supported David's quest to get healthier.
"You couldn't move him off the low block," Acra recalled. "He was going to be an old-school, back-to-the-basket player. I didn't want him to get too thin too quick and lose that aspect of his game, but, by the end of his freshman year, it was clear he was determined to see how good he could be."
What began with David walking "sort of side to side because he grew so fast" and initially included pool workouts consisting only of high-knee kicks, quickly became an all-out assault on losing weight and getting lean.
If his final year at Norfolk Academy laid the groundwork for David's lifestyle change, the move to Oak Hill opened the door to a whole new way of attacking his transformation.
"He went to college early in that sense," Acra said. "And he needed that."
Added Janine: "David did it all on his own. They didn't give him a plan or anything like that. He was like, 'No. I've got to feel better going up and down this court. I've got to be healthier.' And he just started eating better and working out more."
The heavy lifting
From devouring slices of cheesecake to wolfing down second helpings at lunch and dinner, one thing David was good at, long before he became a nationally recruited, 4-star basketball prospect, was eating.
"The boy loved to eat," said Aunt Kara.
David did not dispute those words, but also smiled when reflecting back on the sacrifices he made to reshape his body and gain control of his cravings.
"It was pretty difficult in the very beginning," he said. "You would see people eating stuff that you'd want and you'd think, 'Ah, I could really go for that.' Cheesecake is probably still my kryptonite."
There's a funny story about David and his love of cheesecake. Beyond the fact that he still can't resist the delectable dessert and actually punishes himself with suicide sprints for eating even the smallest slice, the timing of David's weight-loss journey could not have been worse for his love of cheesecake.
"I remember him telling me one time that I never took him to Cheesecake Factory and I always took his brother," Aunt Kara said. "So I promised to take him. But by that time he had pretty much given up cheesecake and then I felt really, really bad. He'd say, 'What's the point now? I don't even eat it that much.' But we went anyway and we enjoyed it. He still indulges from time to time. And I always tried to help him see that it's not about starving yourself, it's about finding balance."
David began replacing junk food with healthy snacks and kale smoothies, which he always feared would taste like grass but discovered "were not as bad as I expected."
In addition to cutting out sweets, David researched low-carb diets, lean proteins and replaced fast food with fresh fruits and vegetables. He cut out red meat, ate a lot of shrimp, fish and chicken, and found the dietary balance his aunt talked about.
His family took the journey with him, vowing to eat healthier and open their minds, and purses, to buying whatever groceries David needed.
His mom even began making his meals at home — carrots, baked chicken with the skin peeled off, salmon, tilapia and other fresh veggies — before picking him up from football practice so he could eat in the car and not have his meal prep time cut into his homework or sleep.
David took his workouts to a new level, as well.
He had a regular in the garage where he spent a ton of time and his mother and aunt routinely timed his planks and pushed him to do a few more reps on the exercise ball in the living room — not that he needed the nudge.
"He was like, 'Go!' And he'd do one, two, three, four, five things, and he would go on to the next thing and then the next thing," Janine recalled. "When I say the sweat was pouring off of him, I mean it was pouring off."

Although the biggest gains did not come until he left for Oak Hill, Acra saw firsthand the role that early gratification played in David being ready to make an even bigger jump once he left home.
"All of a sudden, he's starting to V up from the waist up, and that's a pretty cool thing to see when you look in the mirror," Acra said. "He saw the results, he liked what he was doing and he said, 'OK, I'm all-in. Let's go.'"
The variety of David's workouts — he even did ballet before school in 9th and 10th grade — and those rapid results fueled his dedication.
"I took to it pretty quickly," he said. "I felt the difference after a couple months and I was like, 'I like this feeling much better. It's definitely helping me on and off the court.'"
David's biggest weight drop came early in the process, when he lost around 40 pounds in two months.
"It was just me being very selective about what I ate," he said. "When you know you're putting the right things in your body, you know you're going to get the results you want."
Determined to succeed
Kansas strength coach Andrea Hudy remembers hearing David's story.
Although the details were missing, she knew he had lost nearly 70 pounds in a short time and was impressed by the chiseled frame that stood in front of her the first time they met.
Hudy also knew, almost immediately, that David's heavier frame had created tension in his body. What's more, she quickly identified improved fluidity as one of her main goals for the KU freshman who now stands 6-10, 260 pounds.
"What's impressive about Dave is his determination and his focus," Hudy said. "If he wants something, he's going to get it. All that progress, that's Dave being Dave and him wanting to do well. He has a real intent for his future."
There were signs of David's dedication long before the results showed up in the mirror.
In March of 2018, a week before he was to play in the McDonald's All-American Game in Atlanta, David's Grandma Daisy passed away. Her funeral was five days before the game, and rather than sulking or complaining about unfair timing, David took the grin-and-bear-it approach.
"Mom, I've got to do it. They're not going to change the date of the game for me,'" Janine remembered her son telling her. "So we had the funeral and off we went."
David scored 14 points and grabbed 10 rebounds in the all-star game.
Through all of the hard work and sacrifice, before, during and after his transformation, David has maintained his determination.
"There were days when it was hard and he knew it would take more out of him personally and emotionally and spiritually than he'd ever imagined," Aunt Kara said. "But it was never, 'I want to give up.'"
Good thing, too, because others were watching.
A few months after David left for Kansas, Oak Hill coach Steve Smith caught up with current Oak Hill senior B.J. Mack, a former teammate of David's who, like the KU freshman, was always on the heavier side.
Through his own hard work, Mack cut quite a bit of weight last summer and, one day, while Smith was praising Mack for his new physique, Mack's father, Brian, quickly interjected.
"We're on that David McCormack plan," Brian Mack said, according to what Janine was told.

"I'm just so very proud of him," Janine said of her son. "He's been so disciplined, and for him to do all of that so far away from home, it's just amazing. I'm a mom, so I worry. But to this day, every time I call and ask how his grades are or how his diet is or if he's working hard enough, he's like, 'Mom, I've got it. I'm good. I have it all under control.'"