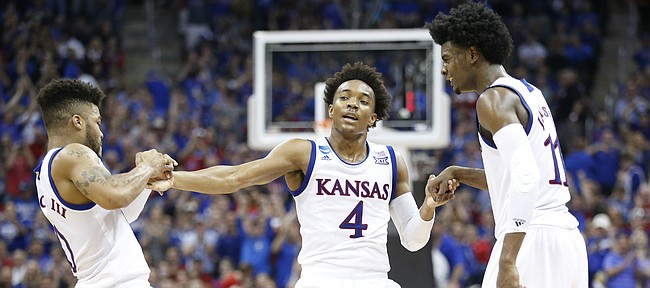 Kansas basketball coach Bill Self gets 13 scholarships per season to fill out his roster.
So today, as we look back on the last 10 years of Kansas basketball under Self, it only makes sense that we put together an all-decade team that features 13 players — five starters and eight on the bench.
There are a dozen different ways to put this all-decade team together, but, for this one, we're going to include the best players who also delivered some of the biggest moments.
Whether that was while at Kansas, in the NBA Draft after leaving school or both, the following list of 13 former Jayhawks is packed with players who achieved some major accomplishments both as individuals and with their teams.
The only requirement for this all-decade squad is that the players on it had to play at least half of their KU careers from 2010 through 2019.
With that in mind, and knowing that this list will be missing someone and be picked apart by those who read it, here are my picks for KU's latest all-decade team.

Starting Five
PG – Frank Mason III – The four-year standout from Petersburg, Va., finished his KU career with one of the best all-around seasons by a guard in Kansas basketball history. He was rewarded by sweeping all of the major national player of the year awards and left KU as the sixth leading scorer in school history with 1,885 career points.
SG – Devonte' Graham – Playing Robin to Mason's Batman throughout the first three years of his career, Graham proved during his senior season that he was more than just a stellar sidekick. After taking over point guard duties following Mason's departure, Graham led the Jayhawks to the 2018 Final Four, the record-breaking 14th consecutive Big 12 Conference title and earned conference player of the year and first-team All-American honors in the process. Graham ranks 13th on KU's all-time scoring list and second on KU's all-time 3-point makes list with 296 triples.
3G – Josh Jackson – KU's most recent one-and-done player makes the starting five because of his versatility and incredible talent. Had he been forced to stay at KU for four seasons, his name would have been in the Top 5 on all kinds of KU's all-time lists. As it was, Jackson earned Big 12 Freshman of the Year honors and also became a lottery pick after helping lead the Jayhawks to a 31-5 season (16-2 in Big 12 play) and the Elite Eight in March.
PF – Thomas Robinson – He was not the most skilled player on this list, but no one played harder. Whether it was finding a way to score or getting every rebound on both ends of the floor, Robinson's junior season remains one of the most impressive by an individual in the Self era. In addition to earning All-American honors that season, Robinson's school record of 27 double-doubles helped lead KU to the 2012 national title game before going on to be the fifth overall pick in the 2012 NBA Draft.
C – Jeff Withey – After a slow start, Withey's run at KU was remarkable. Not only was he a key part of the 2012 runner-up team and the 31-6 team that followed it, but he also was as good a defensive player as there was in the country and his offensive game grew throughout his time at Kansas. His fit on that 2012 team, alongside Robinson, was pure perfection, and he showed that by setting an NCAA Tournament record with 31 blocks in six games that tournament.
Bench
Tyshawn Taylor – One of KU's quickest point guards with the ball in his hands, Taylor was the perfect Self point guard. His ability to score in the paint, get guys in the right spots and score however necessary played a huge role in leading KU to the 2012 title game. The loud personality from Hoboken, N.J., started 126 games during his four-year career and played a huge role in creating the kind of swagger KU played with from 2008-12.
Perry Ellis – A high-impact player from his freshman season on, the four-time Kansas high school player of the year lived up to the hype during a solid KU career. Ellis finished his KU career with 1,798 points, which ranks him ninth on KU's all-time scoring list, and 834 rebounds, good for 12th all-time.
Marcus Morris – The better scorer of the Morris twins earned Big 12 Player of the Year honors following the 2010-11 season after leading KU in scoring with a 17.2 points-per-game average. His 1,371 career points over three seasons rank 29th on KU's all-time list and he was a second team AP All-American and member of the John R. Wooden Award's 10-member All-American team in 2011.
Ben McLemore – He played just one season at Kansas but had a monster impact while he was here, leading the Jayhawks in scoring at 15.9 points per game before going on to become the No. 7 overall pick in the 2013 NBA Draft. The St. Louis native was a first team all-Big 12 selection after the 2012-13 season and also a consensus second team All-American.
Joel Embiid – As the only KU player on record to have a story about killing a lion (true or otherwise), Embiid makes the list. It just so happens that he also was arguably the top individual talent to come through KU during the past decade and went on to become the No. 3 overall pick in the 2014 NBA Draft.
Andrew Wiggins – The bar was so high for Wiggins coming in that it was almost impossible for him to live up to it. Still, he came close. During his lone season of college basketball the eventual-No. 1 pick in the 2014 NBA Draft led the Jayhawks in scoring at 17.1 points per game and also was the team's top defensive stopper.
Svi Mykhailiuk – The argument for Mykhailiuk to be on this list includes the fact that he was a 1,000-point scorer and helped lead KU to the 2018 Final Four. But it was his huge 3-pointer against Duke in the 2018 Elite Eight in Omaha that cemented his place on this list. Was there a bigger bucket at Kansas during the past decade?
Udoka Azubuike – The injuries have overshadowed — and limited — his overall career and numbers. But KU did not have a player this decade who provided the Jayhawks with a bigger advantaged and created more problems for opponents. Beyond that, the big fella did play a big role in helping KU get to San Antonio in 2018 and he's closing in on shattering KU's career field goal percentage record.