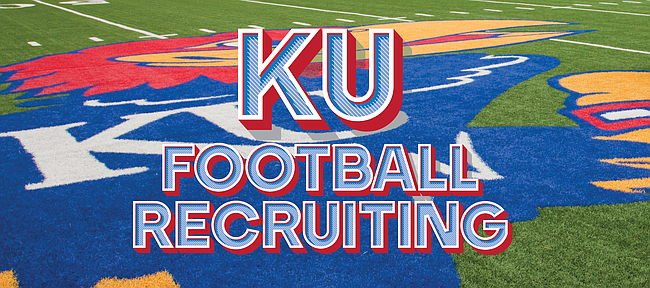 With the December early signing period just around the corner, the Kansas football coaches are working toward adding to the program's 2020 class.
While Les Miles and members of his staff spent much of the past several days out of town recruiting, they were expected to welcome a handful of high school seniors to Lawrence this weekend.
• The biggest name within the group, as reported by Jon Kirby of Jayhawk Slant, is four-star running back Ashaad Clayton.
Less than a month ago, Clayton committed to Colorado. Listed at 6 feet and 190 pounds, Clayton is from Warren Easton High, in New Orleans — the same school where KU junior left guard Malik Clark played and where KU running backs coach Tony Hull used to be the head coach.
In the past, Clayton also received scholarship offers from Alabama, Auburn, Georgia, Georgia Tech, Texas and LSU, among others.
• Clayton isn't the only committed prospect from New Orleans checking out KU. Offensive lineman Josh Remetich, currently aligned with Tulane, also is being targeted. Rivals ranks Remetich, who attends the prep school Holy Cross and is listed at 6-5 and 280 pounds, as a three-star talent up front.
• Another offensive lineman made the trip to Kansas from the state of Texas. Considered a two-star prospect, Armaj Adams is an uncommitted offensive tackle. KU is the only Power Five school to have offered Adams, from De Soto, a scholarship at this point.
• A receiver who previously committed to Liberty, Karon Prunty, from Portsmouth, Va., also holds an offer from Virginia Tech. Rivals rates the 6-2, 190-pound Prunty as a two-star prospect.
• Cade Collier told Jayhawk Slant he started his KU visit on Friday, days after Miles and offensive coordinator Brent Dearmon visited his high school, in Mobile, Ala. Collier is a 6-foot-6, 235-pound tight end with a two-star rating.
As of Friday afternoon, KU had 24 commitments lined up.
Football recruits in the 2020 class can sign as early as Dec. 18-20. National Signing Day is set for Feb. 5, 2020.
-KU football 2020 verbal commitments
• Brennon Scott - 4-star LB from Texas
• Duece Mayberry - 3-star CB from Oklahoma
• Trevor Kardell - 3-star TE from Missouri
• Will Huggins - 3-star TE from Kansas
• Krishawn Brown - 3-star LB from Oklahoma
• Khari Coleman - 3-star DE from Louisiana
• Garrett Jones - 3-star OL from Michigan
• Ja'Cobee Bryant - 3-star CB from Alabama
• Malik Johnson - 3-star WR from Texas
• Caleb Taylor - 3-star DE from Missouri
• Kenean Caldwell - 3-star DT from Louisiana
• Jaylin Richardson - 3-star athlete from Kansas
• Taiwan Berryhill - 3-star LB from Louisiana
• Lawrence Arnold - 3-star WR from Texas
• Chris Jones - 3-star DE from Florida
• Tanner Hooker - 3-star CB from Louisiana
• Alonso Person - 3-star LB from California
• Steven McBride - 3-star WR from Louisiana
• Tristan Golightly - 3-star TE from Texas
• Da'Vonshai Harden Jr. - 2-star QB from Kansas
• Luke Grimm - 2-star WR from Missouri
• Nicholas Martinez - 2-star OL from California
• Kyler Pearson - 2-star WR from Oklahoma
• Daniel Hishaw Jr. - 2-star athlete from Oklahoma
- Former 2020 KU commitments
• Keith Miller III - 3-star WR from Texas (flipped to Colorado)
• Kershawn Fisher - 2-star LB from Louisiana
• Keenan Hambrick - 3-star WR from Alabama
• Jackson Stoefen - 3-star OL from Iowa
• Tommy Brandt - 2-star OL from Minnesota
• Juan Jarrett - 2-star LB from Ohio