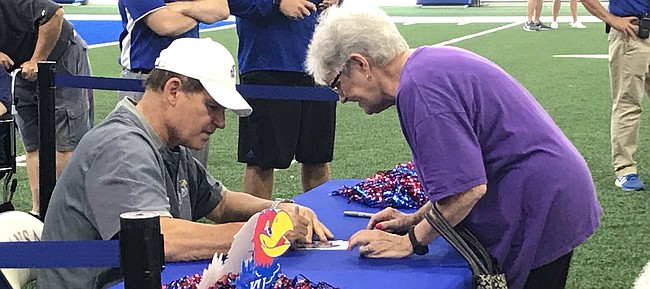 A sign just inside the entrance to the Kansas football team's indoor practice facility Saturday warned autograph seekers headed into the program's Fan Day that head coach Les Miles and players could only sign one item to "accommodate all fans."
Vicky and Bob Mall, from Clay Center, were able to work the system a bit.
"Well, we cheated and got him to sign two pictures," Bob said.
The reason? The Malls' son played baseball at LSU and was in Baton Rouge, La., when Miles was head coach of the Tigers. Their son also sent Vicky a purple "Keep Calm and Fear Les" shirt that she proudly wore to Fan Day. 
Fan Day served as a gathering place for hundreds of KU fans like the Malls to get autographs, photos and memorabilia with Miles and various members of the 2019 roster. Cheerleaders, players and even Baby Jay attended, doing everything from playing Connect Four with children to posing with fans for pictures.
Vicky also had met Miles when Hawks & Highways came to Salina on June 11, and even took a photo with Miles for that occasion.
"I showed him (the photo), and he went, 'Whoa!'" Vicky related.
Vicky was able to have Miles sign that picture and one for her son, Bob also had Miles sign a copy of "The Challenger Disaster," a film in which Miles appeared earlier this year.
Bob, who attended KU, said he and Vicky have been fans since 1964. They're excited for the potential of the 2019 season for the Jayhawks.
"I think the enthusiasm, it seems like the team has (is a positive)," Bob said, adding Miles has "picked up some good players, too, and he'll draw good players in the future, particularly from Louisiana and Texas, I think."
More specifically, Bob thinks the team could win five or six games. Vicky, after also attending the program's Football 101 event for female fans, is optimistic about the energy Miles brings to the team.
"My expectation is that I'd like to have a real good winning season and he's such a positive coach," Vicky said of Miles. 
Overland Park native Carsten Holtorf, who's followed KU football for at least the past 15 years, said it's been a pretty surreal offseason.
"I was like, 'Les Miles? Holy cow,'" Holtorf said after Miles was hired. "At LSU, you know, he had all those great teams in the 2000s, so I thought that hopefully brings success to our football team."
Holtorf said his family used to have season tickets and "frequent the stadium a lot" during the eras of former KU football coaches Terry Allen and Mark Mangino. 
"For 10 years of bad football, I'm excited to see what Les Miles brings to the table," Holtorf said. "And I'm hoping it will turn the program around to a bowl eligible team."
Holtorf also attended Fan Day with his friend Nolan Norton, a graduate student at KU, who "wanted to see what this was all about." Norton said he wants this first season under Miles to be about establishing a winning atmosphere. 
"I think this (upcoming season) is kind of about installing the culture, just the expectations around here," Norton said. "So maybe the wins won't come this year, but hopefully this can be a foundation-building year for the next few seasons to get more wins."
Sean Garrett, who brought his son, Jackson, to Fan Day after Jackson attended a KU football camp, said he's also ready to see something different.
"I think it's just been so long since they've been good and competitive and now you've got a coach who, I don't think anyone's expecting an immediate turnaround and winning Big 12 championships or anything, but somebody who can put competitive teams on the field at the highest level," Sean said. "So, I'm just excited to see what he can do here."
It's simple for Holtorf too, who just wants to see the Jayhawks be competitive in every game this season. 
"That's what I want to see: good competition on the field," Holtorf said. "I don't want to get blown out; nobody wants to go and watch those type of games."