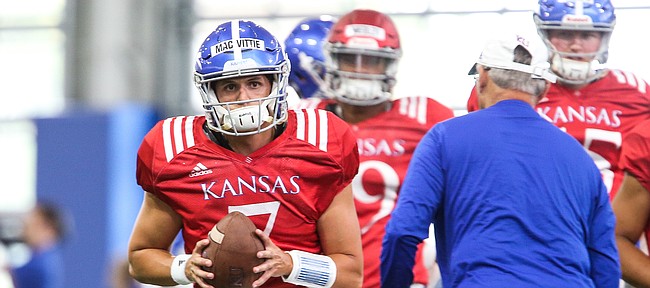 Eight practices into preseason camp, the Kansas football team's quarterback competition continues to hover in a persistent status quo.
Head coach Les Miles didn't mention any real separation in the race between Thomas MacVittie and Carter Stanley following Saturday's session at the team's indoor practice facility. What's more, Miles suggested he's in no rush to pick the Jayhawks' starting QB.
"It's just exactly where it's kind of been all camp," Miles said of the QB battle. "MacVittie and Stanley. Both of those guys are playing well."
KU scrimmaged at length Saturday at its closed practice, Miles shared. The patient coach said both MacVittie, a junior, and Stanley, a senior, "threw the ball well." Miles noted that freshman Torry Locklin "made a couple of nice plays" for the offense, too, and stated no dissatisfaction with the play of his team's quarterbacks.
"And no interceptions," Miles made sure to point out, "which is a thing you want, first and foremost."
If KU's head coach is being honest, his list of desires also includes having "one quarterback," he said. And as long as he was feeling wishful, Miles said he'd love to have that QB play like Kansas City's Patrick Mahomes.
Of course, neither the 6-foot-5 MacVittie nor the 6-2 Stanley are poised to transform into an NFL MVP overnight. Miles would prefer to observe more of KU's quarterbacks during preseason practices rather than announce a No. 1 QB before one of the candidates has totally won him over.
Just how soon does the former LSU and Oklahoma State head coach want the competition resolved?
"When it happens naturally," Miles replied.
"The one thing, too, that kind of mucks up the water is that you come in with a new offense. And that guy's going to get it, but he's not going to get it right now," Miles said, snapping his fingers. "The guy who gets it right now is maybe not as good as the guy that with time gets it well. We're going to take the time that we need to look at these guys."
Although both MacVittie and Stanley were requested for interviews during the team's two media sessions this week, neither was made available. Neither has fielded questions from reporters since before the spring game.
Junior KU running back Dom Williams said MacVittie impressed him Saturday with "the way he leads the team," while Stanley grabbed Williams' attention with "the way he extends plays and can make a play out of nothing."
Meanwhile, KU's receiving corps, according to junior Andrew Parchment, seem comfortable with both of the frontrunners for the QB job.
"I feel like all the quarterbacks display a great leadership with the offense," Parchment said, adding he could even say the same of Locklin and graduate transfer Manny Miles. "Everybody leads us, makes sure everybody is in the right formation. If we have a question we can always go to them."
The comfort level that exists, Parchment explained, goes beyond plays on the field, to conversations on the sidelines or elsewhere around the team's facilities. If receivers want to run a specific route differently, they don't hesitate to have those types of conversations with the QBs.
"It doesn't really matter who is in charge of driving the car," Parchment said. "It's going to get to the destination."
In 2018 at Mesa Community College (Ariz.), MacVittie, a former Pittsburgh signee, played in six games and completed 92 of his 172 passes (53.5 percent) for 1,064 yards, with 16 touchdowns and eight interceptions.
At KU during this past season, Stanley went 34-for-47 (72.3 percent) through the air, throwing for 304 yards and three TDs, with one interception, while making two starts and appearing as a reserve in five other games.
Their battle for KU's most visible starting job began in the spring. Three weeks before the Jayhawks open their first season under Miles, neither is expected to reach the finish line especially soon.
"We're not making a decision early," Miles said. "And we won't."