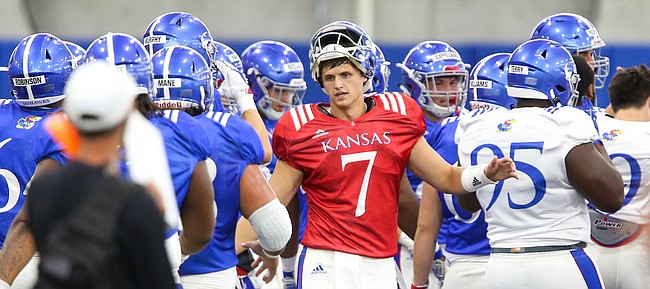 As much as Les Miles enjoyed his first four preseason practices as the head coach at the University of Kansas over the course of the past week, it was the fifth one that he looked forward to most.
"Being in full pads," Miles said Thursday afternoon, "has made it a lot more fun to be a football coach. You know, there's aggression and contact and some enjoyment in competition that has a physical core to it."
Once the days of shorts and shells were behind the Jayhawks, Miles and his assistants wasted no time getting a look at how their players would hold up in a game-like setting. The first practice in full pads on Wednesday included their first scrimmage of August camp, as well.
Miles shared following Thursday's practice, the sixth of the preseason, that he thought the Jayhawks played "pretty well" in their initial August scrimmage.
Photo Gallery
Kansas Football Practice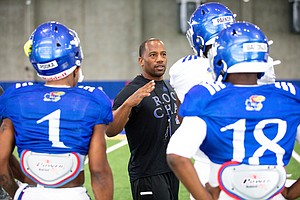 View a gallery of photos from Thursday's Kansas football practice.
"Not bad. Probably 60 plays. And a number of special teams opportunities," Miles offered, without providing many other details during his press conference. "I think this team is well ahead of where they need to be. But still some things that we need to accomplish and we will accomplish as we go forward."
Reluctant to divulge much of anything about KU's schemes ahead of his first season in charge of the program, Miles didn't give a breakdown of the offensive or defensive highlights from the scrimmage, which happened during a closed practice. But the players who were made available for interviews after his press conference provided a little bit of insight.
Redshirt junior center Api Mane reported the offense performed well within its running and passing play calls.
"It all comes down to practice and how we rep it and we've got to get it down to perfection," Mane added.
The most memorable offensive play, for Mane at least, involved one of the reserve quarterbacks.
"I'd say when Miles Kendrick kept the ball and took it all the way down to the end zone," the center related of a play made by Kendrick, a redshirt sophomore, who also played with Mane at College of San Mateo (Calif.) before they both transferred to KU. " Just seeing one of my close friends just score is just a wonderful thing."
Personal partiality aside, Mane pointed out the offense made "a bunch" of other encouraging plays, both with receivers securing receptions and running backs taking off, senior Khalil Herbert and junior Dom Williams in particular.
"I would say the whole practice was a memorable practice," Mane said.
That didn't mean KU's defenders left the field that day feeling discouraged, however. According to senior edge rusher and linebacker Azur Kamara, defensive coordinator D.J. Eliot witnessed solid plays from his group, too, as defenders worked on not only reading the offense and attacking appropriately but also creating takeaways.
"But there's always room for improvement," Kamara added, "and we're going to continue to do that."
Junior inside linebacker Kyron Johnson said the defense's pass coverage stood out during the scrimmage, as well as the physicality at the point of attack. Johnson said the defense was "able to rely on the D-line and make sure that they get knock backs and they can hold down the front for us."
So who on the defensive line made that happen?
"All of them," Johnson asserted. "Codey (Cole III), Sam Burt, Jelani Brown and Darrius Moragne. All of them. Just getting it done."
With that taking place up front, Johnson said, KU's defensive backs were able to do their jobs, too. Johnson said junior safety Ricky Thomas coming away with an interception and redshirt junior Kyle Mayberry making sure the secondary was in its correct coverages stuck out in his mind.
"It's like A1. They're on point," Johnson said of KU's defensive backs. "All day, every day."
KU's defensive front lacks the experience of the secondary. Still, junior nose tackle Burt said the defensive line established itself during the scrimmage and created gaps for the defenders behind them.
"I think that we did a pretty good job of running our schemes right. We have a lot of new guys, a lot of young guys, real young defensive line," Burt said.
The junior D-lineman from Abilene credited the group's position coach, Kwahn Drake, for preparing the linemen and installing some discipline to their collective approach.
"That's one thing I was really impressed with with the D-line, was just how we ran our plays right," Burt said. "Even if we did something wrong, you see guys finishing hard, because Coach Drake is big on 'playing fast erases mistakes.' So if they know they mess up, they know they did something wrong, just hawking down the ball and giving it all they've got, really."