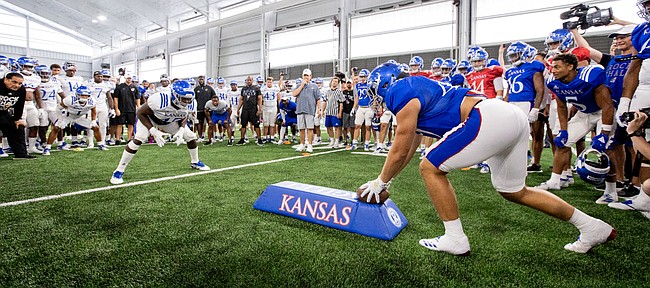 Six practices into preseason camp, Kansas football coach Les Miles has seen a lot of his Jayhawks over the course of the past week.
And if you asked him to name a position group or player who stood out, Miles' answer might surprise you.
"The linebacker, Kyron Johnson, with moving inside, to me he's made a tremendous difference with that team," Miles replied Thursday to that exact question.
Even though the linebacker unit remains a significant question mark for the defense entering the season, because of its lack of experienced veterans, Miles has not voiced any real worry about the group.
KU's head coach said outside linebackers and edge rushers Azur Kamara, a senior, and Steven Parker, a freshman, also contributed to his confidence.
"I think Azur's an old Parker," Miles said. "They're two big, tall, running, athletic men. So I think that position has been very productive."
Kamara is listed at 6-foot-4 and 235 pounds, while Parker is 6-4 and 225.
Receivers impressing
While Miles praised Thursday senior receiver Daylon Charlot's play so far during August camp, he said others, too, have shown consistency.
Photo Gallery
Kansas Football Practice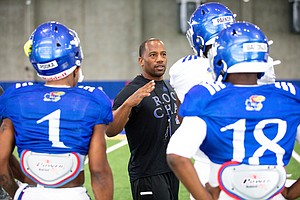 View a gallery of photos from Thursday's Kansas football practice.
Asked who other than Charlot has emerged, Miles named juniors Kwamie Lassiter II, Stephon Robinson and Andrew Parchment, sharing his opinion that each has enjoyed "a really good camp."
Although some other unspecified receivers have suffered some minor injury setbacks, Miles said he expects the unit to be back intact in four days or fewer.
"But that group is daily catching balls and running their routes the way they're supposed to be run and giving leadership," Miles said. "That's a great group."
Pooka not talking yet
Although the Journal-World and other media outlets requested KU sophomore running back Pooka Williams for Thursday's interview session, a team spokesperson informed reporters Williams won't be available to speak until after he plays in a game this season.
Williams was arrested this past December and charged with domestic battery, before reaching a diversion agreement in the case.
Miles suspended the team's star running back from all team activities following the arrest. Williams didn't get reinstated until July. As part of his punishment, Williams will have to sit out KU's season opener on Aug. 31 versus Indiana State.
He is set to make his sophomore debut on Sept. 7 against Coastal Carolina.
Hadl ailing
Miles shared Thursday that one of the best players in KU football history is not doing well.
A punter, halfback and quarterback during his time with the Jayhawks, John Hadl, Miles related, "is having some difficulty" health wise.
"There were a number of guys in our circle at practice that spoke about him," Miles added. "So there's some heartfelt condolences to family and friends, and hope John can kind of pull out, and make it."
Hadl, 79, worked for KU and the Williams Education Fund for 30 years before retiring in 2018. He was a two-time All-American at KU, honored for his play in both the 1960 and 1961 seasons.
KU signees now with team
All members of KU's 2019 signing class are accounted for now that two more freshmen reported and joined the roster this week.
Both Jordan Medley, a quarterback from North Carolina, and Jereme Robinson, a linebacker from Alabama, were in uniform and practicing on Thursday.
All other members of Miles' first signing class at KU had appeared on the roster previously — except for defensive back Jayden Russell, who was released from his letter of intent and joined Miami (Ohio), and Amauri Pesek-Hickson, who will enroll in January, as previously reported by the Journal-World.