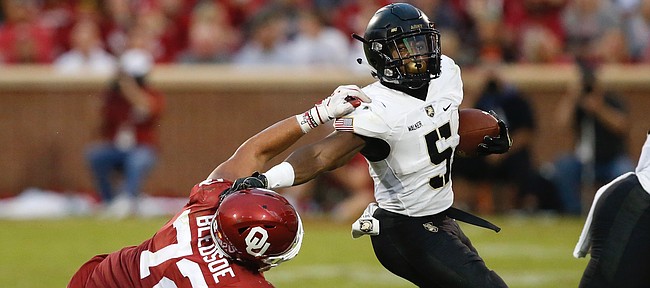 Look for eight more Big 12 defenses to play Kansas the way Baylor did Saturday in scoring a 26-7 victory vs. the Jayhawks: Put eight men in the box, gang tackle Pooka Williams and trust that KU's receivers won't get open deep.
So if the Kansas passing game can't take the heat off of the lone running back, what remains as a means of making defenses play with more balance?
Maybe it's not realistic to make such a severe change in midseason, but long term, one option is to embrace the triple option, a la Army, Air Force and Navy, service academies that typically don't attract huge offensive linemen, the nation's fastest receivers and quarterbacks with the strongest arms.
Various forms of the triple option have been equalizers for the service academies, so much so Saturday that Army nearly beat Oklahoma, losing Saturday in overtime, 28-21.
If the defense knows the run is coming, then, why is it any different from KU's situation? Because they don't know which of four possible runners will have the football. Did the quarterback give the football to the fullback, or did he pull it back and keep it himself? Is he really going to keep it or will he pitch it to one of the two slot backs?
The defense has to account for all of those possibilities, won't have nearly as many opportunities to gang tackle and had better be ready to be sound with its one-on-one tackles.
Those who shoot down the prospect of a Big 12 team going the way of the service academies typically brush it off with something along the lines of saying it wouldn't work against athletes from Power Five schools.
Well, if you don't want to give Army's near miss against Oklahoma any credence, and you think to much time has passed to make anything of defensive-back-turned-quarterback Nolan Cromwell leading Kansas to a 23-3 upset that ended the Sooners' winning streak at 28 games in 1975, maybe you should consider that Georgia Tech has done just fine in the ACC with the flexbone under head coach Paul Johnson. Army coach Jeff Monken and Navy coach Ken Niumatalolo, by the way, learned the offense working for Johnson before he went to Georgia Tech.

Also, perhaps Kansas State coach Bill Snyder's thoughts on whether it could work in the Big 12 might carry some weight with doubters.
At Big 12 Media Day, I asked Snyder if he thought the offensive approach used by the military academies could work in the Big 12.
"It could be successful," Snyder said. "It all depends on how well you do what you do. It doesn't make any difference what you put out there as long as it's legal and as long as you do it well. It can suffice in the Big 12 Conference, the Pac 12, the SEC or anyplace else, for that matter. It all boils down to can you do what you do well? How well can you do it?"
Same question can be asked of the Air Raid. How well can Kansas do it? Not very well.
KU hasn't been able to recruit enough talented offensive tackles, big, fast receivers and gifted quarterbacks in recent years to mount a passing game that defenses have to respect enough not to load the box. Going after the same athletes from the same geographic footprint as schools with better winning traditions is a frustrating, often fruitless method of trying to climb out of the conference cellar.
Snyder, whose team doesn't typically struggle the way it has this season, never has slipped into the pass-happy, fast-tempo approach favored by most Big 12 schools. In fact, he has made his offense, which always includes designed quarterback runs, a big part of how he defends against the quick-strike offenses throughout the conference.
"That's part of our process," Snyder said. "It becomes important for us to be able to take more snaps than your opponent does. In our conference, everybody's going to go so fast. They're going to snap the ball every half a second, so to speak, and that in itself, if you can do that, you're going to get more snaps in a ballgame to utilize your time to that end. But if we've got the ball in our hands, then they don't have the chance to get in as many snaps and that gives them fewer opportunities to get the ball in the end zone."
In regulation, Army possessed the ball for 44 minutes and 11 seconds, Oklahoma for 15:19 in Saturday's near upset. The favorite can't score if the favorite doesn't have possession of the football.
View KU's game at Oklahoma on Nov. 17, see how things go and then ask yourself if you still think it's a ridiculous idea for Kansas to embrace the flexbone.