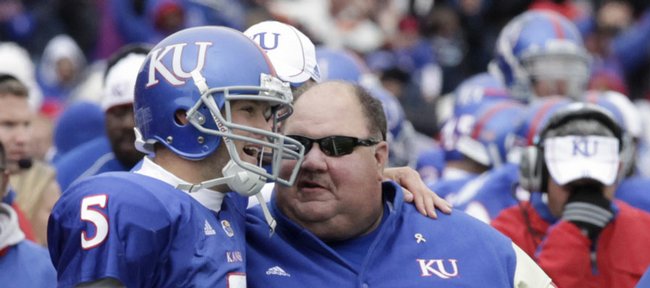 It took the 98th game of the post-Mark Mangino era for something to happen to make an awakening from a prolonged slump for the Kansas football program feel even possible.
Freshman Pooka Williams Jr., the speedy running back from Louisiana, made such an amazing debut Saturday in Mount Pleasant, Mich., that it's easy to see a fan base that had tuned out to the tune of a Week 1 crowd count of 24,305 tune back in for Saturday's 11 a.m. kickoff vs. Rutgers at David Booth Kansas Memorial Stadium.
Might 40,000 show up? Why not? The Williams Fund offered via email a buy-one, get-one-free special to its members. Smart timing. Market when you have something to market.
It's time for the excitement to return to the stadium that was lit up by Todd Reesing, whose name will go up on the Ring of Honor during a break in the action Saturday.
It's interesting that it took 98 games for hope to return, because that's the exact number of games Mark Mangino coached at Kansas.
It makes for a natural time to compare the 98 games under Mangino to the 98 since.
Overall record
Mangino: 50-48
Successors: 16-82
Big 12 record
Mangino: 23-41
Successors: 4-67*
*Turner Gill, Charlie Weis, interim head coach Clint Bowen, and David Beaty share the lead for most Big 12 victories, post-Mangino, with one.
FBS record
Mangino: 42-47
Successors: 10-79
Bowl record
Mangino: 3-1
Successors: 0-0
Points for
Mangino: 2,606
Successors: 1,794
Points against
Mangino: 2,130
Successors: 3,707
Average score
Mangino: 29-27
Successors: 18-38
Home attendance 50,000-plus
Mangino: 14 games
Successors: 0
Losses by 40 or more
Mangino: 4
Successors: 21
Most wins in a season
Mangino: 12
Successors: 3
Record vs. Kansas State
Mangino: 4-4
Successors: 0-8
Mangino built a winner by signing largely two-star high school recruits that the staff identified as tough individuals who could develop in the weight room and in demanding practices to gain ground on more talented athletes recruited by other Big 12 schools.
Gill recruited mostly high school players, but so many of them didn't cut it academically or were dismissed for disciplinary reasons by Weis, a combination that started the scholarship number problems that Beaty didn't have the patience to straighten out by resisting the temptation to recruit transfers. Complicating matters further, he overused the rule that allows schools to exceed the yearly limit of 25 scholarships by counting the scholarships of the extra players toward the next year's class. Such recruits unofficially are known as blue shirts and technically can't be recruited to a school, but can be given scholarships when they show up.
Mangino took two teams to bowl games before Reesing arrived and Reesing carried the offense to record-breaking, going 25-6 in his first 31 starts.
Can Williams be the program elevator from the running back position that Reesing was running the offense?
Both men will be in the same place Saturday, two good reasons to show up for the game and possibly be part of KU's first crowd of 40,000 since the 2013 season, and what could result in KU's first winning streak since the first two games of the 2011 season.