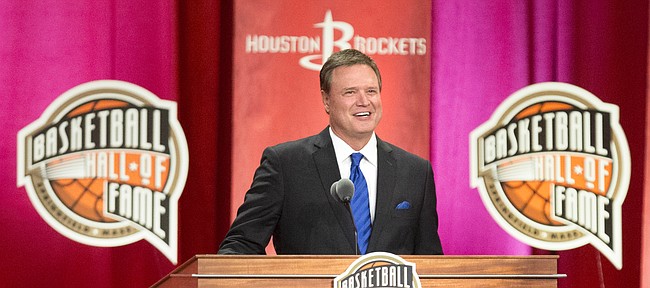 It's been a year since Kansas basketball coach Bill Self stood on a brightly lit stage in Springfield, Mass., and saw his informal title instantly transform from elite college coach and national champion to Hall of Famer.
But in the 12 months since that special night, when Self celebrated with nearly 150 family members, friends and former players, not much has changed for Bill Self the basketball coach.
Photo Gallery
Bill Self Basketball Hall of Fame induction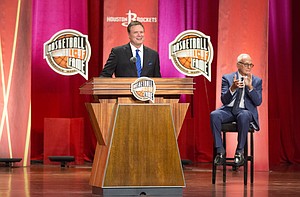 View a gallery of photographs as University of Kansas head basketball coach Bill Self is inducted into the Naismith Memorial Basketball Hall of Fame on Friday, Sept. 8, 2017 in Springfield, Massachusetts.
Sure, he has added a few more victories — he's up to 654 now, against just 201 losses in 25 seasons — and enters his 16th season at KU fresh off of his third trip to the Final Four.
But as far as how he feels, about himself, his job and the game he loves, Self said he still considers himself the same old, Oklahoma native who shows up to work each day and tries to get the best out of his players no matter who they are or where they come from.
"People that request autographs, they want me to put HOF 17 now," said Self while reflecting back on the honor during a recent conversation with the Journal-World. "That's the biggest thing. I just don't think that there's anybody we're playing against that is actually going to say, 'Oh my gosh, we're playing against a tougher opponent because of that.'"
Be that as it may, Self could not help but take his own trip down memory lane last weekend, while watching the 2018 Hall of Fame class go through its induction.
For Self, who was presented on induction night by Hall of Famer Larry Brown and posed for photographs and shook hands with some of the biggest names in basketball that night, the whole experience was a celebration that allowed him to step away from his regular role as the cool, calm and collected coach at Kansas and function as a fan of the game and the hundreds of players he has coached.
"That's really the only thing that I've reflected on since then," Self said. "How many kids were there that we coached and how cool that was. For a lot of them, it was the first time we'd seen them in a decade or two decades."
The memories, moments and stories from that night will stick with Self for the rest of his life. And he was determined to make it that way, choosing for three consecutive days to heed the advice of a close friend, who told him just after he arrived to be intentional about enjoying the experience with his family and soak up every second of it.
Anyone who saw Self during those three days in Massachusetts clearly saw a man on cloud nine the entire time.
But even with his willingness to live in the moment and take advantage of all his induction had to offer, Self still found himself marveling at his own status while watching last weekend's television broadcast of the 2018 induction, which included NBA greats Grant Hill, Ray Allen, Steve Nash and Jason Kidd, who KU assistant Kurtis Townsend went to support.
"You watch and you say, 'I can't believe I did this same thing last year because I haven't done as much to deserve it as some of those who are in or were going in this year,'" Self said. "This class was a far superior class from a player standpoint and name recognition."
That did nothing to take away from Self's appreciation of the honor. But watching legendary coach Lefty Driesell give his induction speech led Self to believe that, as the years go by, he probably will come to appreciate that Naismith orange Hall of Fame jacket hanging in his closet even more.
"What was so cool that did make me reflect a little bit was listening to Lefty Driesell's speech," Self explained of the coaching legend who racked up 786 victories in 41 seasons (ninth all-time) and retired in 2003. "Here's a guy, age 86, and it took him so long to get in and to hear what it meant to him was really cool. I was 54 when I got the honor, and it meant a lot and still does. But when I'm 65 or 75 or 85, if I live that long, I'll probably be a lot more nostalgic about it and it'll probably mean even more because I won't be in the fire like I am now.
"The biggest thing that's happened to me since my induction is I have a granddaughter. And then, of course, we had a great year and went to the Final Four. So it was a great year. And the Hall of Fame was definitely a part of that."