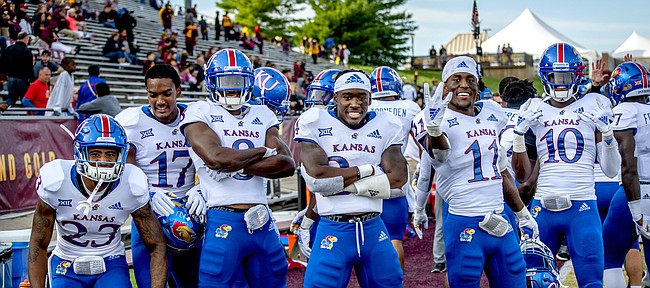 The Kansas football team scored more points against an FBS opponent in Saturday's road losing streak-killing 31-7 win at Central Michigan than it had since defeating Iowa State at home, 34-14, in 2014.
Nonetheless, it was KU's defense that made sure no doubt crept into the Jayhawks' minds in the second half, as six takeaways — one on special teams — allowed the visitors to cruise.
The Chippewas, on 16 possessions, finished with 280 total yards and 12 first downs.
Was it as thorough a defensive performance as redshirt senior stalwart Daniel Wise had been a part of since he joined KU?
"I would say almost a complete game," Wise said. "I wish we would've got some more sacks back there."
Podcast episode
Following the Kansas football team's trip to Central Michigan, which included not only the end of the Jayhawks' 46-game road losing streak but also the highly anticipated debut of freshman running back Pooka Williams, KU football beat reporter Benton Smith leads a discussion on how Williams' 125-yard, two-touchdown performance shapes ...
While senior linebacker Keith Loneker Jr. ended up the only Jayhawk with a tally in that category, Wise applauded his team's secondary for a "terrific" showing.
"They were picking it off, they scored a pick-six. Joe (Dineen Jr.) had one, Skak (Taylor), Ricky (Thomas), Jeremiah McCullough. They were all getting their hands on the ball," Wise said of KU's four interceptors at CMU. "It was a great game by the defensive backs and the front, as well, for applying pressure."
Senior quarterback Peyton Bender, who completed 17 of his 26 passes against CMU (0-2) for 130 yards and one touchdown, said afterward that KU's defense outperformed its offense in the road win.
"The defense carried us today. We played very average on offense I thought," Bender said after KU (1-1) finished with 361 yards and three touchdown drives — senior cornerback Taylor gave Kansas its fourth TD on an interception return in the fourth quarter.
"Penalties killed us," Bender added. "I had a few missed reads with the football. But we'll go back and look at the film. It's encouraging to know we can improve on that."
At times during the win, KU didn't much resemble a team that lost seven days earlier at home to an FCS opponent, Nicholls State.
Head coach David Beaty first brought up the defense Monday during the Big 12 football coaches' media teleconference when asked what went differently for his team at CMU.
"Well, I think there was a few things. Number one, we had some big plays. We forced a bunch of turnovers — we had six total turnovers — and we had four interceptions," Beaty began. "And when you can make a team turn the ball over that many times, you've got to feel pretty good about your chances of winning. Obviously, we put a lot of emphasis on turnover margin and forcing turnovers (during the offseason). We had nine total turnovers in 2017 and we already have seven this year, so it's good to see the team developing in that area."
Entering Saturday's nonconference finale against Rutgers (11 a.m. kickoff at David Booth Kansas Memorial Stadium), KU currently ranks second among all FBS teams with seven takeaways — three fumble recoveries and four interceptions — on the season. The Jayhawks finished 2017 tied for 126th in that category with nine (five fumble recoveries and four interceptions).
That's right, KU's four interceptions at CMU matched its entire season total in the category from the previous season.
"Getting the ball out and getting around the ball has been a priority all camp and all spring for us," Dineen said. "To see it kind of come to fruition ... it's good. We've got to just keep it up. Get in the right spot at the right time, keep that going."
Long's presence
First-year KU athletic director Jeff Long attended the football team's momentous trip to Mount Pleasant, Mich., on Saturday, but Beaty said Monday morning he hadn't had much time to speak with the AD since.
"He's got other things going on and we've got several sports that he's around on Sunday. But right after the game, watching him high-fiving our guys and being right there as we walk in the (locker room) door — both weeks he's been there — and he's very supportive of those student-athletes," Beaty said. "The exact same things you hear him talk about in his philosophy, you're seeing him make good on those things every single day with the players."
KU's fourth-year football coach described Long as student-athlete-focused.
"We've been very fortunate here, we've always had folks like that, but he has done a terrific job of just, in a very short period of time, really being there for our student-athletes," Beaty went on. "And that was one of the things I really enjoyed seeing the most, was how much he enjoyed that and being around those guys."
Big 12 opener
On Monday, the Big 12 announced kickoff times for Sept. 22, the day of KU's conference opener.
The Jayhawks' road game at Baylor will begin at 2:30 p.m. and air on FOX Sports 1.