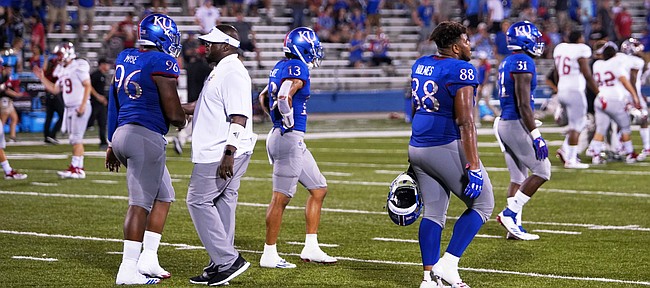 A 12th consecutive defeat, this one in overtime of the opener to an admittedly successful FCS opponent, on the surface looks like the type of blow that could crash a team's season.
Football players at the University of Kansas who lived through Saturday's 26-23 home loss to Nicholls State are here to tell you that won't be the case.
While the Jayhawks who have spent the entirety of their college careers in Lawrence made their cases based on little more than conviction, the team's starting quarterback referenced his redshirt freshman year at Washington State as proof that a painful week one setback doesn't guarantee doom.
Just a backup at the time, Peyton Bender played a little in the Cougars' 2015 debut, a 24-17 home loss to Portland State of the FCS. By the end of the season, head coach Mike Leach's team delivered a resounding recovery, finishing with a 9-4 record and a win over Miami (Fla.) in the Sun Bowl.
It may have transpired at a different program three years ago, but Bender plans on leaning on some lessons he picked up at WSU as the Jayhawks attempt to get back on their feet.
"One is that the season just started. We've got a lot of football left to play. You can turn the season around to be one to remember if we go on to win some games and do what we think we can do," KU's senior quarterback said after throwing for 187 yards and two touchdowns, completing 19 of 35 passes without an interception.
"So I think we just have to keep our heads on straight, go into every game ready to play," the QB added. "Just learn from tonight and move forward."
The examples of shortcomings that show up in the team's video review of the loss, the players predicted, would be both many and disappointing.
An unconventional score seemed to come at just the right time for the Jayhawks (0-1), early in the fourth quarter when Nicholls botched a punt. An errant snap flew by punter Winston Jones. The specialist had to scramble after the loose ball and attempted to slap at it, hoping to make sure it traveled out of the end zone before a Jayhawk could pounce on it for a touchdown.
The play resulted in a safety, and stopped KU from potentially tying the game, cutting Nicholls' lead to 17-12 instead.
Enough good came in the following minutes for KU to even offset a play ruled a fumble by Bender when he lost the ball just before he was about to make a pass under pressure.
Stephon Robinson blocked a Jones punt. Later, Kyron Johnson recovered a muffed punt return by Nicholls' Damion Jeanpiere, setting up the Jayhawks for a 10-yard TD drive and, following a two-point conversion, a 20-17 lead with 4:26 remaining.
Photo Gallery
Photo gallery: Kansas vs. Nicholls State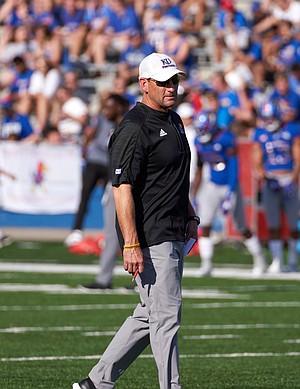 Kansas dropped a 26-23 decision to Nicholls State in overtime during the season opener Saturday at Memorial Stadium. The Jayhawks have now lost 12 straight games.
But the Colonels (1-0) went 49 yards in 10 plays, aided by a facemask penalty on KU redshirt senior linebacker Joe Dineen (16 total tackles), to get well within range of kicker Lorran Fonseca, who tied the game at 20 in the final minute with a 43-yard field goal.
"We certainly can't make those kind of mistakes down the stretch," fourth-year KU coach David Beaty said. "You know, Joe was hustling. I'm not … I certainly would never want him to grab a facemask. But I know he was hustling, and the (running back Kendall) Bussey kid cut back and he just got him by the facemask. Those happen from time to time, but we've got to bow our neck and we've got to be able to stop him right there, right. They had a couple of really big plays in the passing game down the stretch there that we've — those are mano-a-mano plays, and you've got to go make that play, and he made it and we didn't. We had a big call down there in overtime with the pass interference that was critical, and we've got to be better there. You've got to be better."
The OT penalty referenced came on 2nd and 8 at the 10-yard line, with KU junior cornerback Hasan Defense trying to stop Jeanpiere.
Defense took the blame for the flag that made it 1st and goal at the 5 just before Nicholls won on a touchdown rush by quarterback Chase Fourcade, and said KU never should have allowed the game to reach OT with the way the fourth quarter played out mostly in its favor.
"We kind of just felt the winning feeling and we let up," Defense said. "We should've put our (feet) on their throat a little more. But, you know, we're going to learn from it. Learn how to keep our foot on the pedal."
One of KU's best and most vocal players, redshirt senior defensive lineman Daniel Wise, insisted after the defeat that the program, which has won just three games in Beaty's 37 games as head coach, continues to make progress.
"We still believe. We're still moving forward. I know this probably sounds repetitive," Wise admitted, "but we're still taking steps."
How do they go about recovering in time to compete with Central Michigan (0-1) on Saturday, in Mount Pleasant, Mich., when the Nicholls loss appears so potentially devastating?
"As the leaders, as the seniors, as all the guys who return and have been through situations like this, we know best that you can't sit here and dwell on this game," Wise said. "After we go into film on Monday — obviously it's going to be a rough film session — we're going to look at the mistakes we made, shake it off and go to the next one."