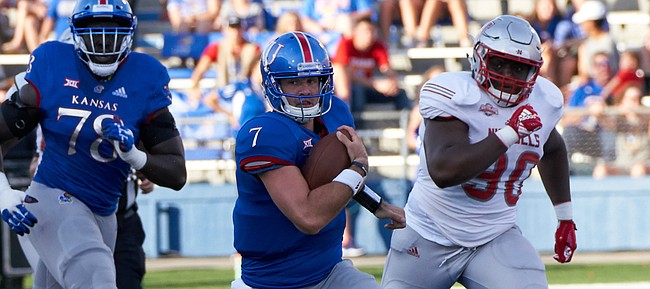 The University of Kansas football team lost its 12th-straight game Saturday at Memorial Stadium in the season opener.
Following a 41-yard field goal by Gabriel Rui on the first possession of overtime, Nicholls State scored the necessary touchdown to finish off a 26-23 upset. Junior quarterback Chase Fourcade delivered the game-winning score on a 4-yard rushing touchdown.
With the loss, the Jayhawks are now 3-34 under fourth-year head coach David Beaty. Kansas hasn't won a game since the season opener in 2017, which is a streak of 12 straight defeats.
But, if that weren't enough, the Jayhawks needed some late-game theatrics to even have an opportunity in overtime.
Nicholls State muffed a punt with 5:49 left in regulation, which was ultimately recovered by sophomore linebacker Kyron Johnson on the opposing 10-yard line. Shortly after, senior quarterback Peyton Bender hit senior receiver Kerr Johnson Jr. for a 15-yard touchdown.
Senior receiver Steven Sims Jr. provided insurance with a 2-point conversion pass to Mavin Saunders, which proved to be necessary in the end. Nicholls State kicker Lorran Fonseca nailed a 43-yard field goal with 47 seconds left to send the game to overtime.
Prior to that, both teams struggled to move the ball.
Dontrell Taylor scored on a 15-yard touchdown run to give the Colonels an early 7-0 advantage in the first quarter on their first offensive drive. Bender then answered with a 2-yard touchdown connection with Sims, who now has 16 touchdowns in his career.
Rui and Fonseca traded a pair of field goals in the second quarter to take a 10-10 draw into the intermission. Kendall Bussey, who transferred from Texas A&M;, gave Nicholls State its first lead on a 40-yard touchdown run. Early in the fourth quarter, Kansas recorded its first safety since 2016.
SCORING SUMMARY
FIRST QUARTER
10:29 — Dontrel Taylor 15 run. Lorran Fonseca kick. Nine-play drive for 78 yards, in 3:13. (NSU 7, KU 0.)
3:34 — Steven Sims Jr. 2 pass from Peyton Bender. Gabriel Rui kick. Fifteen-play drive for 75 yards, in 6:55. (NSU 7, KU 7.)
SECOND QUARTER
13:00 — Gabriel Rui 54 field goal. Nine-play drive for 51 yards, in 3:42. (KU 10, NSU 7.)
4:06 — Lorran Fonseca 28 field goal. Eight-play drive for 69 yards, in 2:38. (KU 10, NSU 10.)
THIRD QUARTER
3:50 — Kendall Bussey 40 run. Fonseca kick. Six-play drive for 58 yards, in 2:41. (NSU 17, KU 10.)
FOURTH QUARTER
13:17 — Safety on errant punt snap out back of end zone. (NSU 17, KU 12.)
4:26 — Kerr Johnson 15 pass form Bender. Mavin Saunders 2-point conversion pass form Sims. Three-play drive for 10 yards, in 1:23. (KU 20, NSU 17.)
0:47 — Fonseca 43 field goal. Ten-play drive for 49 yards, in 3:39. (KU 20, NSU 20.)
OVERTIME
15:00 — Rui 41 field goal (KU 23, NSU 20)
15 — Chase Fourcade 4 run. (NSU 26, KU 23)