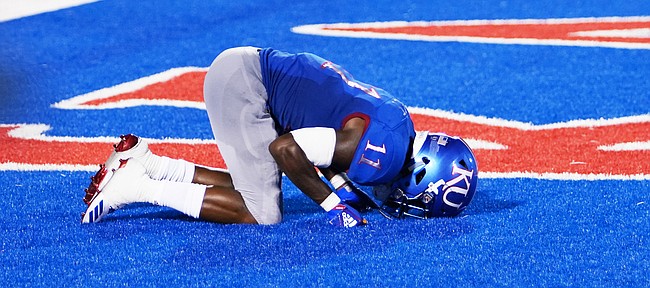 In a game marred by bad snaps, sacks and no real running threat, the Kansas football team somehow found itself with a chance to open the season with a victory, in overtime at that.
But head coach David Beaty's fourth season opener ended the same as his first, in 2015, with a home defeat at the hands of an FCS opponent.
Nicholls State, ranked No. 17 in the preseason coaches poll, entered newly christened David Booth Kansas Memorial Stadium with more fanfare and experience than the South Dakota State team that defeated the Jayhawks close to three years ago, for certain.
And the visiting Colonels looked the part of a winning program late, setting up a 26-23 victory, the program's first over an FBS foe since 2013 (Western Kentucky).
Senior KU kicker Gabriel Rui assured the home team of a score in overtime with a 41-yard field goal.
Nicholls' turn on offense in OT, looked more polished.
Kansas defensive lineman J.J. Holmes tackled Nicholls running back Kendall Bussey to thwart the visitors on first down.
Then quarterback Chase Fourcade came through with a 12-yard rush on the ensuing snap. On 2nd and 8, KU junior cornerback Hasan Defense committed pass interference, mostly out of necessity to keep Nicholls from scoring a winning touchdown.
The penalty put Nicholls at the 5-yard line with a fresh set of downs. Kansas senior linebacker Joe Dineen stuffed Bussey on 1st and goal. But Fourcade won the game on the very next snap, keeping the ball and carrying it across the goal line, sending everyone in a Nicholls uniform sprinting onto the playing field in jubilation.
"I mean it's rough," Kansas senior defensive tackle Daniel Wise said of the result, giving the months of offseason work and preparation that went into the opener. "Obviously we didn't want to come in the game and lose. But that's what happened. We lost this game due to the fact that we just made mistakes and we didn't execute when opportunities were there."
KU (0-1) headed toward the north end zone to open overtime after Nicholls won the coin toss. On the first play, starting center Alex Fontana snapped the ball directly to running back Dom Williams, who was lined up to Bender's left. That was not exactly the play call, and it was not the first time on the night a Fontana snap was off target.
"It was a run to Dom," Bender began, when asked whether the botched snap derailed KU's overtime chances. "So I don't know. It ended up just being a direct snap run. It wasn't a pass or anything. So I wasn't disrupted too much on that play. But Alex is going to get it right. He snapped great all camp and he's disappointed in himself. I know he is."
An offside penalty against Nicholls would follow, but on 2nd and 6, Bender threw a pass low to Evan Fairs, forcing the receiver to dive onto the turf to retrieve what would have been a 4-yard gain. A review determined the pass bounced off the turf first.
On a crucial 3rd and 6, Miles Kendrick took the field at QB for the first time since the second quarter, prompting a Nicholls timeout. On a designed run, the Colonels surrounded Kendrick promptly for a 3-yard loss in the backfield.
Asked what KU hoped to accomplish with the call, Beaty described why the play call went to Kendrick instead of Bender (19 of 35 passing, 187 yards, two touchdowns, sacked six times).
"We got into a set where we knew we could possibly crease them on a little run play in there with (Kendrick)," Beaty said. "As we look back at it we felt like we were in pretty good shape. They twisted on us a little bit. We weren't able to pick it up and he got tackled for a loss. If we're able to pick that up we're going to crease them pretty good. We've got to execute better."
FCS preseason All-American kicker Lorran Fonseca tied the game at 20 with 0:47 to play. KU's offense responded with an incomplete pass and a sack.
KU had a muffed punt and some hustle from special teamer Kyron Johnson to thank for its brief fourth-quarter lead. Johnson emerged from a scrum with the ball and the Jayhawks down 17-12 with 5:49 left.
Another bad snap from Fontana lost 12 yards, igniting boos from the crowd. But Williams pounced on it.
Amazingly, KU withstood the negative play. After a seven-yard rush by Williams, Bender found Kerr Johnson open near the 10-yard line and the senior receiver turned to outrace the Colonels secondary to the goal line.
KU gave itself a three-point cushion with a little trickery on a two-point conversion. Sims, who lined up on the left side, took a pitch on a reverse and tossed a pass to a wide-open Mavin Saunders in the end zone.
The 20-17 advantage with less than five minutes left wouldn't stand.
"It's just really difficult to process the whole part of the game," KU senior linebacker Keith Loneker Jr. said of the back and forth final minutes. "But long-term, this is Week 1. I'm going to tell you that us seniors and us leaders are going to push our guys harder than they've been pushed."
After a rather uneventful opening 10-plus minutes of the second half, Nicholls delivered the first massive play of the third quarter. KU's defense looked unready for a quick snap and Colonels running back Bussey (128 rushing yards) sprinted down the middle of the field for a 40-yard touchdown.
"Well, we were pressuring," Beaty said, "and when you're pressuring, everybody has got a gap, and you've got to cut them all off, right, and I wasn't quite sure who it was at that point. I'm going to look at the tape and see, but we've got to cancel gaps when that happens. When that happens, usually it's feast or famine on both sides. You can hit them for losses if everybody is in their gap, but when you don't cancel a gap and they keep you out of one, they can crease you."
The opening minutes of Beaty's fourth season as KU's head coach could not have gone much worse.
The offense began the night with a whimper, going three and out. Nicholls, in turn, looked to be in late-season form, driving down the field with ease. It only took 3:13 for the visiting Colonels to go 78 yards and put KU in an early deficit — a position that has become familiar for the program the past several seasons.
When Nicholls running back Dontrell Taylor escaped KU defenders for a 15-yard TD run less than five minutes into the game, the Jayhawks on the field in particular had to have felt at least a jolt of 2017 deja vu.
KU's offense responded appropriately to its first-drive failure at least. Nicholls didn't hold its initial lead for long, as Bender and Steven Sims Jr. (four receptions, 29 yards and one dropped pass in the end zone in the second quarter) completed a 15-play drive with a two-yard touchdown on a legal pick play behind the line of scrimmage.
KU averaged just 1.8 yards per carry in the defeat. Khalil Herbert led the team with 12 rushes for 61 yards.
After Beaty fell to 3-34 as KU's head coach, he, per usual, remained positive.
"The sun is going to come up tomorrow," Beaty said, "and this team is going to continue to work towards the goals that they have set. We knew coming in it was a good football team. We knew that. We knew it was going to take every single thing we got, plus overtime, maybe six, seven, eight quarters if it was going to take that, and it came to fruition. We knew that they had a bunch of talent. We knew that they were dadgum good on defense. We knew that they were going to be very, very difficult to handle with the way that they max number the box in the run game, and you've got to hit some play action behind them to be able to loosen them up, and I thought we did it at times. We didn't do it enough. We've just got to get better in that area."
KU travels next week to face Central Michigan (0-1), which lost Saturday at Kentucky, 35-20.
SCORING SUMMARY
FIRST QUARTER
10:29 — Dontrel Taylor 15 run. Lorran Fonseca kick. Nine-play drive for 78 yards, in 3:13. (NSU 7, KU 0.)
3:34 — Steven Sims Jr. 2 pass from Peyton Bender. Gabriel Rui kick. Fifteen-play drive for 75 yards, in 6:55. (NSU 7, KU 7.)
SECOND QUARTER
13:00 — Gabriel Rui 54 field goal. Nine-play drive for 51 yards, in 3:42. (KU 10, NSU 7.)
4:06 — Lorran Fonseca 28 field goal. Eight-play drive for 69 yards, in 2:38. (KU 10, NSU 10.)
THIRD QUARTER
3:50 — Kendall Bussey 40 run. Fonseca kick. Six-play drive for 58 yards, in 2:41. (NSU 17, KU 10.)
FOURTH QUARTER
13:17 — Safety on errant punt snap out back of end zone. (NSU 17, KU 12.)
4:26 — Kerr Johnson 15 pass form Bender. Mavin Saunders 2-point conversion pass form Sims. Three-play drive for 10 yards, in 1:23. (KU 20, NSU 17.)
0:47 — Fonseca 43 field goal. Ten-play drive for 49 yards, in 3:39. (KU 20, NSU 20.)
OVERTIME
15:00 — Rui 41 field goal (KU 23, NSU 20)
15 — Chase Fourcade 4 run. (NSU 26, KU 23)