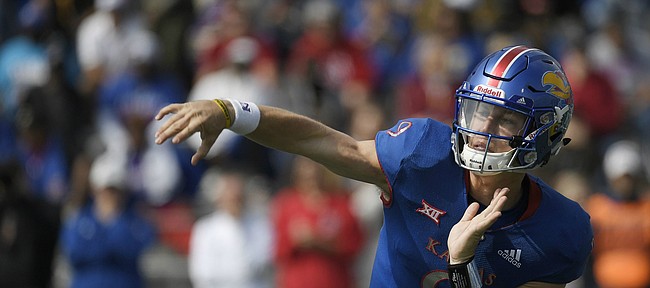 Following his team's home loss to Oklahoma State on Saturday, Kansas football coach David Beaty said he would need to further review quarterback Carter Stanley's play before deciding whether the redshirt junior would remain the starter.
By the time Beaty spoke on the Big 12 coaches media teleconference Monday morning, he had seen enough to keep Stanley at the top of the depth chart.
"You know, he didn't play great," Beaty began, when asked about Stanley and KU's QB situation. "He played good. And that's the thing that leaves us encouraged. Even though he went 24 of 32 and he had 247 yards passing and three touchdowns and zero interceptions, which was a key for us, we're encouraged more by the fact there were so many things with some critical errors that we made that we can be a lot better. I know he sees that and I look for him to improve this week."
KU's fourth-year head coach said all of that before revealing Stanley will start again this week, when the Jayhawks (2-3 overall, 0-2 Big 12) play at No. 9 West Virginia (4-0, 2-0) on Saturday.
"He's been a guy that our guys really are drawn to," Beaty added of Stanley.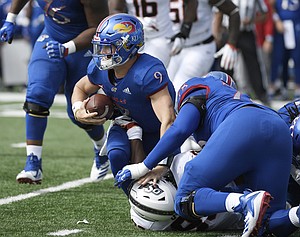 A 6-foot-2, 198-pound QB from Vero Beach, Fla., Stanley didn't play at all in either of KU's first two games of the season, as the staff strategized to use two quarterbacks — starter Peyton Bender and backup Miles Kendrick.
Stanley made his season debut in Week 3, in mop-up duty of KU's blowout win over Rutgers, after Bender and Kendrick were through for the day.
The following week, at Baylor, Stanley became more involved in the second half, once Kendrick suffered a shoulder injury — something Beaty said Monday will continue to sideline the sophomore this week.
After completing four of his six passes for 37 yards and running for 27 yards at BU, Stanley quickly moved from the No. 3 QB to the starter for KU's fifth game of the season.
"The good thing is, Carter's played a lot of ball around here, so it's not like your typical third-string guy," Beaty said of Stanley, who entered the season with seven career starts, one of which came in KU's win over Texas in 2016. "We would have loved to have been just crystal clear that it was such a differential between the guys, but it wasn't that way."
KU named senior Peyton Bender its No. 1 QB for the season opener 2 1/2 weeks into preseason camp. After four weeks of starting and splitting some time at QB with Kendrick, Bender has completed 59.6 percent of his 89 pass attempts for 490 yards and four touchdowns, with no interceptions. He didn't take a single snap against OSU, as Stanley never subbed out.
Entering this week's trip to WVU, Stanley is 29 of 39 (74.4 percent) passing, with 289 yards, three touchdowns and no interceptions.
"You have to decide who you're going to give reps to in fall camp," Beaty said, referring to choosing Bender, "and the other (QBs) were going to have to take more air reps, and (Stanley) took great advantage of that."
Following his first start since KU's home loss to Oklahoma in 2017, Stanley explained how he and the other KU quarterbacks have handled the apparent uncertainty surrounding the position.
"I think the personalities and the guys' attitude in there are good. I think everyone's ready, top to bottom," Stanley said on Saturday. "We all know that it can happen in one play, in one week, I mean, who knows? But I think everyone prepares the same."
KU's offensive terminology hasn't changed, Beaty added, since Stanley started four games in 2017, so the QB's transition from No. 3 to starter went smoothly.
"It gives us an advantage because it's not like a normal third-string quarterback, like a guy who's never played" Beaty said. "He has played. So I think that really helps us."