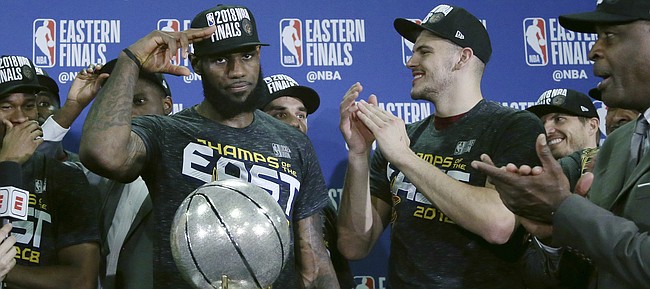 A man who knows a little about streaks himself, Kansas basketball coach Bill Self was in complete awe on Sunday night when he watched Cleveland Cavaliers star LeBron James knock off the Celtics in Game 7 of the Eastern Conference Finals to reach his eighth consecutive NBA Finals.
"It's unbelievable," Self said during a recent conversation with the Journal-World. "I mean, try going to eight straight Super Bowls or try going to eight straight World Series. I'm totally impressed with that. It's an unbelievable accomplishment."
Self said he paid particularly close attention to James' most recent series because he was facing one of Self's former players in Marcus Morris.
"I was pulling for the Celtics because of Marcus," Self said. "And I thought Marcus played him great. But you're talking about a guy that can dominate a guy that can dominate a game basically any way it's required, though."
Self, of course, has led his team to 14 consecutive Big 12 Conference regular season titles, but he said the feat achieved by James was absolutely mind-blowing in his eyes for a couple of reasons.
The first is because it has come at the highest level of the sport. The second is because of the specific circumstances of each one.
"With the NBA, there can be upsets but there aren't as many of them because you play a best of seven," Self said. "So, maybe 60-70 percent of the time — or maybe more, I don't know — the better team wins. What makes his deal so impressive to me is he hasn't always had the better team. You know, to win a series, to win four out of seven, when, on paper, your opponent may have three or four guys that could start for your team and you may only have one guy that could start for their team, that kind of speaks to his greatness and the accomplishment."
That last thought inspired Self to go in on a whole other topic, one that has been hotly contested throughout the NBA postseason in all corners of the sports world — LeBron James vs. Michael Jordan for the title of greatest player of all-time.
While Self said he would still give a "slight edge to Mike," he was not willing to count James out of it completely.
"I don't think it matters," Self said. "I think they're both incredible. I think they're going to go down as 1-2 and one of them still has some time to even improve on his legacy."
Before putting a bow on the debate, Self made sure to toss a little Jayhawk love into the conversation.
"If you're going to talk about most dominant, I'd still say Wilt," he said of former Jayhawk and NBA legend Wilt Chamberlain. "If you're going to talk about most titles, you'd say Mike, but the consistency with which LeBron's done it is second to none. I would say I'd still have to give the slight edge to Mike. But that's like picking who's tougher, King Kong or Godzilla."
Big week for Azubuike
The immediate look of the Kansas basketball team will become a little clearer this week, when the deadline hits for underclassmen to decide whether to stay in the NBA draft or return to school for the 2018-19 season.
For the Jayhawks, that decision rests with sophomore center Udoka Azubuike, who put his name into the draft shortly after the 2017-18 season ended in order to test his status with NBA franchises.
Azubuike, who attended the NBA's pre-draft combine earlier this month interviewed with a handful of teams and worked out with the Los Angeles Lakers before the combine.
The general opinion among those who cover the draft is that Azubuike should return to KU but he has until 11:59 p.m. Wednesday to make a final decision one way or the other.
2019 SF to decide Wednesday
Jalen Wilson, a four-star small forward from Guyer High in Denton, Texas, is ready to make his college choice known, according to his Twitter account.
Wilson, 6-foot-8, 210 pounds, is expected to pick between Baylor, Kansas, Marquette, Michigan, Oklahoma State and UCLA.
Most recruiting analysts believe that Michigan is the favorite to land Wilson, who is ranked No. 39 overall in the class of 2019 by Rivals.com.