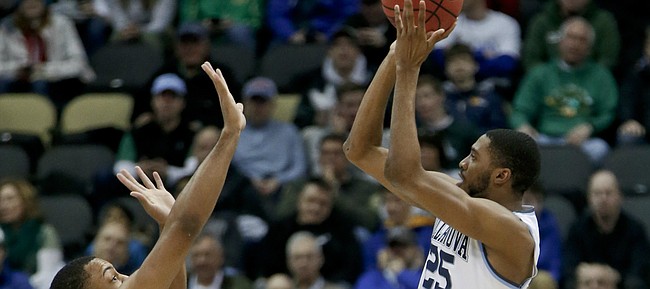 San Antonio — Even before Villanova secured its second trip to the Final Four in the past three seasons, head coach Jay Wright kept hearing about Kansas.
The discussions had nothing to do with a potential national semifinal meeting between the two No. 1 seeds, though. In the midst of preparing for two of KU's most prominent challengers to the conference throne, Wright heard coaches who know the Jayhawks well compare this year's Big 12 regular-season and postseason champions to his own, Big East-title sweeping roster.
"It's interesting to me that I heard Bob Huggins say that we remind them of Kansas," Wright said, relating the words of West Virginia's coach before Villanova defeated the Mountaineers in the Sweet 16.
"I heard Chris Beard say we remind them of Kansas," Wright added of the Texas Tech coach, whose Red Raiders fell to Villanova in the East regional final. "That was always — when I heard that, I always took that as a compliment. And now we've got to play against them, so now I'm not so excited about it."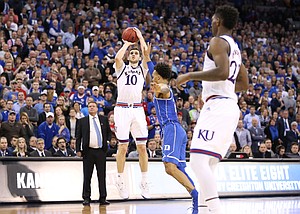 The Wildcats (34-4), like the Jayhawks (31-7), have torn through their schedule of late. Since losing at Creighton in overtime, on the last Saturday in February, Villanova has won nine straight. The Jayhawks, who dropped their regular-season finale at Oklahoma State, have won 12 of their past 13, setting up a national semifinal (approximately 7:49 p.m., Saturday) rematch of sorts of a 2016 regional final in Louisville, won by Villanova.
The composition of each team looks far different now than it did in the previous meeting between two of college basketball's top programs, with the only mainstays from the 2016 rotations being Villanova juniors Jalen Brunson, Phil Booth and Mikal Bridges, and KU seniors Devonte' Graham and Svi Mykhailiuk. By chance, the turnover and roster-building that took place since at both schools turned the Wildcats and Jayhawks into very similar teams.
In KU's Graham and Villanova's Brunson, both Final Four teams find themselves two Alamodome victories away from a title because of their All-American point guards.
The similarities don't stop there, either. Both the Jayhawks and Wildcats start four guards and thrive behind the 3-point arc. KU (81.4 points per game) brings the 11th-best long-range accuracy in the nation (384 of 953, 40.3 percent) into the marquee clash of conference champs. Villanova, the highest-scoring team in the country (86.6 points per game) has made more shots from behind the arc than any team in Division I, and ranks 19th in 3-point marksmanship (436 of 1,091, 40 percent).
A 6-foot-8 senior, Mykhailiuk (114 of 255, 44.7 percent) qualifies as KU's most consistent 3-point specialist. A projected NBA lottery pick this coming June, Wildcats junior Bridges (99 of 227, 43.6 percent) is similarly dangerous.
"It's funny," Wright said. "I think both of us really like to shoot the 3-ball, but both of us really try to be good defensive teams and good rebounding teams, you know. So it's going to be interesting who can stop each other. I think we both think that way. But it's hard to do against these teams."
In its Elite Eight overtime victory over Duke, Kansas limited the Blue Devils to 7-for-29 3-point shooting. On the year, KU opponents have connected on 32.7 percent of their 3-point attempts (53rd nationally). In the NCAA Tournament, the Jayhawks have allowed foes to make 34 of 102 from deep (33.3 percent).
Podcast episode
Kansas basketball coach Bill Self met with the media Tuesday, before leaving for the Final Four in San Antonio, and talked about the Jayhawks' win over Duke, why Villanova is such a tough matchup, and how KU has improved in the last month of the season.
While defeating Texas Tech in its regional title game, Villanova held the Red Raiders to 5-for-20 3-point shooting. With 38 games behind them, the Wildcats have surrendered 262 opposing 3-pointers on 814 attempts (32.2 percent, 33rd in the country). Looking at its four NCAA Tournament wins, Villanova has defended the arc to the tune of 24-for-88 shooting (27.3 percent).
Wright suggested his Wildcats are difficult to stop, but the Jayhawks could be even more challenging to defend.
Just ask Texas Tech and West Virginia.
"In our league, Kansas plays similar offensively with the 3-point shooting and the spacing," Beard said before Tech's loss to Villanova. "And they sort of — I think their defense is really good, too. Villanova's identity is their offense, but their defense is hard to score against. They switch. They're multi-dimensional players. They're really aggressive."
A Mountaineer who battled KU three times this season, Big 12 Defensive Player of the Year Jevon Carter, assessed Villanova's offense.
"From watching film, they're a lot similar to Kansas," Carter said. "They've got a lot of guards that can shoot, can drive. Everybody can score. They hit tough shots."
Even so, Self said at his Tuesday press conference, in Lawrence, that Villanova and Kansas, while similar offensively, aren't identical.
"The advantages they have over us are the same advantages we have over others," Self began, before noting the primary difference.
"They can stretch it from five spots. We can only stretch it from four. You know, we play through a big with his back to the basket," Self said of 7-foot sophomore Udoka Azubuike. "They don't. But you talk about how they are going to guard man-to-man, they are going to play four guards the vast majority of the time."
A 6-9 freshman, Omari Spellman has started all but one game for Villanova inside. Unlike the big he will guard most of Saturday night, Azubuike, Spellman plays outside, too. Percentage-wise, he's Villanova's best 3-point shooter: 62 of 139 (44.6%).
Top 3-point shooters for KU and Villanova
KANSAS
Svi Mykhailiuk, sr., G — 114 of 255, 44.7%
Devonte' Graham, sr., G — 106 of 263, 40.3%
Malik Newman, soph., G — 83 of 200, 41.5%
Lagerald Vick, jr., G — 59 of 156, 37.8%
VILLANOVA
Mikal Bridges, jr., F — 99 of 227, 43.6%
Jalen Brunson, jr., G — 82 of 198, 41.4%
Donte DiVincenzo, soph., G — 77 of 200, 38.5%
Omari Spellman, fr., F — 62 of 139, 44.6%
Phil Booth, jr., G — 53 of 136, 39%