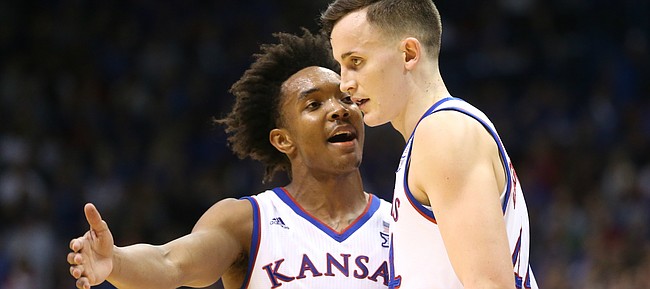 It remains to be seen what distinctions KU senior Devonte' Graham leaves Kansas with when his stellar four-year career comes to an end sometime in the next few weeks.
Big 12 champion? Definitely. Big 12 Player of the Year? Yep. Times two. All-American? Those are rolling in already, as well. National champion? That's his goal.
But regardless of what accolades he adds to his sparkling resume before he heads off to face his next challenge, Graham likely will be remembered first and foremost as a leader.
Kansas coach Bill Self has called Graham the best true leader he's had in his 15 years in charge of KU's program, and Graham's teammates talk constantly about his ability to lead them with equal parts poise and passion, friendship and ferocity.
Just looking at Graham on the basketball court — head up, chest out, eyes surveying the situation, max effort, mixed with a splash of flash — elicits visions of some of the best leaders who have ever suited up at Kansas.
And like all great leaders, Graham's ability to achieve the desired result, both of himself and from his team, is what matters most to him.
"I feel like I've become a good leader," Graham told the Journal-World during a recent conversation about his legacy. "I don't know if I'm the best leader ever ... I just try to put a little different spin on it, just talking to my teammates player to player, and I think they receive the message differently than when it comes from the coaches."
The road from Raleigh
Graham's path from unexpected son of a 14-year-old mother to legit candidate for national player of the year as a college senior has taken a few dozen twists and turns.
But he met each one with that signature Devonte' Graham smile, and all of them, good and bad, helped shape the Raleigh, N.C., native into the leader he is today.
Clarence Coleman, Graham's coach for eight years in Raleigh's famed Garner Road AAU program, recently recalled the time he first saw Graham play. His leadership skills, though just seedlings and uncultivated at the time, were evident from the minute Coleman watched the smooth 9-year-old finish a play in traffic during a game at Roberts Park Community Center, where everyone told Coleman he had to be as he searched for Garner Road's next 10-and-under point guard.
"Devonte' did a pump fake on the left wing and laid the ball in with his left hand over somebody at the rim," Coleman told the Journal-World. "That's when I stood up and said, 'I've got to find his mother.' She came to our next practice and the rest is history."
From that first day at Coleman's AAU practice to the time Graham nearly led Broughton High to a state title on sheer will — Broughton was a magnet school about 25 minutes from Graham's home, and his mother, Dewanna King, insisted he go there because it afforded her son better academic and athletic opportunities — Graham operated with what Coleman called "a magnetic personality," and perfectly fit the description of "a coach on the floor," even at age 9 in 2004.
"I think he was always kind of inherently a leader," Coleman said. "Our team had already been formed when he joined, but he instantly became one of our team leaders. He may not have been the vocal, captain-type leader right away. But as far as making big plays, doing what the team needed, taking a leadership role on the floor, team-first mentality, he had all of that."
Recently, after Coleman sent Graham a message to congratulate him on being named Big 12 Player of the Year, Graham fired back with the following response: "All those sprints you made us run, which I didn't really like, I guess they paid off."
Although those who know him best swear that the elements of an A-plus leader always have been present within him, Graham was not always the confident, comfortable, take-charge type of player that KU fans have come to love.
That trait, his mother said, had to be "pulled out of him." And both Graham and King credit Self for being the right man to inspire Graham to step out of his comfort zone and into a role that Kansas needed and Graham was destined to fill.
"Coach saw it," King told the Journal-World. "I think that's what Devonte' was lacking, someone who believed in him. Once he could see that coach believed in him, he was pushed and it just came out."
Added Graham when asked how he managed to flip the switch: "I think Coach Self just demanding it out of me. At first it was a lot and then I kind of got comfortable with it. He used to tell me all the time that I was scared of my voice. At first, I didn't know what that meant."
Graham quickly learned exactly why Self used that phrase — and why he needed to eliminate the fear — during his first summer on KU's campus back in 2014, when the baby-faced freshman from Brewster Academy stepped onto the court with established Jayhawks and future pros Kelly Oubre Jr., Frank Mason III, Perry Ellis, Wayne Selden Jr. and others.
During his Senior Night speech, Graham recalled the story of Self imploring him to step up and lead those veterans during his first weeks in town. Graham responded, "You want me to yell at these dudes?"
Give him the T-shirt
It was not so much a yeller and a screamer that Self was searching for, but he knew he needed someone who would push the rest of his roster while holding himself to impossibly high standards at the same time.
Through his electric personality, relentless work ethic and always-positive perspective, Self saw, almost immediately, that Graham could be that player.
Needing a nudge to help the idea take root, Self brought in a group of military veterans who founded the team-building initiative known as "The Program," to see if they could help bring Graham's natural leadership skills to the surface.
KU's time with The Program that season coincided with Self's already infamous boot camp conditioning routine. Together, the two challenges pushed Graham to new highs — and lows — and inspired him to find his voice.
After a day of getting used to the rigors of The Program, Graham was put in charge of nearly a dozen different challenges during the next two days. Communication, motivation, survival and focus all came into to play, and Graham flourished while leading his teammates through it all.
Never was that more clear than during an exercise in the 13-foot-deep end of the swimming pool, when Graham and former teammate Tyler Self were forced to help Cliff Alexander navigate his way across the pool despite the freshman forward from Chicago not knowing how to swim.
"Mom, I almost died today," was the way Graham later relayed the story to King.
"It was me and Tyler, treading water, holding Cliff," Graham recalled. "One of us would go under the water and hold him up by his legs while the other one was on top and then we would kind of switch. And when we were switching, I was going under and Cliff hit me in the face and I sucked in a bunch of water. Man. It got bad right there."
But Graham got through it. And so did Alexander.
Eric Kapitulik, a former lacrosse player at the United States Naval Academy and retired Marine who founded The Program, remembers it like it was yesterday. That's saying something given the fact that his company, during the past 10 years, has worked with more than 150 college, pro and corporate teams annually in similar settings.
Their goal, each time, is to develop better leaders and create more cohesive teams. By the time they were done with the Jayhawks, Kapitulik had seen all he needed to see from Graham to know what kind of future the newest Jayhawk had in front of him.
After putting KU's entire 2014-15 roster through as many physically and mentally adverse situations as they could think of, Kapitulik and his crew named Graham the best leader of the bunch.
Graham was shocked. His mother beamed with pride. And the KU coaches, as impressed as they were, realized they might have just hit the jackpot.
"When Devonte' wasn't in a leadership role he was an exceptional teammate," Kapitulik recalled in a conversation with the Journal-World. "And then, when we put him in a leadership role — and Coach Self wanted us to put him in that leadership role — he was able to do that equally as well. That's special as a freshman. Remember, the season hadn't started. He hadn't played a lick for KU.
"Coach Self always said it was amazing that we saw that in Devonte' that early on. But we don't really think it's that crazy. Adversity does not build character, it just reveals it."
For his efforts, Graham received The Program's signature T-shirt given to the most prolific leader in each group. It's a basic, understated gray shirt with The Program's logo on it, featuring a black circle and upside down Greek letter Lambda, both of which pay homage to Spartan warriors of ancient times.
"In 10 years, we can count on three fingers the times we've presented our gray T-shirt to a freshman," Kapitulik said. "And Devonte' was one of those three. In 10 years and 150 teams every year."
Graham and Kapitulik still keep in touch to this day — Graham calls him "Cap" and they talked as recently as two weeks ago — and Kapitulik reflects on his brief time with Graham like a proud older brother bragging about his talented younger sibling.
"I worked with a lot of teams four years ago and I couldn't tell you who any of their freshmen were or even who their seniors were," Kapitulik said. "But I can speak with clarity on Devonte' Graham."
The magnitude of his performance that week was not lost on Graham, even then as a 19-year-old freshman.
"I think that's when it all started as far as my KU leadership," Graham said. "Coach was all about, 'You've got to be a leader and you've got to talk,' and I just did it."
Graham's humility and knack for downplaying even his biggest achievements always has been a part of his DNA. His mother says he got that from her, and she got it from her own no-nonsense, tough-as-nails mother, Doris King.
"My mom is that leader in our family," Dewanna King said. "Without her, I don't have it. Without me, he doesn't get it. So I think it has been passed down."
In the same breath, Graham's mom said the traits her son inherited from the strong women who raised him would not have brought him this far without leaders such as Self, Kapitulik, Coleman and others pulling him along.
"At that time in his life, I think it was so important for him," she said of the praise Graham received from The Program. "It's like the highest honor. We thought we were just going to come in here and sit the bench and get an education. For him to be told, 'Hey, you're the best leader in here,' by guys like that, I think that meant a lot."
Truth be told, it still does.
Graham still has that gray T-shirt hanging in his closet, a memento of a milestone and major breakthrough in his life.
"I've never worn it," Graham said. "It's just like a trophy."
Getting louder
After his encounter with The Program, Graham's leadership took off.
The KU senior gives former Kansas teammate Jamari Traylor the title of "best leader he has ever played with," and credits former KU point guard and one-time assistant director of student-athlete development, Aaron Miles, for forcing him to take a different look at the way he led.
It was Traylor's demeanor — tough, but always positive — that most impressed Graham about the forward from Chicago. And it was a challenge presented by Miles that inspired Graham to elevate his already strong leadership with a new approach.
"He told me, 'It's easy to call out Svi (Mykhailiuk). It's easy to call out someone who's not playing,'" said Graham of Miles' advice, which came during his sophomore season. "'But you've got to call out Wayne, you've got to call out Frank and Jamari, when they're not doing what they're supposed to be doing.' That stuck with me."
And it did not take Graham long to put Miles' challenge into practice. Every time he found himself riding one teammate or demanding better from another, his voice grew louder. It eventually carried such a sonic boom that Graham even found himself occasionally barking at consensus national player of the year Mason during the 2016-17 season.
"Frank always knew what to do and how to do it, but calling him out about not boxing out and things, I would do that," Graham said. "I wasn't afraid to do that. I couldn't be."
Stories like those often blew the mind of Graham's mother — a woman whose biggest piece of advice when Graham was deciding between Kansas, North Carolina State and Virginia after his year at prep school was to pick the place he would be happiest even if he never played.
"This was, to me, the little hardheaded kid who, when I said, 'Do this, do that,' when he was just a little boy, he would always say, 'Mom, why?'" King recalled. "And the answer was always, 'Because I said so.'"
Graham never had that because-I-said-so relationship with his teammates — at least not verbally. But that was because he did not need to. Graham's expressions and body language, more often than not, told teammates all they needed to know.
Leadership of all kinds
Although the lasting image of his time at Kansas may very well be Graham, with intensity in his eyes and the ball in his hands, pointing teammates in the direction they need to go, it's the more subtle aspects of leadership that always impressed those who have been with him every step of the way.
For his mother, it was Graham's willingness to keep an open mind — despite kicking and screaming all the way there — at the 4-H Youth Ambassadors program she enrolled him in during high school, which first allowed her to see her son as someone capable of tackling things bigger than himself.
"Hated it," Graham joked. "Every time. But that's actually probably where it all started. My mom used to force me to go to that kind of stuff. I ended up liking it. But every year, I was like, 'No.' It was leadership stuff. We would meet and talk about how to be leaders in your school and on your team, learn how to work together."
For Self, it was Graham's unselfish nature that provided the first glimpse of Graham's ability to be an elite leader, the kind of player willing to put everything aside for the good of the team.
"We had a meeting one time," Graham recalled, "and he was just saying that the way I sacrificed a lot and deferred to Frank, letting him take over last year, that's leadership.
"He talked about some games how it looked like I was shooting bad percentages, going 4 for 14 or whatever, but I had to be the one to go make the play or take a bad shot at the end of the shot clock, play 40 minutes ... He said all of that type of stuff is just being a great leader."
And, for Coleman, who first met Graham as a scrawny 9-year-old with braids and happily watched as he developed into the current face of Kansas basketball, Graham's ability to put his team first and his own wants and needs second always was, and remains, his favorite part about Graham's game.
"Leadership can come in many forms," Coleman said. "And in my time coaching him directly, he was just one of those kids that did whatever was necessary to help the team win. Of course he was very talented, but his attributes in all aspects were just so strong."
Coleman had a short and sweet way of communicating this to the Division I basketball coaches who began recruiting Graham after his stint at Brewster Academy.
"The first thing I told them was that Devonte' is a winner," Coleman said. "He was never afraid of anything. If a kid has a desire to succeed and he is locked in on being successful, he will do what is necessary to help the team win. And that was always Devonte'. When kids are that good, they have to have great work ethic when nobody else is watching. And he has that. That, to me, is leadership."