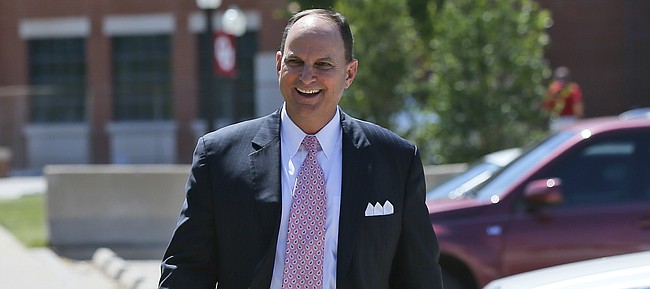 In the office of Oklahoma athletic director Joe Castiglione sits a display that serves as a daily reminder of the success of those who have worked under him in the business of college athletics.
The case houses a group of hats featuring the logo of each of the schools whose athletic department is now, or once was, headed up by a former member of Castiglione's staff, men and women who learned the ins and outs of the business from Castiglione on their way to becoming athletic directors during the past couple of decades.
"There are a few that I'm owed by some new athletic directors," Castiglione told the Journal-World during a recent telephone interview. "But it's getting close to 20 of those who are either in the chair or have been in the chair. When they move to their next position, I just get their new hat and put it on top of the old hat."
To date, the display does not include a crimson and blue KU cap. But because a handful of names that have surfaced as possible options in KU's search to replace Sheahon Zenger and find the 11th AD in school history once spent time working under Castiglione, the veteran OU AD has an eye on what's happening at Kansas and is interested in who the school will hire.
The list includes Colorado State athletic director Joe Parker, Central Michigan AD Michael Alford, recently dismissed Arkansas AD Jeff Long as well as Ole Miss' Ross Bjork, SMU's Rick Hart and even a current employee of Castiglione's, OU senior associate AD Kenny Mossman.
While the KU search, which began in late May, has not produced a public list of finalists or even much as a hint about which direction search committee leader Drue Jennings is headed, the former Castiglione cronies all bring with them impressive resumes, quality experience and familiarity with both the Big 12 Conference and big time college football.
That, Castiglione, said was by design. Throughout his career as an athletic director — at Missouri from 1993-98 and for the last 20 years at Oklahoma — Castiglione has prided himself on helping others prepare for the role he has enjoyed and mastered at Oklahoma.
"I've always placed a level of importance on mentorship as a key role of my leadership," Castiglione said. "I was fortunate through my career to have mentors that put me in a position to learn. Sometimes it was baptism by fire, sometimes it was a more progressive approach, but I've always valued the role they played so, in turn, I've always thought it was my responsibility to try to hire the best people and help them grow and be as successful as they possibly can be."
Castiglione said seeing people he once mentored become athletic directors at other schools, big or small, "without question," has been a source of pride and has reminded him to keep pushing those who currently work for him. That is another reason for the display of hats in his office.
"It's a reminder of those special individuals who played a role in my life and our success here or at Missouri," Castiglione said. "But I also use that display to illustrate some of the stories that I tell to aspiring administrators or aspiring athletic directors who I work with today. I can tell stories about conversations with those guys from when I first knew them and how they presented their dream to me and their plan of how they were going to make that happen."
Specific to those who might be involved in KU's search, Castiglione, talking generally, said the group possessed a few common characteristics that always stood out to him and helped each reach this point in their careers.
"Intense preparation," said Castiglione without hesitating when asked for an example. "When I think back over the many discussions we had about their career paths, they were all very intentional about their own personal growth, always looking for ways to improve.
"The personalities are different, some of their career paths vary, experiences vary, but they were all very intentional about their personal growth, which led to their professional growth. There's a direct correlation and that's a common thread that went through every one of them."
In addition, each administrator was able to sharpen his skills under Castiglione in the areas of the job that are most often put to the test. Included among them, according to Castiglione, were: fundraising, budgeting, decision making and quality and clear communication. But the one thing that always gave Castiglione the greatest feeling was how each rising star was willing and able to expand his thinking and adjust in adverse situations.
"I don't necessarily think titles define leaders," he said. "They give you a position and you may be charged with making decisions, but leadership goes far beyond the title."
Careful not to speak specifically about any of the potential candidates out of respect for both the ADs themselves and KU's process, Castiglione said all of the members of his administrative tree even vaguely tied to the Kansas search were quality people who excelled during their days with him and have continued to impress in the days since.
While his personal connection to each of them remains strong, Castiglione did offer a broad overview of what he believed the right candidate would look like for any athletic director opening in the current landscape of college athletics.
"Like anything, you want whoever it is that gets hired to be able to come in and build and enhance the culture that exists, be authentic in the way they do it and, above all, achieve it with integrity," he said. "Those, to me, are certainly the most important characteristics."