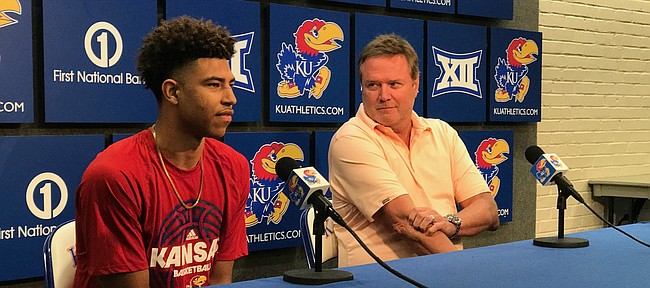 With his latest prized pupil sitting to his right and their recently claimed gold medals tucked safely away in their respective homes, Kansas coach Bill Self on Tuesday heaped the kind of praise onto KU guard Quentin Grimes that is not often attached to a true freshman.
"He's probably as complete a guard as we've ever had," said Self of the No. 7 overall player in the 2018 recruiting class, who already is a projected lottery pick in the 2019 NBA draft by some outlets. "He can shoot, he can pass, he can dribble, he can score at all three levels. He's a really good player right now."
What makes Self the most excited about where Grimes sits today, though, is that he still has weaknesses and both of them know it.
Grimes, who averaged 14.7 points, four rebounds and 3.8 assists per game during Team USA's 6-0 run through the FIBA Americas tournament in Canada earlier this month, earned MVP honors at the FIBA tourney while flashing a little bit of all of his elite skills that inspired Self to speak so highly of him.
Even with that, Self said Grimes could stand to be more consistent and less of a streaky shooter and may not have been the MVP if the tournament had gone another day because of the balance on the Team USA roster.
"I think he's a point guard that can play without the ball in his hands," said Self when asked how he saw Grimes fitting in to KU's 2018-19 roster. "That's how we recruited him and that's how I think he is, even after coaching him for a while.
"He will have arguably the best vision on our team. He sees it. He feels it. But he doesn't have to have the ball to play well. … He's a combo guard, a point that really is a combo guard, and that's kind of what we've made our living on here the last several years."
Going into the USA Basketball tryouts in Colorado Springs, Grimes knew Self would be harder on him in an attempt to get the most out of him. That, the freshman said, pushed him to new heights and allowed him to get the absolute most out of his second USA Basketball experience.
Playing for Self while representing his country was merely a bonus, one that both the player and the coach believe will benefit the Jayhawks a great deal this season, starting as soon as this month.
Grimes arrived in Lawrence on Sunday night raring to go, but has taken the past couple of days off to rest and recharge his battery as mandated by Self. That's a move that was easier for Grimes to swallow because he had just spent the past 18 days with his new head coach.
"I was kind of just still trying to figure him out, just see how he wanted to implement me into the game," Grimes said. "I kind of figured it out toward the end of the Canada trip, the last few games."
Asked if he thought Grimes had seen the real Bill Self yet, the KU coach laughed and said, "No. This is one of those deals where you didn't want to make anybody mad. So it's like, 'Please, Quentin, would you please come over here and do this right now? And maybe with just a little bit more effort?'
"But he was great. What I think impressed me as much as anything was that he's bright and, as good as he is, he's competitive enough that I think he could really be special. For the most valuable player (to) still (not have) scratched what he can potentially do, to me, is real exciting."