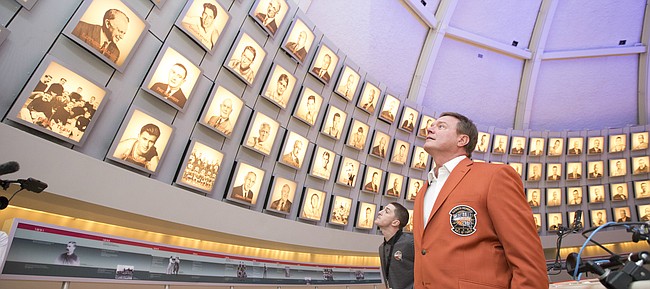 Bill Self's basketball teams always have been known to play tough defense, but in recent seasons, it sunk in to me that what they actually do best is play with an extreme degree of confidence offensively.
I attributed noticing that more than ever last season to one of two factors: either an experienced roster made it obvious or it's just taking things a while to weave through the clutter in my brain and take root.
It wasn't until listening to Self talk about how coaching under FIBA rules has made him grow as a coach, that I realized his teams actually have grown more confident offensively.
Just back from 19 days of tryouts and competitions with the U18 USA basketball team, Self also has had recent experience coaching teams with FIBA rules in Italy (blowouts that didn't do much for him) and coaching a KU-dominated roster at the World University Games in Gwangju, South Korea.
The 24-second shot clock made him preach attacking more aggressively at the offensive end and he liked what he saw so much that he never turned back the clock. (Also, if the shot clock is interrupted with inside 14 seconds, it is reset to 14 seconds, not 24.)
"The deal in Gwangju was the best thing for me, and we've actually played different since we went there because, with the (shorter) clock and being together that long and practicing that long, the one thing you have to do as a coach is you have to trust your players to make plays that you don't coach. Whereas, a lot of times, if there's enough time on the clock, you'll try to get players to make plays within your concepts," Self said.
The World University Games experience timed well with the NCAA's reduction in the shot clock from 35 seconds to 30 seconds, implemented in the 2015-16 season.
Self explained how the change has helped players.
"Confidence," he said.
The change is somewhat subtle, but very real.
"You still have concepts, but they're much looser," Self said. "We had something that we did every time we got an offensive rebound. If we couldn't score immediately, we called 'Quick Strike,' because we knew we only had 14 seconds. So it was like a fast break in half-court offense because we had to get a shot fast. There were things like that I think that really helped me trust players more because when you play that way, you have to trust them to make the right decisions."
Self called the U18 Team USA he just coached to a gold medal in a competition in which incoming KU freshman guard Quentin Grimes was MVP "the fastest I've ever played. I mean, I've never played remotely anything that fast, but we didn't sacrifice ball and body movement, so I think we can still play faster and be more aggressive and not compromise what we think's important. I do think I learned a lot."
He was able to apply what he learned in South Korea, which grants him credibility when he says he thinks he can get his team to play even faster.
Self is entering his 16th season as KU coach and here is the average national ranking in three-year stretches in offensive efficiency (points per 100 possession), per kenpom.com:
2004-2006: 34.3; 2007-2009: 18.0; 2010-2012: 10.3; 2013-15: 20.0; 2016-2018: 6.7.
Part, but not all, of that statistical improvement can be attributed to improved 3-point shooting and a heavier reliance on it.
In addition to that factor, in going 10-3 in the NCAA tournament the past three seasons since returning from South Korea, Self has become an even better basketball coach, proving it is possible to teach an old coach — check that, an experienced coach — new tricks.