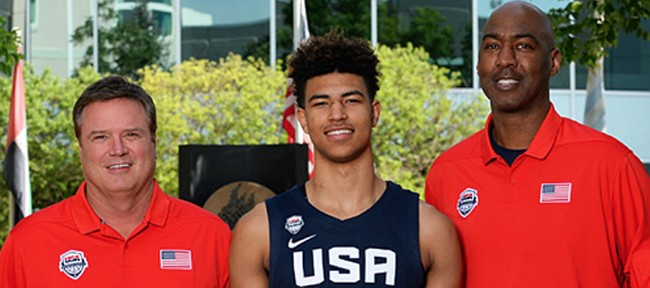 University of Kansas freshman Quentin Grimes supplied his most productive outing to date at the FIBA Americas U18 Championship Tuesday night, helping USA Basketball seal up first place in Group A, with a victory over Puerto Rico.
Grimes became the first 20-point scorer for the U.S. so far this week, in St. Catharines, Ontario, Canada, finishing with exactly 20 in a 115-71 victory that wrapped up preliminary-round play.
The Bill Self-coached USA squad moved to 3-0, securing the top seed in its group for the quarterfinals, which begin Thursday.
A single-digit scorer in the first two U.S. victories, Grimes, a 6-foot-4 guard from Texas, went 9 for 17 from the floor against previously unbeaten Puerto Rico (2-1), while leading the team in both field goal attempts and 3-point tries (two of eight). Grimes rounded out his stat line with four assists, two steals and a block in 27 minutes.
Shooting 51.2 percent from the floor and making 10 of 25 3-pointers against Puerto Rico, the USA team also assisted on 32 of its 42 made baskets. Grimes was one of six U.S. players to score in double figures.
"Definitely, we want everybody to have a good feel for the game going into possibly the championship game," Grimes said of reaching Saturday's final, when asked about how the whole team stayed involved offensively. "We want to make sure everybody's confidence is high, so we can go out there and play as a team and get the job done."
The 18-year-old Grimes averaged 29.5 points, 8.6 rebounds and 4.9 assists as a senior at College Park High (Texas) during his final prep season, when he played in both the McDonald's All-American Game and the Jordan Brand Classic.
Team USA also controlled the glass, outrebounding Puerto Rico, 50-35. Afterward, though, in typical form, Grimes' KU coach, Self, pointed out the flaws that kept the team from performing at an even higher level.
"We didn't create much at all from our defense today," Self said after the U.S. held Puerto Rico to 26-of-68 shooting. "Yesterday, we could have scored a lot (more points off of our defense). But today, our defense really didn't create a lot of stuff. They did a great job of handling the ball against full-court man. We've got enough weapons that we can put some points on the board. I thought we played bad offensively and then you look up and you still shot 51 percent and had 32 assists, so that's pretty good."
The tone of that message isn't lost on USA's players.
"Coach stresses that every day," Grimes said of defensive pressure. "Before each shoot-around, before each game, to be defensively intense and in their face. Then, everybody has a lot of freedom out there on the offense."
A KU recruiting target in the Class of 2019, Bishop Miege star Jeremiah Robinson-Earl led the U.S. in rebounding (10) for the second straight game. The son of former KU forward Lester Earl, the 6-9 Robinson-Earl finished with a double-double, scoring 13 points on 3-for-5 shooting and a 7-for-7 night at the foul line.
Another prospect on KU's radar, 6-9 Matthew Hurt, added 12 points for the U.S.
The USA will open tournament play on Thursday versus Ecuador (0-3).
The top seed from Group B is Canada, which, like the U.S., went 3-0 in group play.
The semifinals will be played Friday, and the finals on Saturday. The top four finishing teams qualify for the 2019 FIBA U19 World Cup.