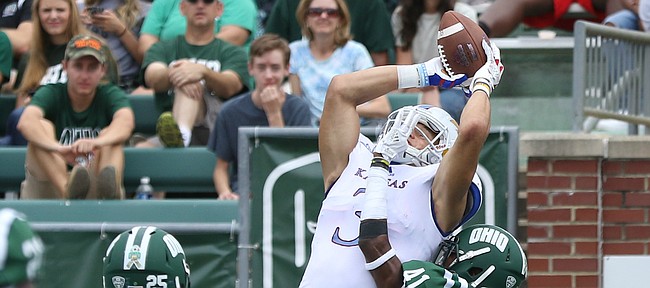 Former University of Kansas receiver Chase Harrell has left the Big 12 for the SEC.
Two months after making public his decision to leave KU, Harrell announced Tuesday his plans to enroll and play football at Arkansas.
"Coming for everything this year," Harrell tweeted, while thanking Razorbacks head coach Chad Morris and members of the Arkansas staff.
A difficult off-season for the 6-foot-4 receiver that included witnessing his older brother, Cole, murdered this past December, and an arrest on suspicion of DUI in March, led to Harrell moving on from the Jayhawks and head coach David Beaty granting him a release.
Harrell, who first arrived at KU in the spring of 2015, would have been a redshirt junior this coming fall. He first stated in April his plans to graduate this summer and move on.
In what proved to be his final season at Kansas, Harrell played in all 12 games in 2017. He caught 25 passes for 221 yards and three touchdowns.