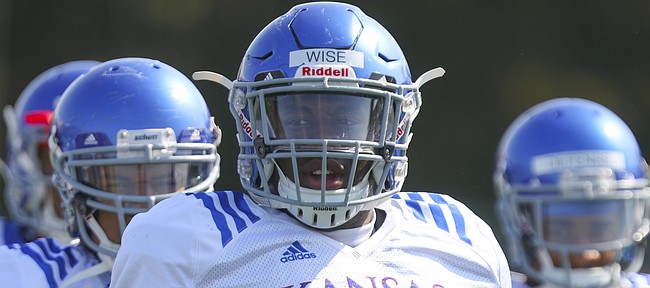 Actual practices won't begin until early August, but a crucial stretch of preparation leading up to preseason camp began this week for University of Kansas football players.
Tuesday marked the beginning of summer strength and conditioning workouts, with the Jayhawks on campus and taking classes.
Summer vacation, of course, doesn't really exist for Big 12 football players.
"No. No," redshirt senior linebacker Joe Dineen repeated when asked by a reporter this spring whether June and July came with some downtime.
KU players go through organized team workouts, under the guidance of strength and conditioning coach Zac Woodfin, five days a week amid their summer class schedules. Plus, two or three times each week, the Jayhawks gather for voluntary football work, whether it be drills or seven-on-seven situations.
"I think that's really important," Dineen said of the player-organized repetitions.
Although seven-on-seven sessions are for offensive skill players, linebackers and defensive backs, redshirt senior defensive tackle Daniel Wise said KU linemen find ways to benefit from that time while their teammates play.
"Maybe not necessarily watch it," Wise said, "but maybe the defensive line will be practicing stuff or going through drills."
This time of year involves more preparatory measures than sprinting, weightlifting and pseudo-scrimmaging, though.
"As a defense, we try to meet without the coaches a lot," Wise said of studies designed to keep the players fresh on play-calling, as well. "Now that we have this offseason we can focus on a lot of the things that we need in order to continue to be a good defense."
KU's leaders expect that spring football both benefited the players and set the groundwork for the next stage of the offseason.
"I feel like we refined our defense," Dinnen said, "and everyone now has a grasp of what their job is and what we're trying to do."
Back on the last Saturday in April, the last time KU players and coaches spoke with the media, senior receiver Steven Sims Jr. made it clear that even the span of weeks in between the conclusion of spring football practices and the start of summer workouts would be one of activity and development for the Jayhawks.
"Just because spring's over doesn't mean our mission has stopped," Sims said. "It's very competitive in our locker room."