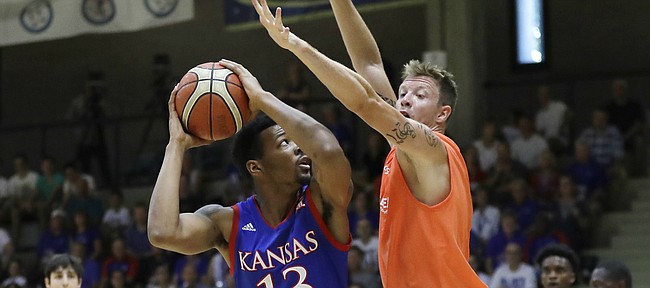 Whether you're talking about their time together in college at Memphis, during most of their prep playing days at Hamilton High back in their hometown or in their first 14 months as Jayhawks, KU transfer K.J. Lawson has always sort of seemed to linger in the shadows of his younger brother, Dedric.
Part of that is personality. Dedric, a 6-foot-9, 230-pound, red-shirt junior, is more outgoing and carries himself with a little more of a happy-go-lucky attitude, while K.J. (6-8, 205), to those on the outside looking in, seems to be the much more serious of the two brothers who came to Kansas in April of 2017 and sat out the 2017-18 season in accordance with NCAA transfer rules.
But just because it was Dedric who drew most of the attention and praise during the Lawson's red-shirt season does not mean that K.J. is merely here as an afterthought.
Take it from Dedric, who recently talked about his brother's role in helping both of them adjust to life in Lawrence while developing their skills in the process.
"K.J.'s improved a lot," said Dedric, who is roughly 17 months younger than his brother. "K.J. has got so much smarter, as far as the game, and K.J. has helped me with my game a lot. He teaches me things that he sees at practice and I look and try to do the same for him."
Asked to elaborate on the specific ways he believed K.J. had improved, Dedric pointed to both the offensive and defensive ends of the floor.
"It's just improvement all around," Dedric said. "His 3 ball got better. He's more focused on the defensive end than the offensive end. He likes those little things that will help us win and KJ's going to be a big part of our success."
That certainly has been the case throughout K.J.'s basketball playing life.
During his high school career, back at Hamilton High in Memphis, K.J., scored 2,227 points in four seasons, capping his prep days with three-year averages of 18.5 point and nearly eight rebounds per game.
At Memphis, where he red-shirted in 2015-16 after making two starts in 10 games before getting injured and then started 31 of 32 games the following season (2016-17), K.J. averaged 12.3 points and 8.1 rebounds per game.
Heck, even in the limited time he actually got to play with the Jayhawks — during last summer's four-game exhibition trip to Italy — K.J. led the Jayhawks in rebounding with six per game.
Nobody is expecting those kinds of numbers to pop up during his days as a Jayhawk. At least not right away.
For one, as Dedric put it, "We've got superior athletes here," so the need for one or two players to put up big numbers may not be quite as great as it was for the Lawsons at Memphis.
So while it may be K.J.'s younger brother who is getting most of the attention today — showing up on future NBA draft boards, receiving praise as a potential Big 12 player of the year, etc. — KU coach Bill Self has always talked highly of the other Lawson brother, and it seems crystal clear that there is a path that exists that leads to the less heralded Memphis transfer finding a spot in the KU rotation.
The focus for the Lawson brothers, along with the rest of the KU newcomers, from this point on is simple. And KU assistant coach Norm Roberts outlined it perfectly earlier this week.
"You just want the guys to get as many reps as possible so they kind of learn what they need to do," Roberts said. "You want them to be quick but not in a hurry. But they all want to impress and do well."
Asked to explain what Roberts meant with that directive, Dedric said it meant different things to different players.
"Playing the game at your speed, know what you want to do but don't rush it," he said. "Things like that."