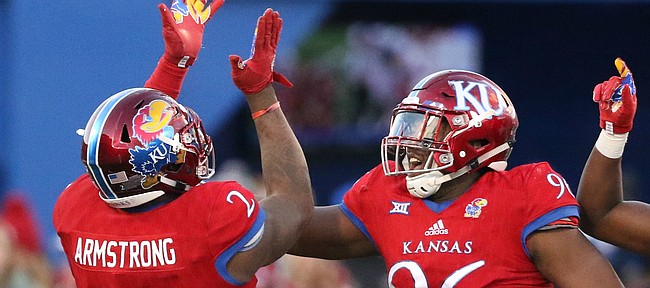 Daniel Wise didn't know for certain this past winter whether he would be back at the University of Kansas for his senior football season.
As he contemplated leaving early for the NFL, Wise leaned heavily on his father, 1988 draftee Deatrich Wise Sr., and brother, 2017 draftee Deatrich Jr., for advice.
Those conversations included plenty of back-and-forths on various pros and cons. But as Daniel and the other Wise men mulled over his decision, the KU defensive tackle kept circling back to his desire to be NFL-ready as a rookie.
The feedback Wise received from the next level indicated he would benefit from improving his strength and the defensive tackle opted to return to Kansas.
"Personally, I feel like I can get a lot stronger, faster. Obviously there's a whole lot of things — to be able to play with grown men at the pro level, there's a whole lot of things you want to continue to do," Wise explained, "to be able to play up to par with a lot of the grown men in the league."
NFL scouts provided Wise, mostly through KU head coach David Beaty and strength coach Zac Woodfin, with reviews of his play and details on how they graded him as a prospect, coming off a redshirt junior season in which Wise recorded 53 total tackles, 16 tackles for loss and seven sacks.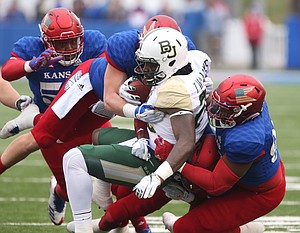 "Obviously they wanted me to go back to school and fill out my body a little bit, get a little stronger and stuff," Wise related. "So that's some of the things I'm working on this off-season."
Already one of the largest and most powerful KU football players in recent memory, the 6-foot-3, 290-pound defensive lineman found himself looking to further enhance his most impressive traits.
In order to make that happen, Wise will have to attack his goal from all angles. So how does Wise, already renowned within the program for his work ethic, up the ante?
"Nutrition's one of the biggest things that goes into getting stronger, getting your body right," Wise said. "Obviously hitting the weight room. There's no way around it."
Wise's plan includes working closely with KU's assistant sports nutritionist, Ricky Ng, so he can take his diet more seriously than ever before.
With Ng's guidance, Wise said he discovered how to help his body out by limiting certain foods he may have consumed too often before and cutting down on sweets. Plus, there are specific diet-related instructions to accompany his workouts.
"Mainly (Ng) has these shakes that he has us taking before and after lifts," Wise said, "just kind of concentrated to specific body types or athlete."
All of this, Wise hopes, will allow his fifth and final season at KU to go down as his best. He will graduate at the conclusion of the upcoming fall semester with his degree in communications and a minor in business, before he leaves KU behind and for the NFL .
Of course, Wise also has much left to accomplish before that time comes.
"Obviously I get an opportunity to continue to improve myself, raise my stock," Wise said of his redshirt senior year, "and kind of go out the way I want to go out."