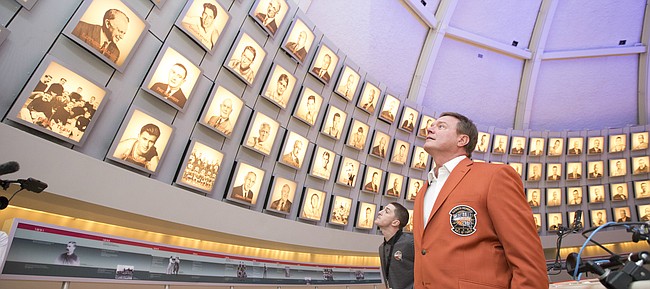 Skid Row is lined with gamblers who flouted conventional wisdom and bet against a winning streak.
Given that, the best advice for anyone trying to project a winner in the Big 12's game of the year Saturday in Lubbock, Texas, is to sit this one out, turn on the tube and enjoy the action unfolding on the court.
Pick Kansas and you're betting against Texas Tech's 17-game winning streak at United Supermarkets Arena, which holds 15,000 spectators and figures to be at its loudest for Saturday's 3:15 p.m. tipoff.
More than a year has passed since the Red Raiders last lost at home, 82-80, in overtime to Iowa State. Eleven days before that, Tech lost a 1-point game to Kansas on Josh Jackson's free throw with 2.8 seconds left.
Pick Tech to win and you're betting against another 17-game winning streak.
Bill Self has lost the front end of a Big 12 home-and-home series 17 times in his 15 seasons at Kansas. Remarkably, Self holds a 17-0 record in revenge games.
KU needed an overtime period to settle the score in five of the paybacks: 90-89 vs. Iowa State in 2004; 87-86 vs. Missouri in 2012; 68-67 at Oklahoma State in 2013; 76-69 vs. West Virginia in 2015; and 84-80 vs. West Virginia in 2017.
Kansas has scored blowouts in most of the dozen revenge games decided in regulation, winning by an average margin of 20.8 points, all but one by double digits.
In 2006, Missouri won the first Border War game, 89-86, and KU destroyed the Tigers in the rematch, 79-46. Three years later, KU scored a 25-point payback against Missouri.
Seven of Self's 17 paybacks, including the most recent, have come by margins of 24 points or greater.
Monday's 104-74 blasting of Oklahoma was the 17th revenge success. Trips to Lubbock, Texas, and Stillwater, Okla., represent opportunities to run KU's regular-season revenge record to 19-0 under Self.
Monday's game, by the way, completed Self's 100th home-and-home Big 12 series. He has swept 69 of those, split 31 and has yet to be swept.
Picking Tech requires betting against a 100-series streak, a most intimidating number.