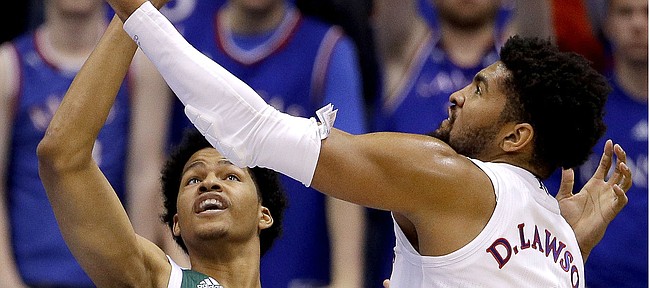 For more than a month, the superb passing skills of Dedric Lawson seemed to go dormant. Gone were the high assist totals that characterized the big forward's first handful of games in a Kansas basketball uniform.
Blame the circumstances for the dip more than anything else, and credit the return of center Udoka Azubuike for bringing Lawson's distribution skills back to life.
Eastern Michigan carried its half-court zone defense into Allen Fieldhouse on Saturday hoping its familiarity with the scheme would bog down a KU offense that has lacked much 3-point firepower.
The zone-buster turned out to be Lawson, whose ease operating in the middle of it kept the Jayhawks' offense rolling in the first half, paving the way for a stress-free 87-63 victory.
"I'm very comfortable," Lawson said of making reads and reacting from around the foul line in KU's zone offense, even though the team had faced next to no zones this season. "That's something I've been playing my whole life."
Photo Gallery
Kansas basketball vs. Eastern Michigan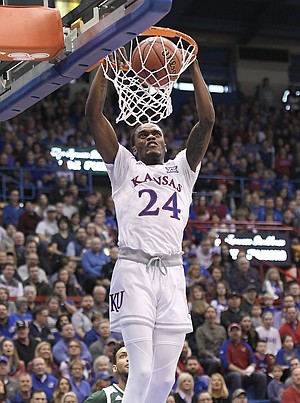 View a gallery of images from Saturday afternoon's game between the Jayhawks and Eagles at Allen Fieldhouse.
The 6-foot-9 forward's readiness to flourish in that spot took off during his first two college seasons, when Lawson said Memphis opponents often threw zone looks at the Tigers.
"That's when I got my high assist games, like eight, nine assists, so that's something I'm very comfortable with," Lawson said, referencing a career-best eight-assist performance in 2016 against South Carolina off the top of his head.
In each of KU's previous six games, following a five-assist effort against Tennessee, Lawson recorded two or fewer assists, and he only finished with more than one against Stanford.
Although just one of his five assists against EMU (6-7) set up a bucket for Azubuike, Lawson said the 7-footer's return to the starting lineup felt great, because it allowed No. 5 KU (11-1) to get so many easy baskets. The center's presence alone made Lawson's passing from the high post less difficult.
"I think the offense will move more freely with Dok being out there," said Lawson, whose other assists led to 3-pointers from Lagerald Vick, Charlie Moore and Quentin Grimes, and a David McCormack jam. "That's another guy that you have to pay attention to, you have to scout for and run defensive schemes for."
One of Lawson's only regrets after the win — on a day his streak of nine consecutive double-digit scoring outings ended — was that he didn't throw the ball to Azubuike (23 points on 10-for-13 shooting) more.
"I should've kept trying to feed him," said Lawson, who finished with 8 points, four rebounds and five assists in 22 minutes. "But they started trying to play the lob a little bit. I should've knocked down those shots to make them come back and guard, to get back to feeding him and kicking out."
Indeed, the only legitimate knock on Lawson on this afternoon was that he went 2 for 8 from the floor and missed five shots from the same area of the floor where he looked so good facilitating.
His coach, Bill Self, added that the versatile big should have finished with more assists. But Self didn't call out Lawson for his 0-for-5 shooting in the game's final 20 minutes, when the willing passer had a single assist, as well.
"He didn't play very well second half at all. And a lot of that is my fault," Self said of Lawson, who spent nine minutes after halftime watching from the bench. "We were playing OK. In a game in the Big 12 I'm not going to play him 11 minutes in a half when he's not in foul trouble. Just wanted to give everybody a chance to play."
Lawson's only frustrations in the victory were brief and introspective, following situations in which he expected himself to perform at a higher level. A potential All-American, he displayed no ego issues while taking a backseat to the larger Azubuike.
And even though EMU's zone made going away from a four-guard lineup an easy choice for Self, don't expect KU to return to single-big looks when facing man-to-man defenses.
"We need to see Dedric and Dok play together," Self said, "because that's going to be the guys that are out there the vast majority of the minutes."
The Jayhawks racked up a season-high 25 assists with Lawson often keeping the offense functioning, via his feel for the game and his passing, particularly in the first half.
Having Azubuike back unlocks another dimension for Lawson, and therefore creates more potential headaches for KU opponents trying to stop him.