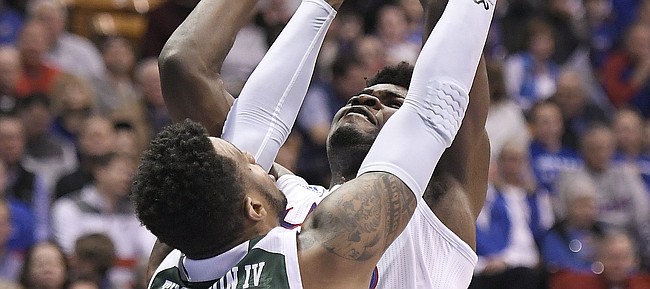 For the first time in 25 days, Kansas junior Udoka Azubuike was back in the starting lineup for the Jayhawks on Saturday, taking his usual spot in the jump circle to start KU's final tuneup for Big 12 Conference play.
Although Azubuike's presence in the starting lineup came as a surprise to the sold-out Allen Fieldhouse crowd, what followed it was even more of a surprise to the Jayhawks themselves.
"I didn't expect him to be as effective (as he was)," KU coach Bill Self said after KU's 87-63 victory over Eastern Michigan. "But I was hoping he could play 20 (minutes)."
Azubuike played exactly that, finishing the game with 23 points on 10-of-13 shooting and adding nine rebounds and a pair of blocks to his final stat line.
Photo Gallery
Kansas basketball vs. Eastern Michigan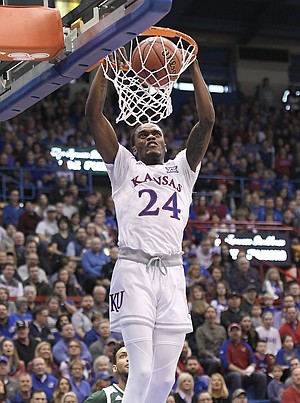 View a gallery of images from Saturday afternoon's game between the Jayhawks and Eagles at Allen Fieldhouse.
Eastern Michigan coach Rob Murphy said the Eagles (6-7) had prepared for Azubuike to play but admitted after Saturday's setback that planning for it and seeing it up close were two different things.
"We did. We planned on it," said Murphy when asked if he expected to see Azubuike. "We figured getting close to conference, you never want to send guys into conference, if they're injured, without some type of minutes on the floor. We didn't realize he would play as much, but he was super effective. Without him, the game could've been different. That's how much of an impact he (had) on both ends of the floor."
And that impact showed up almost immediately. Despite not having him in the lineup for four full games and most of a fifth during the past few weeks, the fifth-ranked Jayhawks (11-1) looked for Azubuike early and often inside during Saturday's win.
Although that part of Azubuike's return brought back memories of the days of old, it was the rest of Azubuike's movement that was more closely watched. But whether it was battling for rebounds, blocking shots or helping on ball screens, Azubuike's injured right ankle seemed to hold up fine throughout the game.
"I thought he ran well and I thought he slid his feet OK," Self said. "Obviously, his conditioning's going to be an issue for the next week or so. But he did about as well as I thought he could do out there."
One of the more memorable plays involving Azubuike on Saturday featured the KU big man simply being in the right place at the right time.
After just missing on the connection end of a lob attempt a possession earlier, Azubuike worked for rebounding position while watching K.J. Lawson elevate for a 3-pointer from the corner. Lawson's 3 missed long and Azubuike's long arm couldn't corral the rebound, but as it bounced off of a few hands, a hustling Lawson tracked down his own miss and, in what seemed to be one motion, flipped a pass to Azubuike who was all alone underneath for an easy dunk.
"I expected him to be himself," Lawson said after the win. "And once he got acclimated, he did a great job."
Added junior forward Dedric Lawson, who carried the offensive load with Azubuike in street clothes but finished with just 8 points, five assists and four rebounds on Saturday: "He was great 23 and nine in 20 minutes. You can't ask for nothing better in that amount of time."
The easy Azubuike bucket — one of his eight dunks on the day — put Kansas up 40-21 and sent the Jayhawks on their way to a 46-25 halftime lead and rare runaway victory.
Azubuike's return to action wasn't entirely warm and fuzzy on a cold Saturday in Lawrence.
A sluggish start to the second half got Azubuike a seat on the bench just 1:39 into the second half, but the 7-footer had an explanation for the slow start after the victory.
"One thing, right now, is when I rest it a little bit and come back ... I've got to continually do something with it so it doesn't get stiff on me," he said. "And it was a little stiff on me at the start of the second half."
The plan to start Azubuike back in his normal position at the 5 originated during a Saturday morning chat between Self, Azubuike and freshman forward David McCormack. The trio agreed that Azubuike would play about 20 minutes and McCormack the other 20, but it was clear after the game that Azubuike had his sights set on this kind of return long before Saturday morning.
"I was really trying to come back when we played Villanova," Azubuike said of a game that took place just 11 days after he injured the ankle against Wofford. "But the ankle was really, really getting into me and I just couldn't make it. After the Christmas break when we played against Arizona State, I knew I just had to come back so I just kept working."
Azubuike's ability to fight through two-a-day practices this week without any setbacks helped pave the way for Saturday's return, and an early first-half block of a jumper by EMU guard Paul Jackson paved the way for the monster day.
"I'm really confident in how I can move," Azubuike said. "And as soon as I got that block I felt like, 'Yeah, my feet (are) pretty strong.'"
As for how he managed the pain associated with playing his first full game in nearly a month, Azubuike said it was as much about not thinking about it as anything.
"That was part of it," he said. "My teammates and coaches told me to trust my feet and just go out there and play."
From Self's perspective, the biggest thing the Kansas coach wanted to see was how Azubuike's timing would hold up. Not just as a jumper and on defense, but within the flow of the offense, getting back on defense and finding a rhythm to how he managed the 20 minutes he did get.
"His timing hasn't been very good in practice," Self said. "But in practice you don't have the adrenaline, and the adrenaline offsets your ankle hurting a little bit."
With just four days between Saturday and KU's Big 12 opener against Oklahoma on Wednesday at Allen Fieldhouse, Azubuike will have some time to both recover from Saturday's outing and make even more progress in his rehab.
Borrowing a phrase from another former KU big man named Joel Embiid who has taken the NBA world by storm of late, Azubuike said calmly, "It's a process."
"This game was really important to me, to the team, to everyone else, in building my confidence up," Azubuike said. "It's getting better. I'm not going to say it's 100 percent, but it's getting better. It's still going to take me a little bit, but hopefully by the end of next week I'll be 100 percent."