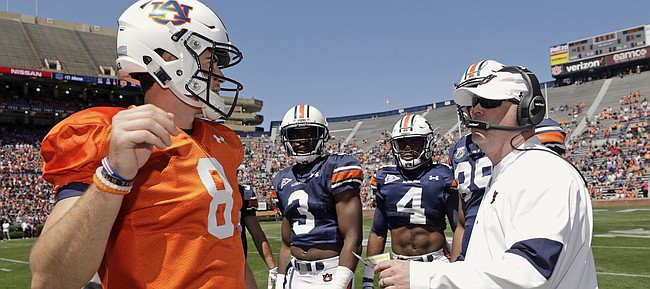 Ten days after the Kansas football season's conclusion, a coordinator for new head coach Les Miles' staff emerged.
In a day full of escalating smoke connecting the name Chip Lindsey with KU football, AL.com's Auburn football reporter, Matt Zenitz, reported Monday afternoon that sources told him the former Auburn offensive coordinator is expected to be hired by Miles at KU.
A source with knowledge of the situation confirmed to the Journal-World that Lindsey is presumed to become KU's new OC.
Jeff Long, first-year athletic director at Kansas, declined to comment, and Miles doesn't plan to field questions on any subject until his entire coaching staff is in place.
As of Monday afternoon, defensive backs coach Chevis Jackson was the only hire announced by KU.
Lindsey, the offensive coordinator at Auburn the past two seasons, first flew onto the public KU football radar Monday morning, when, during an Alabama-based radio show called "The Game Plan with Lance Griffin" on WOOF, former Auburn head coach Pat Dye mentioned the possibility of Lindsey heading to KU.
By the afternoon, AL.com reported Lindsey was out as Auburn's offensive coordinator and that he was expected to land another job in the near future.
Bruce Feldman, national reporter for both FOX Sports and The Athletic, then tweeted a little before 3 p.m. that he heard Lindsey was "in discussions" to become the Jayhawks' offensive coordinator on Miles' first KU staff.
Within minutes came Zenitz's tweet that Miles was expected to hire Lindsey, who had reportedly also interviewed for the offensive coordinator position at Tennessee.
During KU's 3-9 2018 season, former head coach David Beaty doubled as offensive coordinator after firing Doug Meacham during KU's bye week in October.
Prior to coaching quarterbacks and overseeing Auburn's offense the past two seasons, Lindsey held the same jobs at Arizona State in 2016. He also was offensive coordinator at Southern Miss from 2014-15.
Lindsey's first big break in the profession came after he worked as an offensive analyst for Auburn in 2013, when the Tigers won the SEC title and the BCS National Championship.
Riding that momentum, Lindsey became the OC at Southern Miss, where he coached Conference USA's 2015 Offensive Player of the Year, quarterback Nick Mullens, who passed for 4,145 yards and 36 touchdowns.
In 2017, when Lindsey returned to Auburn, the Tigers became just the eighth team in SEC history to rush and pass for 3,000 yards in a season, ranked 26th nationally in total offense and set an Auburn scoring record, with 327 points in SEC play, winning the SEC West.
The Tigers went 10-4 in 2017 and are 7-5 in 2018. This season Auburn ranked 11th in the SEC in total offense (373.6 yards a game) and averaged 28.3 points per game.
All-SEC quarterback Jarrett Stidham, the second Auburn QB ever to throw for 3,000 yards in a season, led the SEC and ranked ninth nationally in completion percentage. Running back Kerryon Johnson was SEC Offensive Player of the Year, and Ryan Davis set an Auburn receiving record with 84 catches.
Troy gave Lindsey his first college coaching job in 2010, when he oversaw the team's quarterbacks. He also spent several seasons as a high school coach, primarily in Alabama, but also in Georgia.
In his college days, Lindsey played football at the University of North Alabama before transferring as a student to Alabama, where he received his bachelor's degree in history and English in 1997. He earned a master's in educational leadership from the University of Phoenix in 2005.
Originally from Madison, Ala., Lindsey graduated from Bob Jones High School, where he was a three-sport letterman.