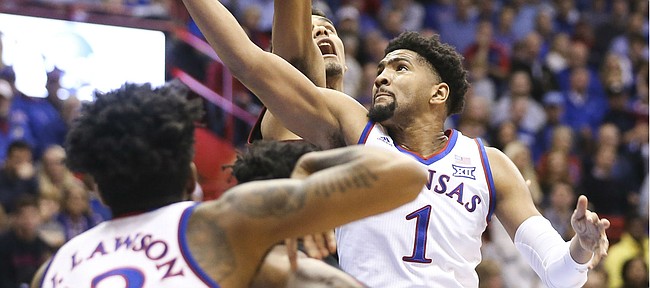 Kansas forward Dedric Lawson has a knack for filling up a stat sheet with ease.
Perhaps nothing illustrated this better than a moment during the breakout session with individual players following KU"s 90-84 overtime win over Stanford Saturday at Allen Fieldhouse. A reporter posed a question about Lawson's ability on the glass following his 15-rebound performance.
"I didn't even know I had 15 boards," Lawson said. "I just thought at one point that they were kicking our tail on the glass. There were a couple rebounds I didn't get but I should've got. So I just wanted to hit the glass kind of hard."
On the other side of the media room, senior Lagerald Vick was surrounded by a large scrum of reporters following his 27-point performance, including a game-tying three pointer with six seconds remaining in regulation.
But while Vick has been the star for No. 2 Kansas during the early part of the season, Lawson has played a major role in the team's 6-0 start to the season.
Through six games, Lawson is second on the team in scoring with an average of 18.8 points per game and is pacing the Jayhawks with an average of 11.2 rebounds per contest. Those numbers rank fifth and first, respectively, in the Big 12 conference.
In Saturday's win over the Cardinal, Lawson finished with 24 points in 36 minutes on 7-of-16 shooting. Lawson also tallied 15 rebounds, including 11 on the defensive end.
"I did not think he had a great game, but he puts up numbers," KU coach Bill Self said. "He had 13 or so (points) the first half, and kept us in it although we were down six."
And Lawson demonstrated the ability to do the little things throughout the team's narrow win.
Lawson went 10-for-11 at the free throw line, sinking six more freebies than the next closest Jayhawk. For the season, Lawson has scored just over 35 percent of his points from the charity stripe where he is 40-for-51.
To put that in comparison, no other KU player has attempted more than 25 free throws thus far.
"I spend a lot of time shooting free throws," Lawson said. "I know the value of three throws, it's a free shot. It's definitely a way to get going sometimes, when your shot isn't falling."
In addition, Lawson managed to draw a key charge in overtime that helped KU pull away.
Leading by five points, Lawson attempted to guard a ball screen out at the perimeter with 2:40 left in overtime. At the first sign of contact with the Stanford player he was guarding, Lawson dramatically fell down to the floor, and the official signaled for the offensive foul.
Lawson got up and immediately started clapping his hands in emphatic fashion.
"I knew during the whole game he was stepping into me (to) push off," Lawson said. "Actually, he really just stepped on my shoe and I fell. He did push off, but it wasn't that much of a push."
On the other end, Vick buried a 3-pointer with a defender all over him on the left wing. Vick's triple capped an 11-0 run by himself, which gave KU an 83-75 advantage. It forced Stanford to call a timeout, but the damage had been done.
Lawson, who had been responsible for so many under-the-radar moments to that point, merely laughed on his way to the bench.
"I knew it was over," Lawson said. "I was just so happy with the way we fought back as a team. That brings so much spirit and happiness to see that. Being down 12 at one point, and the way we fought back, and I was just happy we won."