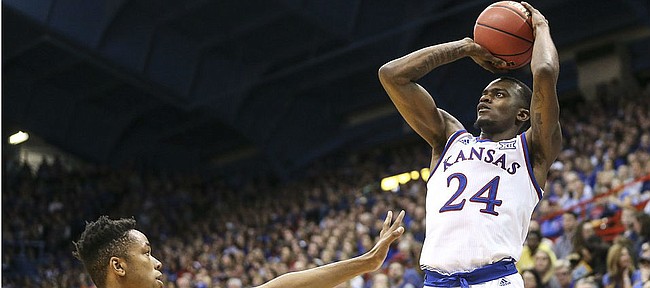 According to Kansas basketball coach Bill Self, the play that tied the game at the end of regulation of Saturday's 90-84 overtime victory over Stanford at Allen Fieldhouse was supposed to go through junior forward Dedric Lawson.
Instead, senior sniper Lagerald Vick, currently auditioning for the role of baddest man in America, cut the play one pass short.
From there, Vick took a handoff from Devon Dotson, rose what had to be 40-plus inches in the air and buried a deep 3-pointer that tied the game at 75 with just less than seven seconds to play.
Good thing, too, because Lawson had no designs on being the hero himself.
"Man, he can shoot it," a smiling Lawson said after the victory. "It was like six seconds left. I went to the glass and if he would've missed, I would've grabbed it and kicked it right back to him."
Photo Gallery
Kansas Basketball v. Stanford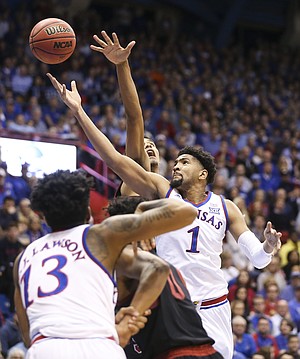 View a gallery of images from Saturday's game between the Jayhawks and Cardinal at Allen Fieldhouse.
It was that kind of day — or finish — for Vick, who scored a game-high 27 points, 19 of those in the final 12 minutes of the game.
That included the game-tying shot at the end of regulation and the first 8 points of overtime to put No. 2 Kansas (6-0) on the fast track to victory in a game in which Self said his team was outplayed by Stanford (4-4) the majority of the time.
"We needed every one of them," Self said of Vick's 27 points, which came off of 7-of-11 shooting from 3-point range.
Vick is now shooting 59.6 percent from behind the arc (28 of 47).
Forget the gaudy percentage or the clutch nature of so many of those 28 makes. The mere fact that Vick has morphed from a hidden-in-the-shadows role player to the lead dog on a Top 5 team is something that not many saw coming.
Although some needed six games' worth of proof to determine Vick's worthiness of the lead role, Lawson, a fellow Memphis, Tenn., native, was quick to throw himself in the camp that believed Vick had games like this in him the whole time.
"I haven't seen nobody stop him," said Lawson, who ho-hummed his way to yet another double-double of 24 points and 15 rebounds in Saturday's win. "Lagerald is Lagerald. He's been doing this since I met him in ninth, 10th grade. He's been a scoring machine and I'm glad everyone's getting to see it."
Vick is now 20.8 points per game for the Jayhawks and has scored 125 points in 227 minutes. For a little perspective, he scored barely twice as many (266) during all 36 games of his sophomore season.
Though the big shot late saved the Jayhawks' bacon, it was merely the beginning for Vick, who took the floor for overtime with the kind of icy glare that might have sent a few Stanford players back to the locker room early had they made eye contact with him.
The reason? Vick knew it was winning time and said after the victory that he had one simple thought running through his head as the teams tipped it off for an additional five minutes.
"Yeah, I had it in my mind, just go ahead and take it over," Vick said.
The first sign that he would came from a smooth 3-pointer from the top of the key that gave Kansas a 78-75 lead, its first since the 2:10 mark of the second half when a pair of Lawson free throws put KU up 70-69.
After a stop by the KU defense, which struggled throughout the game — giving Stanford wide-open looks from 3-point range and a 46.7 percent shooting clip through 40 minutes — Vick pushed the ball up the floor, got by his man on the wing and smashed a one-handed slam on the head of Stanford forward Trevor Stanback. Kansas led 80-75.
One possession later, Vick caught the ball on the wing in front of the Kansas bench — appearing to use mind control to draw the ball into his hands — and crossed over his man before hitting a step-back 3 that sent the Allen Fieldhouse crowd into a frenzy.
From down 3 with less than 10 seconds to play to up 8 less than three minutes later. After finishing the first half 0 of 3 from 3-point range, Vick made seven of the final eight 3s he attempted.
"I knew it was over," Lawson said of his reaction to Vick's second 3-pointer of OT. "I just knew that when I caught the ball I was just going to keep feeding him until he missed."
That bucket was Vick's final make of the night. But it was the one at four shots earlier that had the Stanford locker room still shaking its collective heads after what Self said had to be a "heartbreaking loss."
Stanford coach Jerod Haase, a former KU star who received a warm ovation from the home crowd during pregame introductions, could do little more than tip his cap to Vick for his hot shooting and game-tying dagger.
Haase said his huddle gave all kinds of thought to fouling Kansas so the Jayhawks could not even get a look at a game-tying 3-point attempt. But Haas operates with a hard and fast rule of when to foul and when not to foul in situations like the one that led to Vick's heroic triple.
"I do have a personal belief of when to foul and it was well over that number," Haase said of the time remaining when Vick let the shot go. "I'll probably second-guess a lot of things, but, to be honest with you, that's one I won't. … The fact is it was an unbelievable shot."