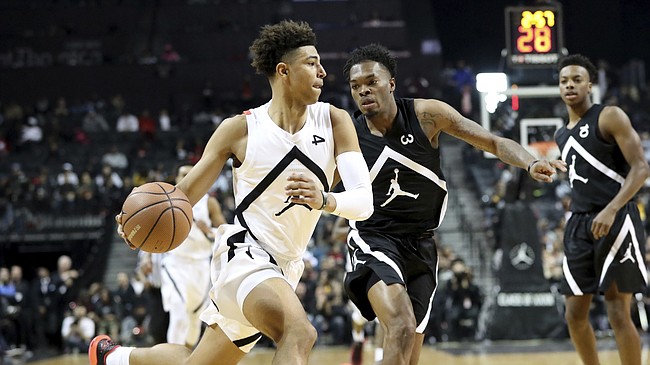 Out with an injury, but still a main attraction nonetheless, Duke-bound forward Zion Williamson wasted no time explaining to ESPN2 sideline reporter Brooke Weisbrod what stood out to him this week at the Jordan Brand Classic in Brooklyn.
"Romeo Langford's ability to score like it's just nothing," said Williamson, among other things, from the bench during the JBC Home team's 146-136 victory over the JBC Away squad on Sunday night at Barclays Center.
On a night when LSU signee Emmitt Williams shattered LeBron James' Jordan Brand record with 44 points on 22-of-23 shooting, the status of the uncommitted Langford, from New Albany, Ind., was a featured part of the ESPN broadcast.
"Indiana has gone crazy for him," play-by-play voice Kevin Brown explaining Langford's decision between IU, Kansas and Vanderbilt, which is expected to come before the end of the month. "Folks there have compared it to (former Hoosiers point guard) Damon Bailey-type fever for Romeo Langford. Vanderbilt's been in the running for a long time. And I know that people have seen Indiana and Vanderbilt as 1-2 for a while, but let's not forget there's a guy on the bench right now, Mr. Williamson, (who) people thought Clemson and South Carolina are 1-2 and then a pretty good program came in late (and got him), so I wouldn't discount Kansas just yet for Langford."
Color analyst Courtney Alexander jumped all over that thought, paying respect to the KU program and predicting that it will be more about Langford's role than the school's pedigree that ultimately leads him to a final decision.
"You definitely don't discount Kansas, especially the program Bill Self has built, one of the top programs in the country," Alexander said. "Does that become a scenario where Romeo Langford gets the opportunity to come in and play the way he wants to play. Is that the right fit? And I think that's going to be the biggest concern for Langford — which one of those three schools allows him to have the most success possible in a freshman season which could possibly be his only year."
Limited to just 16 minutes because of a elbow to the eye that sent him to the bench for good early in the second half of Sunday's showcase, Langford finished with 14 points and five rebounds on 5-of-11 shooting and did not get the opportunity to show why he is the top-remaining unsigned player in the 2018 class, ranking fifth overall on the 247 Sports list and No. 6 overall by Rivals.com.
That fact opened the door for a player Kansas fans know they will be getting to turn in a whale of a game, as combo guard Quentin Grimes exploded for 15 points, nine assists, five rebounds and four steals in his 25 minutes on the floor.
Grimes and Langford both played for the Home team on Sunday and, in their brief time together on the floor, showed an ability to easily play next to each other.
On Langford's final play before exiting, Grimes ran point, brought the ball up the left side — seemingly knowing where Langford was running at all times — and calmly waited for Langford to sprint past him on the wing so he could scoop a perfect touch pass to Langford for the rhythm 3-pointer.
That was just one way in which Grimes, who has said he is recruiting Langford on KU's behalf, impacted Sunday's game. The rest came through his all-around game and versatility, as he flashed his long-range game, precision passing and abiliity to get to the basket and finish — not to mention solid defense — that helped the Home team come away with the victory.
"Let me say this about Quentin Grimes," said ESPN 100 national director for recruiting, Paul Biancardi, late in the broadcast. "He will be one of the best guards in the Big 12 next year. Scoring, defense, passing, size at 6-4. … That's a guy the NBA loves."
After the game, Grimes, who signed with KU in November, told Kels Dayton, of RoundballDaily.com, that the display he put on during Sunday's All-Star game was what he hoped to bring to Kansas for the 2018-19 season.
"Coach Self really lets his guards have a lot of freedom out there on the court," Grimes told Dayton. "Can play pick and roll, a lot of isolations, can shoot the ball in mid-range, pull-up 3s, I think I can play on the ball, off the ball. I think (I can) be a dynamic play-maker out there and I'll fit in really well next year."
The only question that remains now is whether Langford will be in a KU uniform doing it with him the way he was in Brooklyn on Sunday night.
Those two will join future Jayhawk David McCormack and the rest of the top players in the 2018 class at the USA Basketball Nike Hoop Summit in Portland next weekend. After that, all eyes will be on Langford and a decision that could come any day.