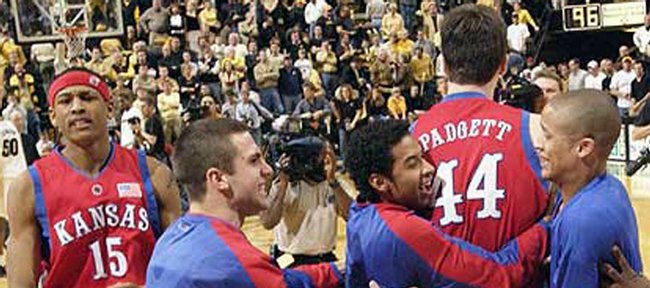 The Louisville men's basketball program has taken its first step toward moving on.
In the wake of an FBI investigation that left longtime Cardinals coach Rick Pitino and Louisville athletic director Tom Jurich on the outs, the program turned to a familiar face to take the reins.
David Padgett, a member of the Louisville basketball staff for the last three years and a former three-year starter at center for the Cardinals, has been named as acting head men's basketball coach, the university announced Friday.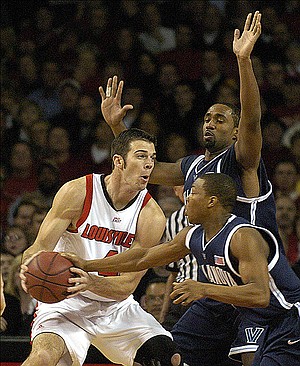 Padgett began his college playing career at Kansas and played in 31 games (19 starts) during the 2003-04 season, the first at Kansas for current KU coach Bill Self.
His most notable moment as a Jayhawk came on March 7, 2004, when he hit the game-winning shot for Kansas in the final KU-MU game played at Missouri's Hearnes Center.
Padgett committed to former KU coach Roy Williams and decided to stick with his commitment after Williams left for North Carolina. After one season playing for Self, Padgett elected to transfer to Louisville, where he sat out the 2004-05 season and then started 74 of 83 games for Louisville from the 2005-06 season through 2007-08.
Most recently, Padgett served as Louisville's director of basketball operations for two seasons (2014-16) before his move to an assistant coaching position in 2016. He becomes just the third head coach for the Cardinals in the last 46 years, following Rick Pitino (2001-17) and Denny Crum (1971-2001).
Before joining the U of L staff, Padgett spent three years as an assistant coach at IUPUI from 2011-14. He served a year as assistant strength coach with the Cardinals in 2010-11 as UofL posted a 25-10 mark, beat seven ranked teams and reached the title game of the Big East Championship.
Padgett played professional basketball for UB LaPalma in the Canary Islands for two years following his graduation from U of L. He had reached the final preseason cut of the Miami Heat before his playing career in Spain.
A three-year starter and captain at center for the Cardinals (2005-08), Padgett was a unanimous first-team All-Big East Conference selection as a senior and also earned USBWA All-District IV honors. He averaged a team-leading 11.2 points and grabbed 4.8 rebounds his senior year in 2007-08 when the Cardinals reached the NCAA Elite Eight.
Padgett ranks second in career field goal percentage at U of L, hitting 61.3 percent of his shots (332-542). His .667 field goal percentage as a senior was the second best ever at UofL. He set a Big East Conference field goal percentage record for league games as a senior, hitting 68.3 percent of his shots in the 18 games (86-of-126). He was a second team All-Big East pick as a junior.
A McDonald's All-American in high school in Reno, Nev., Padgett played his freshman collegiate season at Kansas before transferring to Louisville. He was the 2003 Nevada Player of the Year and the top rated center in that year's recruiting class. He was a member of the 2004 USA Basketball Junior World Championship Qualifying Team that claimed a gold medal.
Padgett's basketball bloodlines run deep as his father played at the University of Nevada and his uncle played at New Mexico. His grandfather Jim played for Oregon State and his sister played for the University of San Diego.
Padgett and his wife, Megan, have two sons: Nolan, born in August 2013; and Gavin, born in May 2016.