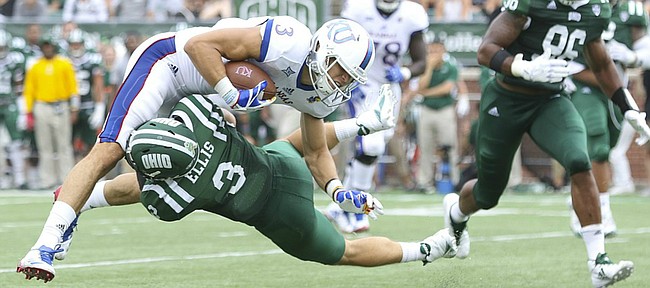 — Kansas (1-2) vs. West Virginia (2-1) • 11 a.m. kickoff, Saturday, Memorial Stadium • Game-time forecast: 82 degrees, sunny, 0% chance of rain • TV: ESPNU • Radio: KLWN, FM 101.7 / AM 1320
— Log on to KUsports.com for our live game blog and follow our coverage team on Twitter: @KUSports, @BentonASmith, @TomKeeganLJW, @NightengaleJr, @nickkrug and @ChasenScott
Keys for Kansas
1. Avoid crippling early deficit
Both the offense and defense have been culpable in back-to-back losses, during which Kansas fell behind by as many as 18 points before halftime.
Obvious as various reasons to avoid such a scenario again are, the Jayhawks' offensive coordinator, Doug Meacham, would like to operate within a more ideal margin because it would allow him to incorporate more of the plays on his call sheet.
"It doesn't make you want to just sit there and let the clock burn off," Meacham said of three-score deficits to Central Michigan and Ohio. "You just kind of have to have a mentality of get a first down and then just kind of bleed in some of the short throws you can get in there at times."
Charged with controlling KU's Air Raid offense, Meacham said most of the second half at Ohio this past week felt like "a two-minute offense," as the Jayhawks attempted to rally. He hopes to put a more complete attack on display sooner rather than later.
"And I know we've thrown for a few yards (343.3 a game), but, you know, we're going to run the ball," Meacham added of a ground attack hindered by KU deficits to MAC teams and currently averaging a Big 12-worst 109.3 yards.
2. Decipher holes within WVU's 3-3-5
One of the more unique components of West Virginia's overall approach comes on defense, where the Mountaineers align themselves in a 3-3-5 scheme. Coordinator Tony Gibson's defenders have the advantage of playing a style opposing offenses don't often see.
Kansas quarterback Peyton Bender admitted deciphering what three down linemen, three linebackers and some combination of five defensive backs will do once the ball is snapped presents challenges.
"It's tough in the passing game, because there are so many guys in coverage," Bender said. "They drop eight into coverage a lot of times. A lot of throwing lanes are covered up. But we think with doing that it opens up other opportunities for our offense to succeed."
Podcast episode
On this episode of the KU Sports Hour, hosted by KU football beat writer Benton Smith, the KUsports.com staff discusses KU football's 42-30 loss to Ohio. Topics include: The turning point of KU-Ohio (1:45-7:20), the state of the KU football offense (7:20-24:00) and defense (24:00-32:10), the KUsports.com football mailbag — ...
Within the 3-3-5 this season, WVU senior cornerback Mike Daniels Jr. has broken up four passes, while senior safety Kyzir White already has two interceptions and a pass breakup. Junior safety Dravon Askew-Henry also has picked off a pass.
So when Bender looks for Steven Sims Jr., Jeremiah Booker, Chase Harrell, Quan Hampton, Ben Johnson or another target, he will have to quickly make sure every throw is in fact as safe as it appears.
3. Do what Talib would do
Among KU's assorted issues in non-conference play, nothing stood out more than the secondary's deficiencies.
Defensive coordinator Clint Bowen said the margin of error has been small for the unit's inexperienced defensive backs, and opponents have capitalized.
"In the game of college football if you play well as a DB, you're going to get challenged. Those are scary plays. And if you're like, 'Crap. He almost ran by me,' the next play there's a domino effect, as the game goes," Bowen said. "Older guys, they know and they trust their technique and they do it over, and over, and over, and it's consistency in repetition. Young guys, they kind of lose their mind here and there."
Bowen, of course, realizes starting first-year corners Hasan Defense and Shak Taylor aren't all-pro Aqib Talib. But he tells them all the time they need to emulate the former KU star's technique in press-man coverages.
"He'll take the exact same step and he will play it the exact same way 70 out of 70 snaps, and it never varies, because he trusts his technique and he plays," Bowen said of Talib. "That's what older, good players do. That's not where we're at right now. We're at what I call the freak-out plays. You knew you were supposed to do this, but you did that — why? … That's what happens to young guys in games when it gets going crazy, and that's why experience is valuable."
Mega Matchup
WVU QB Will Grier vs. KU secondary
Even before conference play began, KU's pass defense often looked overmatched, and it has surrendered a Big 12-worst 297 yards a game and 10 touchdowns.
Now the Jayhawks face one of the most explosive offenses the league has to offer, quarterbacked by junior Will Grier.
"He's good," Bowen understated after watching Grier footage for the first time, adding he heard much about the former Florida QB before that. "I told our guys he has a little bit of what Patrick Mahomes had at Texas Tech. He can scan a field, he can launch it. He's a very good quarterback."
After praising the Mountaineers' O-line, league-leading rusher senior Justin Crawford (108.7 yards a game) and "nasty" fullback Elijah Wellman, Bowen also said receivers David Sills V, Gary Jennings Jr. and others have the speed and route-running ability to complete a balanced offense, with play-makers at each spot.
To make matters worse for KU's struggling secondary: Grier has shown he will take and make deep shots down the field.
"Any time you play Coach (Dana) Holgorsen you know that's kind of his mentality, that's his way of operating. I don't think that'll ever change," Bowen said. "The ball's going to go over the top."
According to Pro Football Focus's college football analysis, Grier leads the nation with 544 "deep passing yards," defined as throws on which a target is 20 or more yards downfield. Grier is ahead of the runner-up in the category, Oklahoma State's Mason Rudolph, by 140 yards.
Taylor, Defense, safeties Mike Lee and Bryce Torneden and nickelback Derrick Neal (or Kyle Mayberry if Neal isn't healthy enough to play) will have to be locked in to keep KU competitive against a WVU team favored by three touchdowns.
Jayhawk Pulse
It would have been ideal for KU to ease into Big 12 play with a lesser opponent, but none of the Jayhawks are complaining about the schedule. The problems that plagued the team the first three weeks need to be fixed, regardless of foe. Kansas coaches have been forced to practice patience with a roster that features more unseasoned players than established veterans.
It will be up to the KU fan base to match the self-restraint of head coach David Beaty when things don't go their way.
"I would just say that we've got unbelievable fans," the third-year coach said earlier this week. "They've been patient. We certainly appreciate it. There's no doubt about that. But the plan — the plan is a great plan. We believe in it. We know it will work. There's no doubt in our mind."
Tale of the Tape
KU ….. WVU
KU run D vs. WVU run game √
KU pass D vs. WVU pass game √
√ KU run game vs. WVU run D
KU pass game vs. WVU pass D √
Special teams √
Prediction
West Virginia 52, Kansas 27