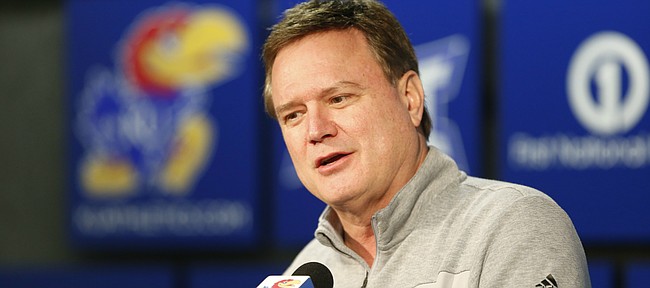 As the Kansas men's basketball team prepares to jump into a season during which three Jayhawks will sit out and two others finally will play after transferring in, landing athletes via the transfer route appears to be on the brink of becoming easier.
That's the general feeling around college athletics these days with the NCAA considering rule changes that would allow athletes to leave a school one year and become eligible to play at their new school the next.
No waiver required. No graduate transfer loop holes. Just good, old-fashioned here today and gone tomorrow governing that will no longer require players to sit out a year after transferring.
While that certainly seems like a good setup for the athletes themselves — particularly those who become disgruntled with their situations or who fall victim to unexpected changes at their school of choice — it's not exactly a scenario college coaches are looking forward to.
"If we open this up, where it's free agency, it's going to change everything about our sport, which will be bad," Kansas basketball coach Bill Self said recently. "That part will be bad."
The idea of loosening the rules associated with transfers first surfaced in June, when the NCAA formed the Division I Council Transfer Working Group that sought feedback designed "to create the best outcomes for both student-athletes and schools involved in the transfer process."
Permission to contact student-athletes, ethical recruiting practices and the academic impact on transfers were among the biggest issues that came up, and Self said he, too, had concerns.
"I don't know how anybody would think it would be a good thing to recruit kids from other programs and even programs that you play against on a regular basis," Self said. "If you're an engineering student at Kansas and you want to go to Missouri, you just go. And certainly there's been rules to prohibit that in sports. So, depending on how this all plays out, there's going to be a lot of changes in our sport. A lot."
In each of the areas that were red-flagged, quality dialogue and extensive brainstorming led to several suggested fixes.
For example, the group suggested that harsher penalties be levied against coaches who break recruiting rules and that all sports should follow the same transfer rules.
Perhaps the most significant suggestion that came from the group's examination of transfer practices was the idea that a student-athlete's ability to transfer be tied to his or her academic standing. In short, better students would get more freedom to transfer, while those who perform poorly in the classroom could face greater restrictions.
"As you look at the transfer world, where everyone starts to panic is the ability to play right away," South Dakota State athletic director Justin Sell told The Associated Press. Sell also headed up the transfer council. "But we're really looking at it from an academic perspective."
Sell emphasized that the goal of the group was not to make transferring easier and create chaos, but to ensure that the NCAA was on "the right path" and striving to "create positive stories of graduation when a kid transfers."
None of the feedback has led to any changes and many believe that actual reform could still be years away.
An already-existing aspect of transfer rules that also has been discussed recently is the immediate eligibility of graduate transfers or "hired guns," as Big 12 commissioner Bob Bowlsby recently called them while voicing his concerns.
With that route becoming more common, Self's Jayhawks have benefited from the postgraduate rules, most recently with the now-departed Jack Whitman from William & Mary and, before that, with Memphis forward Tarik Black, who came to KU after graduating from Memphis and was immediately eligible to play during the 2013-14 season.
Graduate transfers have gone out the door, too, with former KU forward Dwight Coleby leaving for Western Kentucky this offseason after graduating in May.
"There's no question we thought that was bad," said Self of the graduate transfer rule, speaking for college coaches across the country. "But that looks like the good part moving forward, if they allow kids to transfer from school to school whenever they want to."