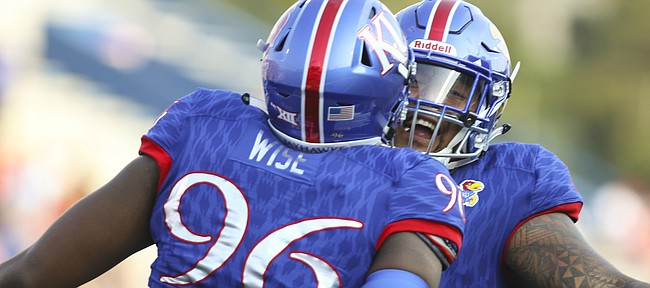 Although diehard optimist David Beaty opened his Tuesday press conference with some good news on the injury front for his football team, the Kansas coach also revealed the Jayhawks suffered a blow to their defensive line.
A 6-foot-3, 325-pound senior defensive tackle, Isi Holani, who missed the Jayhawks' loss at Ohio after suffering an unspecified knee injury the prior week versus Central Michigan, won't return this season.
Holani, a native of Kaumana, Hawaii, started two games in 2016, and only made one tackle as a reserve in KU's season-opening win over Southeast Missouri State before playing briefly in Week 2.
Beaty said the former junior college defensive lineman, though, is eligible for a medical redshirt, so he could return for KU in 2018.
Podcast episode
On this episode of the KU Sports Hour, hosted by KU football beat writer Benton Smith, the KUsports.com staff discusses KU football's 42-30 loss to Ohio. Topics include: The turning point of KU-Ohio (1:45-7:20), the state of the KU football offense (7:20-24:00) and defense (24:00-32:10), the KUsports.com football mailbag — ...
"For the future, it's really good," the coach said, "but for right now, I feel bad for the kid, because he's come a long way. I thought it was going to be a really big year for him. But he's got some time left. I think it'll only help him as we move forward."
The D-line still has junior captains Daniel Wise and Dorance Armstrong Jr., of course, but Holani's absence impacts KU's depth. Beaty said between starting junior tackle J.J. Holmes and seniors Jacky Dezir and DeeIsaac Davis, a former starter, Kansas has some "serviceable guys" to help fill the void.
Armstrong agreed: "A lot of guys that are behind him are capable of the same things. Big bodies, explosive, strong guys. So I guess it's just next 'Hawk up."
Banged-up Jayhawks hope to return
According to Beaty, the staff is hopeful three players who have dealt with various undisclosed injuries could be cleared to play this week versus West Virginia (11 a.m. kickoff, ESPNU).
Sophomore safety Shaq Richmond, whom Beaty said has been out "a long time," is responding well to treatment. Richmond plays the same safety spot as KU sophomore Bryce Torneden and could give Kansas (1-2) some depth at that position, if healthy.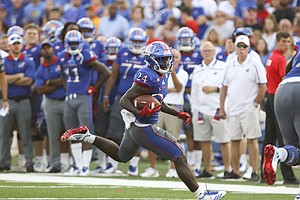 After missing both Kansas losses, Beaty said the Jayhawks "would love to" have junior running back Taylor Martin back on the field, and added that was "a possibility."
Martin rushed five times for 17 yards against SEMO before missing most of the second half due to injury.
Junior linebacker Denzel Feaster, too, might be healthy enough to play in KU's Big 12 opener.
"We've been missing some depth there at linebacker," Beaty said. "(Feaster's) a talented guy. I think he can help us."
Meanwhile, starting senior nickelback Derrick Neal's status for WVU (2-1) is up in the air, according to the head coach.
New look to O-line
After sophomore left guard Andru Tovi and senior right tackle Zach Hannon played prominent roles on the offensive line for the first time at Ohio, Beaty liked what he saw from both players, now listed as starters on KU's depth chart.
"I love Tovi. That dude is strong, boy," Beaty said, adding the 6-3, 310 tackle could rip the chairs out of the Mrkonic Auditorium floor.
Tovi, who began his college career at Pima Community College (Ariz.), Beaty added, should benefit from the competition at left guard between the new starter and senior Jayson Rhodes, who started 11 games in 2016 and the first two this fall.
"Zach Hannon, probably not as talented as some of the guys we have over there," Beaty began, on the subject of the 6-4, 315 graduate transfer from Nebraska. "But he is a lot — he's savvy. He's been around a while. To me, he's a great example. He got beat a couple times the other day (at Ohio). For the most part, he keeps himself out of trouble. He's not as fast as some of those other dudes, but he's pretty smart on how he moves his body around. Been around the game for a while."