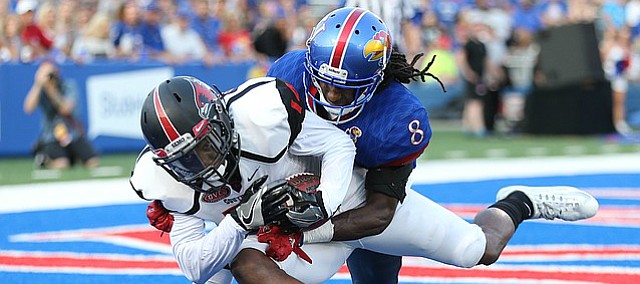 A couple of Kansas offensive linemen weren't cutting it, second-stringers were promoted and they performed well in the 42-30 loss to Ohio, KU's 42nd consecutive road setback.
If only the defense could hope for the same from its beleaguered secondary.
Not likely to happen.
None of the seven safeties (two walk-ons) on the roster had a down of college experience at the position heading into the 2016 season.
Sophomores Bryce Torneden and Mike Lee start and Tyrone Miller and Emmanuel Moore, a wide receiver until the final couple of weeks of last season, back them up.
Starting nickelback Derrick Neal, a receiver for much of his career, is the lone senior among 18 defensive backs on the roster.
Neal beat out sophomore Kyle Mayberry, so it's conceivable that Mayberry could show enough to create a competition there.
But at cornerback, junior-college transfers Hasan Defense and Shakial Taylor quickly sprinted to the head of the class and nobody came close to pushing them throughout camp.
Both have been targeted with great success, particularly Taylor, by MAC quarterbacks the past two weeks. Juco transfers tend to have trouble adjusting as juniors and the good ones can show significant improvement as seniors, but that's not going to do Kansas any good this season.
It all adds up to a long year for the secondary, and therefore the defense, even if the D-line starts to disrupt quarterbacks in a more consistent way than it has one-quarter of the way through the season. Kansas has two sacks so far, one from Joe Dineen, the next from Daniel Wise.
As usual, the Big 12 is loaded with quarterbacks who know how to exploit inexperienced, vulnerable defensive backs.
West Virginia's Will Grier, a Florida transfer, leads the Mountaineers into Memorial Stadium on Saturday. He's averaging 342.3 passing yards per game with 11 touchdown passes and two interceptions. Killer numbers, but he only ranks fourth in the conference in passing efficiency, behind Oklahoma's Baker Mayfield (348.7-10-0), Texas Tech's Nic Shimonek (463.5-9-0), Oklahoma State's Mason Rudolph (378.3-11-1) and just ahead of Iowa State's Jacob Park (311.7-8-2).
KU's Peyton Bender needs to throw balls away instead of taking so many sacks and must reduce his interceptions, but he does put pressure on defenses. Bender (343.3-6-5) ranks eighth in the Big 12 in passing efficiency.
Even if Bender continues to throw for big yardage and plays cleaner games, it's going to be tough for Kansas to compete in the Big 12 without a significant upgrade in the secondary. It's difficult to foresee that coming this season. This isn't the NFL. You can't claim anybody off the waiver wire.