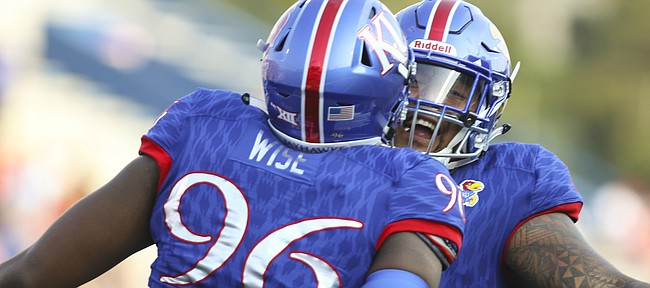 Coming off a troubling home loss to Central Michigan, Kansas defensive coordinator Clint Bowen knows the numbers as well as anyone.
Two games into the season, the Jayhawks have made just one sack and been credited with five quarterback hurries.
Considering how the last opposing QB they faced, CMU's Shane Morris, picked the secondary apart, Bowen was asked Thursday if KU's defensive linemen are applying enough pressure to help out the corners and safeties.
"I wouldn't put that on them," Bowen said of Morris' 467-yard, five-touchdown showing at Memorial Stadium. "There was pressure. Central Michigan came in and did a lot of quick game, which you're not going to get a lot of sacks when teams are going 'one-two throw.' You're not going to. We had a couple times we did get hits on him and didn't get him down in the drop-back pass game. But the drop-back pass plays there was pressure on the kid. The kid got the ball out and made some really amazing throws."
When Morris executed said passes, his receivers gained chunks of yardage by outmaneuvering KU's defensive backs. And now the Jayhawks (1-1) enter Saturday's matchup at Ohio (1-1) ranked 118th in FBS, with 318.5 passing yards allowed per game.
Podcast episode
On this episode of the KU Sports Hour, hosted by KU football beat writer Benton Smith, the KUsports.com staff discusses KU football's 45-27 loss to Central Michigan. Topics include: Is KU better than last year? (0:55-17:30), are lineup changes coming? (17:30-27:40), the KUsports.com football mailbag — coaches on the hot ...
"We just didn't see and react to the things that they were doing," Bowen said of how the secondary got exposed. "It wasn't anything that we don't see from our own offense, we don't see week in, week out, just in the game. For whatever reason routes that we've played many, many times — because (CMU's) offense is very similar to what we see all camp, everything — guys just didn't see and react the correct way a few times."
Junior defensive tackle Daniel Wise recorded KU's lone sack to date against Southeast Missouri State, and has made five of his eight total tackles behind the line of scrimmage, while also receiving credit for a QB hurry. Defensive end Dorance Armstrong Jr. has three quarterback hurries on his stat line, to go with 10 total tackles and two tackles for loss.
Averaging half a sack a game, KU is tied for last in FBS in the category, with Tennessee, West Virginia, UNLV, Purdue, Nevada, Northwestern, Florida International, Nebraska and Louisiana.
"But the D-line's doing their part," Bowen said. "They're getting pressure. (CMU's success) had nothing to do with the D-line. That had to do with DB play. Not seeing it and reacting correctly."
Bender's post-loss demeanor
In the days since he attempted a program-record 62 passes in the loss to Central Michigan and completed 32 of them for 323 yards, with no touchdowns and two interceptions, KU junior quarterback Peyton Bender hasn't let a disappointing performance for the offense bog down his preparation for the upcoming game at Ohio (11 a.m. kickoff, ESPNU).
"He's always the same. That's what I like about him," offensive coordinator Doug Meacham said of the QB. "You don't ever really sense him in the dumps or too high or too low. He's always pretty much the same guy every day, which is good. And on the field you see the same guy. He gets upset at himself at times when he does something (wrong), but it doesn't carry over very long."
Bender, a 6-foot-1 transfer who began his career at Washington State, said neither he nor his teammates expected to lose to CMU.
"I thought we were extremely focused all week. We're going to take the same approach this week," Bender said. "The more we can study, the more we can know about our opponent and it will help us out on Saturday."
The Sims factor
Bender and the rest of KU's offensive players had to do their best versus CMU without No. 1 receiver Steven Sims Jr., but Meacham said the junior wideout's absence should have played "no factor."
"Next guy should just go play," Meacham said.
Without Sims, who hopes to return at Ohio, true freshman Quan Hampton led KU with 67 receiving yards and senior tight end Ben Johnson made a team-high seven receptions.
Meacham said he can't use one player's inavailability as an excuse, because it would send the wrong message.
"I'm not going to tell you all of the guys, but we've got so many guys that are nicked up right now it's unbelievable," the coordinator and receivers coach revealed. "But it doesn't matter. And if you make it a point to make it a point, then it is a problem."
Still, Meacham knows how critical Sims is to KU's Air Raid success, as he analogized through a vacuum cleaner salesman story.
"The best salesman is sick and in the hospital. And he's your best one. Are you going to sell as many vacuums?" he asked.
Kicker Brungardt up for scholar-athlete award
Kansas freshman kicker and Lawrence native Cole Brungardt this week was named one of 35 finalists for the 2017 National Football Foundation Chapter Scholar-Athlete Awards, which honor one player from each of the country's five regions as "the best and the brightest" for their accomplishments as athletes, scholars and citizens at the high school level.
At Lawrence High, Brungardt earned three letters as a kicker. He was named a team captain as a senior and earned First-Team All-Sunflower League status in 2016. He connected on 105-of-110 point-after attempts over the course of three seasons, while helping the Lions win a 2015 Sunflower League title. Brungardt also earned valedictorian honors in his 2017 graduating class.
The finalists all graduated from high school in 2017 and are now playing college football. A national committee will select the five honorees, who will be announced Oct. 4.